In Africa, in America, 'bring back our girls'
Abductions in Nigeria send Christians to their knees, offering prayers for victims of human trafficking worldwide.
---
Daughters of Africa knelt in the sanctuary of an Alabama church on a gray Friday evening, pleading in prayer for the release of more than 200 girls, stolen in the night.
Alongside their American sisters and brothers, they petitioned God for an end to tyranny and oppression worldwide, for an end to the poverty, mistrust, greed and hate that drive people to treat the powerless around them as property.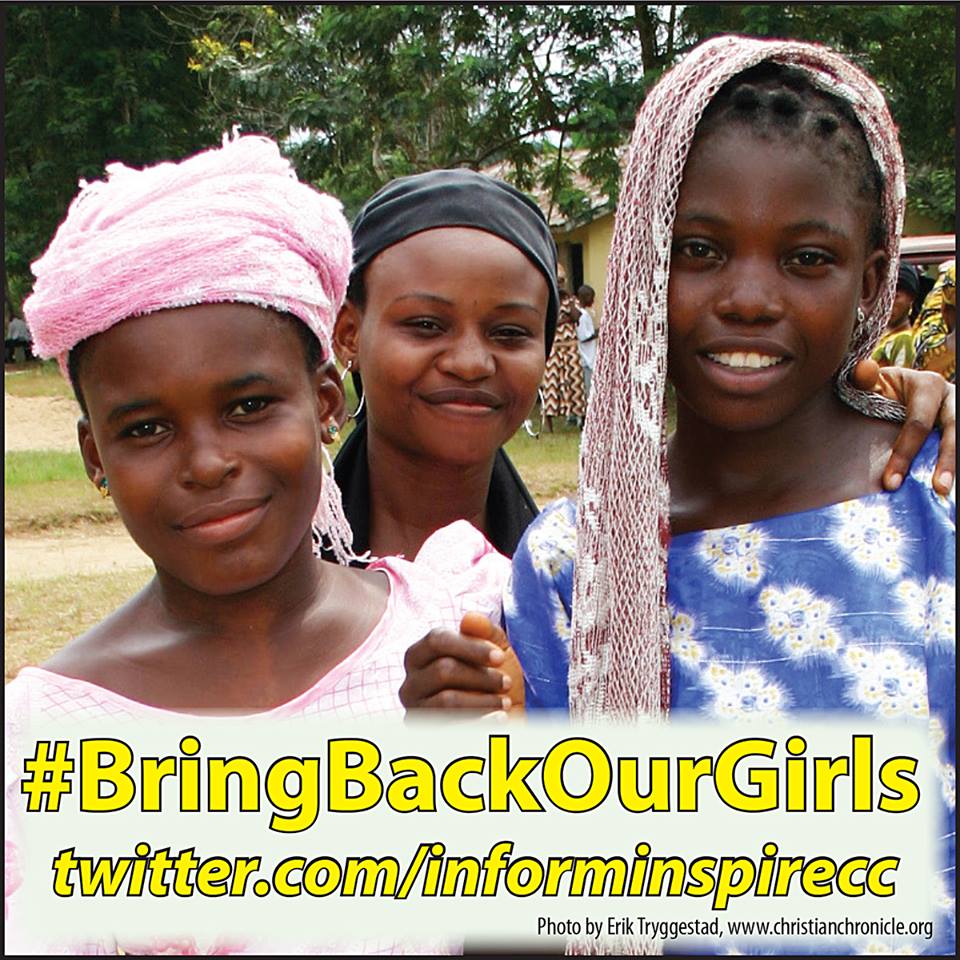 SPECIAL REPORT: Faith fighting human trafficking
• Former modern-day slave shares her story
• Christians battle human trafficking in the U.S. 
• 11 girls from Churches of Christ among the abducted
• Editorial: Doing 'something' isn't enough
"All these girls are guilty of is desiring education," said Uduak Afangideh, a member of the Landmark Church of Christ in Montgomery who organized the prayer vigil. Education "would empower them to make a difference in their generation and among their people."
Instead, the girls abducted from their boarding school in Chibok, Nigeria, sit in Muslim chador cloaks, reciting verses from the Quran in a video released by their captors , Boko Haram.
In another video , the terrorists' leader proclaims, "I abducted your girls. I will sell them in the market, by Allah."
"Kidnapping" doesn't describe this unconscionable act, said Afangideh, a native of Nigeria and science professor at Faulkner University. "This is enslavement and human trafficking. American Christians should let it be known that this is not acceptable."
It happens in America — not just Africa or nations plagued by unrest. The U.S. State Department estimates that up to 27 million people worldwide are the victims of modern-day slavery.
A video released by Boko Haram shows kidnapped Nigerian girls in Muslim chadors, praying in an undisclosed rural location. (VIDEO STILL VIA NEWS.NAIJ.COM)
Human trafficking, the illegal trade of human beings for the purpose of exploitation — including forced labor and prostitution — is the
third-largest international crime industry
, behind the sale of illegal drugs and weapons, according to the United Nations Office on Drugs and Crime.
Christians involved in the fight against human trafficking say they're glad to see awareness of the global problem, but discouraged that it took such a horrific act to bring it to light.
"A great man once said, 'Injustice anywhere is a threat to justice everywhere,'" Afangideh said, referencing words written by Martin Luther King Jr. from an Alabama jail cell, not far her current home, in 1963.
"In the same vein," she said, "enslavement anywhere in the world is a threat to freedom everywhere."
'THIS COULD HAVE BEEN OUR SCHOOL'
The abductions are "close to my heart," Afangideh said. "This could have been our school or my father's school in Uyo, Nigeria."
Uduak Afangideh organized the prayer vigil at the Landmark Church of Christ. (PHOTO BY JON OWEN)
The church member and her husband launched a Christian school in Calibar, Nigeria, in 2003.
Her father, Okon Mkpong, is an influential leader among Churches of Christ in West Africa and founder of the Nigerian Christian Institute.
In 2010, Mkpong was kidnapped and held by armed mercenaries for 12 days before his release. His wife, Afangideh's mother, died a month later — likely due to stress, said another daughter, Idongesit Mkpong-Ruffin, who also works at Faulkner, serving as chair of the computer science department.
The trials have convinced the sisters of the need for Christian education in Nigeria.
"We go home every opportunity that we have," Mkpong-Ruffin said. "We work with local congregations in various ways by teaching, working with youth groups, ladies' lectureships."
Other Christians, including Linda Egle, advocate for women on a global scale. Egle, a member of the Highland Church of Christ in Abilene, Texas, founded Eternal Threads, a nonprofit that sells fair-trade items crafted by women in a dozen countries, including Afghanistan, Madagascar, India and Nepal.
In Nepal, profits from the sale of items including red thread bracelets support anti-trafficking initiatives, including 13 border stations where as many as 200 girls per year are rescued from traffickers. Workers with Eternal Threads' partner nonprofit in Nepal intercept traffickers as they attempt to take the girls to India and sell them into slavery.
"The trafficking of girls is one of the great evils in the world," Egle said, "and I believe strongly that Christians are the ones that should be fighting this evil."
Young women rescued from human traffickers in Nepal weave red thread bracelets for sale by Eternal Threads. (PHOTO BY ERIK TRYGGESTAD)
THANK YOU FOR CARING … NOW GO FIGHT
Afangideh's daughter, Salem, is joining that fight.
The third-year law student at Faulkner is spending her summer interning with Free, Aware, Inspired, Restored (FAIR) Girls, a Washington-based nonprofit that provides crisis response, prevention education and a transitional home for survivors of human trafficking.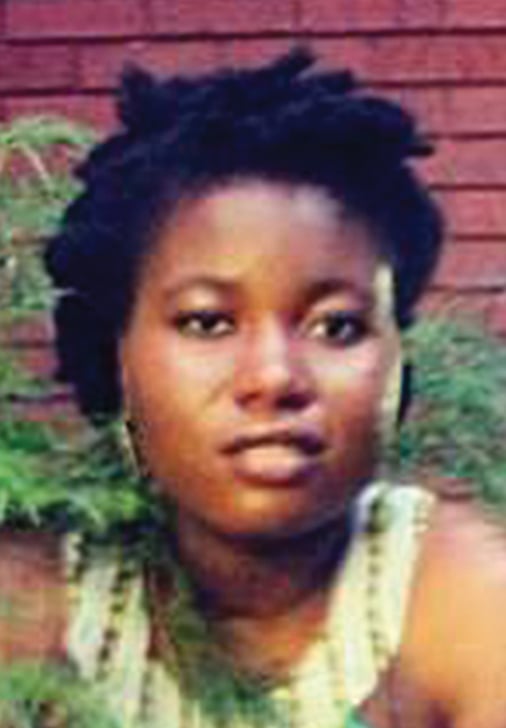 Salem Afangideh (PHOTO PROVIDED)
"I have always been totally horrified by the lack of empowerment to girls — and especially the way that the Nigerian culture makes young girls more easily susceptible to being trafficked for sex and labor," Salem Afangideh said. "This was a driving force behind my decision to go to law school and become a human rights attorney."
Growing up in Nigeria, she remembers telling a male classmate about her plans, only to hear him say, "But you are a girl. Learning how to cook and dress nice will serve you better."
Fortunately, she has strong female role models in her mother and aunt, she said. After graduation, she hopes to get experience prosecuting traffickers and providing services for victims. Eventually, she wants to return to Nigeria and work with a nonprofit that fosters human rights.
"Thank you for caring … Now, go find ways to actually and practically fight against injustice." Salem Afangideh
"As I go through this path, I have felt so lonely a lot of times," she wrote on her personal blog, "Warrior Princesses." The sudden awareness of human trafficking encourages her and reminds her of the words from 1 Corinthians 1:27, "God chose the weak things of the world to shame the strong."
"So thank you for caring. It has spoken volumes," she wrote to all of those who have sent social media messages to "bring back our girls."
"Now, go find ways to actually and practically fight against injustice. Awareness is just the first step."
RELATED STORIES