Illegal immigration pits law vs. mercy
One minister's passion for aliens.
---
CHICAGO
— On a dark street, a mother weeps.
At 4:45 a.m., she stands outside a two-story brick building surrounded by razor wire, her sobs drowning out the drum of machinery at a nearby factory.
The Spanish-speaking woman just said goodbye — through a glass panel at a federal deportation center west of Chicago — to her son Miguel, an illegal immigrant from Mexico.
A minister wearing a beige overcoat and a black knit cap rushes to comfort the mother and pray with her distraught family.
"This is why I come," says the minister, Bobby Lawson, who pulled a white church van out of the Park Forest Church of Christ parking lot in Matteson, Ill., at 2:53 a.m. that Friday. "These families are getting ripped apart."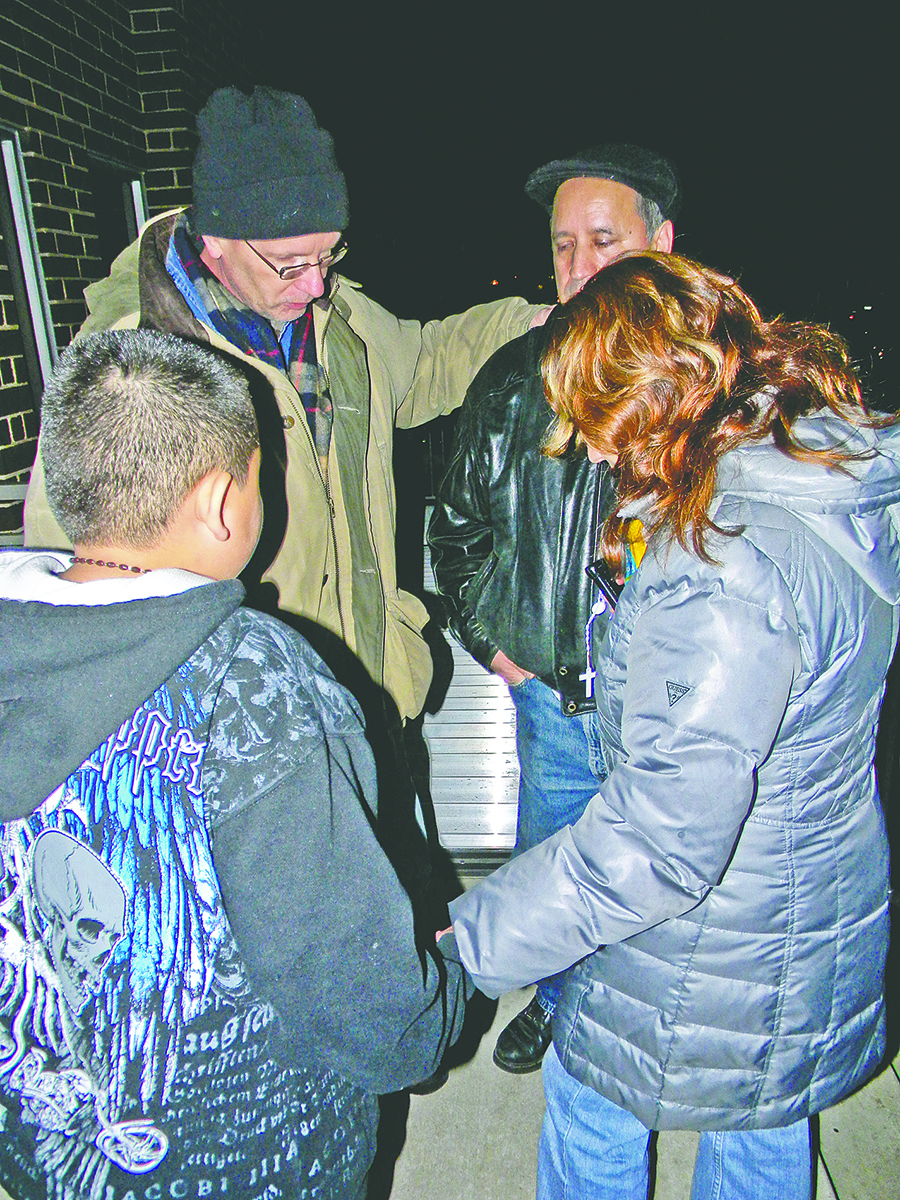 Bobby Lawson, minister for the Park Forest Church of Christ in Matteson, Ill., south of  Chicago,  prays with an undocumented immigrant's relatives outside a deportation center. (PHOTO BY BOBBY ROSS JR.)
Across the nation, debate rages over U.S. immigration policy — with Americans split on whether to crack down on illegal immigrants or create an amnesty process for undocumented aliens.
In the 2011 fiscal year, U.S. Immigration and Customs Enforcement deported a record 396,906 immigrants — 55 percent of whom had been convicted of a felony or misdemeanor, according to the Obama administration.
A majority of evangelical Christians say that illegal immigrants "threaten traditional American customs and values," according to a Pew Research Center
survey last year.
Only about one-third of evangelicals believe these immigrants "strengthen American society."
For members of Churches of Christ, the Bible's instruction to obey civil law can clash with God's call to welcome strangers and aliens.
"Most average Americans, including those in the church, have not taken the time to get to know the immigrants in our inner cities," said Sean McClue, intercultural missionary for the Central Phoenix Urban Ministry, which is supported by Churches of Christ.
"People's identities have come to be defined by their immigration status rather than the fact that they were created in God's image," added McClue, a former missionary to Mexico. "Listening to their personal stories would help us understand the difficulty of the situation and the complexity of the issue."
"People's identities have come to be defined by their immigration status rather than the fact that they were created in God's image. Listening to their personal stories would help us understand the difficulty of the situation and the complexity of the issue." Sean McClue, intercultural misionary

Moises Pinedo, a member of the Elizabethton Church of Christ in Tennessee, said he sees no need to check someone's immigration status before sharing the Gospel.
But neither should Christians ignore the issue, said Pinedo, a native of Peru who became a U.S. citizen in 2008.
"For someone who purposely breaks immigration laws and then looks for ways to legitimize his actions, the only solution may be to return to his native country in order to assure his heavenly home," Pinedo wrote in "Illegal Immigration," a 2009 book published by Apologetics Press.
"Sadly," he added, "many more try to cross the border of the United States than to cross the border into heaven."
Immigration attorney Isaul Verdin, a member of the McDermott Road Church of Christ in Plano, Texas, sees it differently.
There's a difference, the American-born son of Mexican immigrants believes, between violating a moral law and an administrative one.
"These people are merely violating the law because there is no legal way to enter the U.S.," said Verdin, a graduate of Pepperdine University in Malibu, Calif., "and they are desperate to escape deplorable conditions in their country and help their family."
As the sun rises, immigrant advocates gather for a prayer vigil at the deportation center. (PHOTO BY BOBBY ROSS JR.)
MINISTER'S MESSAGE: 'GOD CARES'
Every other Friday, Lawson rises early and drives nearly an hour to the regional deportation center in Broadview, Ill., just off Interstate 290.
Here, he joins two Roman Catholic nuns and other volunteers who minister to detainees' families before their shackled loved ones are taken to O'Hare International Airport for flights to the U.S. border.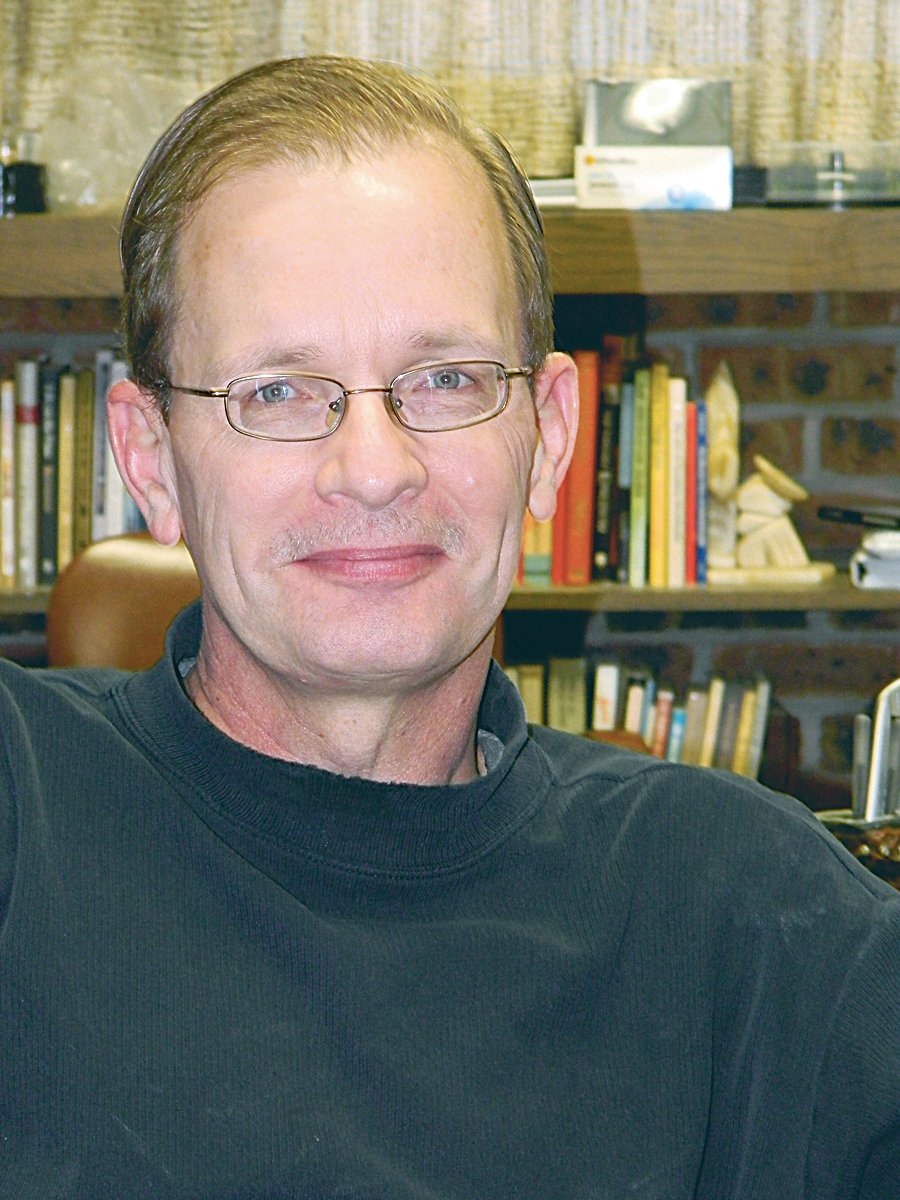 Bobby Lawson From 4 to 6 a.m., relatives can deliver cash and a small bag of personal items.
"They go into a room and sit at a table, and the person they've come to see is on the other side of a glass panel," Lawson says. "They don't get to touch them. And whatever they give them, they hand to a guard."
Hidden in a nondescript industrial park with few streetlights, the deportation center — which processes immigrants from six states — can be difficult to find.
Headlights pierce the darkness as vehicles bearing the detainees' relatives turn the corner. Lawson flags down the drivers and shares instructions on where to park and check in.
"There's usually somebody that speaks English," he says. "I make sure and tell them 'no cell phones' and that they have to have identification."
He hopes his kind words and friendly directions make a difference.
"I can come and say, 'God cares … and God's people care,'" Lawson says, a chilly breeze blowing as he awaits the next arrival.
STIRRING IN HIS HEART
Lawson traces his passion for immigrants to Bible studies over the last few years.
The 53-year-old minister grew up in a U.S. Air Force family and always considered himself extremely patriotic.
Until a few years ago, he believed that illegal immigrants needed to be deported. As he saw it, they were taking Americans' jobs and threatening national security.
After all, Romans 13:1 says, "Let everyone be subject to the governing authorities, for there is no authority except that which God has established."
"But there just started being a stirring in my heart," said the father of four, who earned a Bible degree from Freed-Hardeman University in Henderson, Tenn., in 1980 and a master of theology degree from Harding School of Theology in Memphis, Tenn., in 1985.
As Lawson read the Bible and sought to understand God's will concerning undocumented aliens, he was overwhelmed "by how much there is."
For example, Leviticus 19:33 declares, "When an alien lives with you in your land, do not mistreat him."
Ray Rubio
Elders at the Park Forest church supported Lawson's request to teach a four-month Bible study on immigrants.
Jack Plummer, a Park Forest elder for 40 years, said the study caused him to reassess his beliefs.
"Now I'm just simply confused," he said with a chuckle. "I have no idea what the answer is except to know that it will come from God and not from our human way of thinking and planning."
Jesus surrounded himself with those considered the least of the least, said Ray Rubio, a Park Forest elder and the great-grandson of a migrant worker from Mexico.
"In today's society, who is considered the lowest of the lowest? The undocumented Hispanic," said Rubio, the son of a preacher. "Then I would say, 'Yeah, I think that's where we need to be.'"
When Lawson heard about Catholic nuns JoAnn Persch and Pat Murphy providing pastoral care for detained immigrants, he contacted them.
He began visiting the deportation center and traveling to the McHenry County Jail to see immigrants clad in orange jumpsuits.
"He found out about what we were doing and said, 'I'll be there at 4 in the morning,'" said Persch, 77, taking a break from the cold in Lawson's church van. "We thought, 'Oh, yeah, sure.' But boy, he was here the next Friday."
On a recent jail visit, Lawson saw detainees from Ethiopia, Somalia, Bolivia, Colombia and Mexico. "What a wide range of people in one place," he said.
Ricardo Barrera, minister for the Elgin Church of Christ, a Spanish-speaking congregation west of Chicago, accompanies Lawson on the jail visits.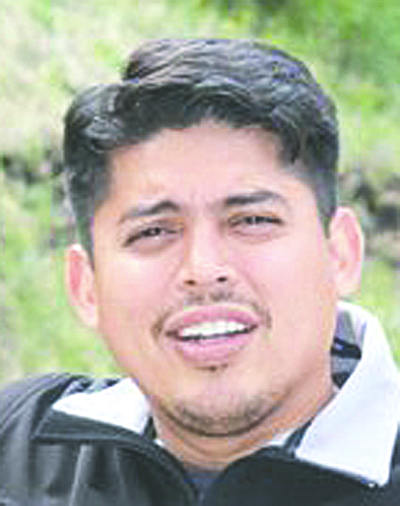 Ricardo Barrera
Barrera, who immigrated legally to the United States when he was 16, said the detainees understand that they broke the law by crossing the border.
"But their perspective is like, 'I didn't do it to come and kill anybody. … I did it because I had to. I had no choice,'" Barrera said.
The ministers provide rare physical contact — a hug, a soft touch — for inmates who must visit with relatives through closed-circuit television.
"You honestly do get to see in their eyes such a need of hope and mercy," Barrera said. "Everybody's looking at them like they're killers or rapists or whatever, and you come in and minister to them, and you bring them hope. You read the Bible, and you just listen to them, and that makes a big difference."
The amazing thing about Lawson, Barrera said, is that the Anglo minister could choose to ignore the issue.
"When he went to see one of our members, I mean, this family was blown away by how much mercy they saw in Bobby," the immigrant minister said.
TEARS AND PRAYERS
As teary-eyed relatives leave the deportation center, Lawson walks with them to their cars.
He always offers to lead a prayer.
Most eagerly accept.
Miguel's three young daughters show no visible emotion after saying goodbye.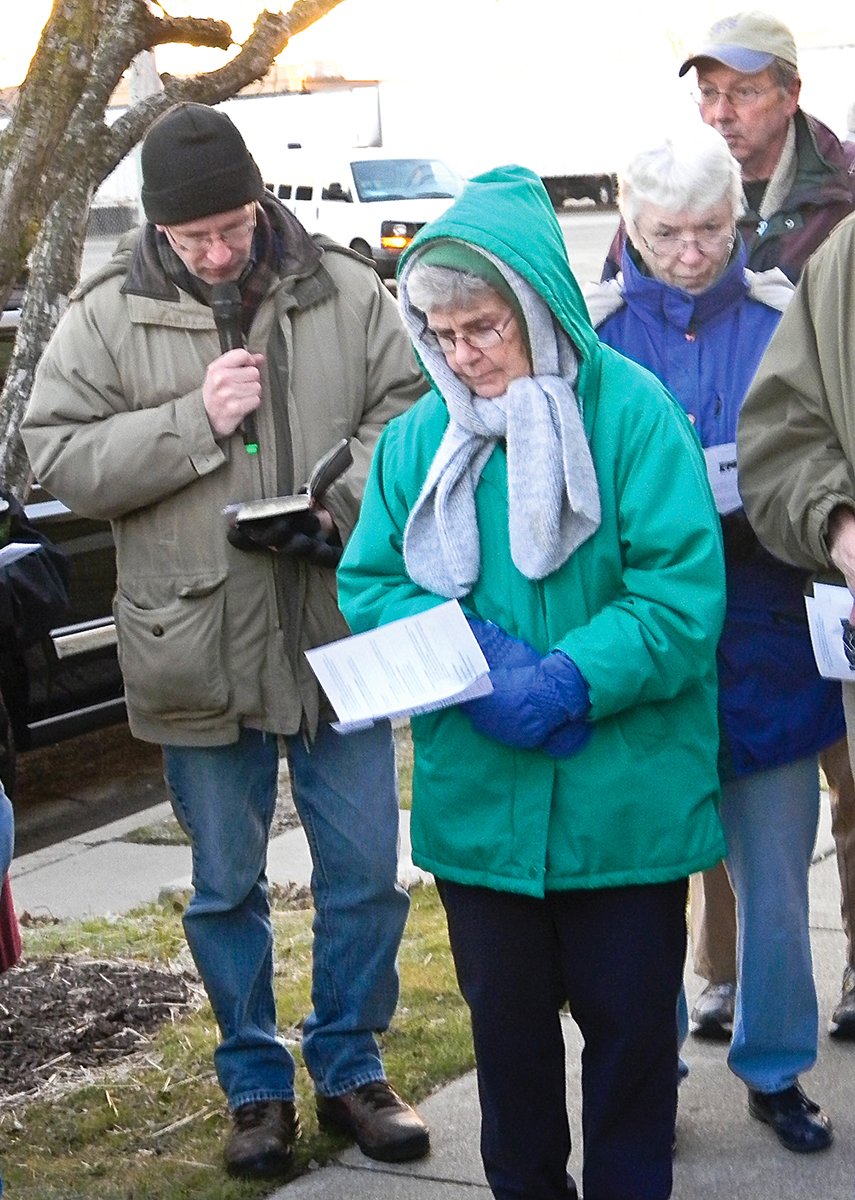 Bobby Lawson prays at a vigil at the deportation center. (PHOTO BY BOBBY ROSS JR.)
As other relatives console the girls' grandmother, the children stare silently at Lawson. He assures the family that God will watch over them and Miguel.
The minister has no idea if the 36-year-old Mexican got picked up on a routine traffic stop or if he committed a crime.
Lawson can't explain why the man's relatives have proper documentation and he does not.
Really, Lawson says, such questions are not his concern.
"God, be with this family," he prays before they drive away. "Bless them. Keep Miguel safe. Bring them back together again."
"I can come and say, 'God cares … and God's people care.'" Bobby Lawson, minister