Hobby Lobby founder shares family strategy for laser-focused generosity
'If your church has an 80/20 principle (where only a few families give about 80 percent of the weekly offering), then know that this book can benefit everyone in your congregation.'
---
David Green and Bill High's new book,
"Giving It All Away … and Getting It All Back Again,"
will be a blessing to church leaders and families wanting to create a legacy of generosity.
The book tells the story of Hobby Lobby, started as a family business in the Greens' garage. Now the Oklahoma City-based arts and crafts chain has 600 stores nationwide — and donates more than 50 percent of its pretax profits to a portfolio of evangelical ministries.
Scott Sager | In PrintThe Greens are honest about the tough times they've endured, including some decisions that took them off focus. They also discuss some current-day challenges that they try to respond to in wisdom and faith.
The book begins by recounting Hobby Lobby's opposition to the Affordable Care Act's provision mandating that companies fund the distribution of emergency contraceptive (often called "morning after") pills for their employees. This violated the family's conscience, and the resulting lawsuit was heard by the U.S. Supreme Court.
In June 2014, the court ruled that companies such as Hobby Lobby cannot be required to pay to cover some types of contraceptives for their employees. (Christian Chronicle readers may remember that Lori Windham, a Church of Christ member and graduate of Abilene Christian University, served on the Greens' legal team.)
RELATED: 'Religious freedom matters to everyone'
The book then shifts to the story of the Greens' journey into generosity — and into a competition to "out-give God." Although they know it cannot be done, the Greens decided to try to give their fortune away — following the challenge given by God to the prophet Malachi ("Bring the whole tithe into the storehouse, that there may be food in my house. Test me in this," says the Lord Almighty, "and see if I will not throw open the floodgates of heaven and pour out so much blessing that there will not be room enough to store it." — Malachi 3:10)
That challenge, the authors write, has resulted in God's honoring the Greens by granting new opportunities to grow the company and touch more lives.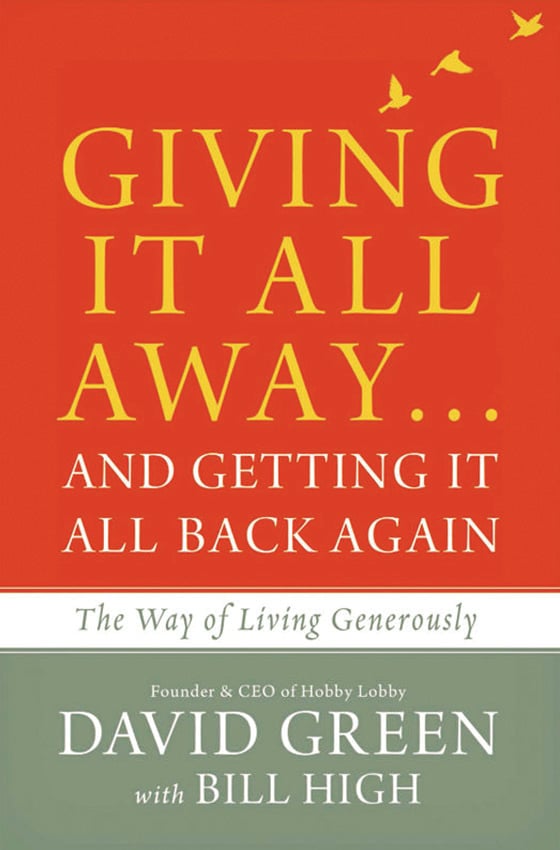 David Green with Bill High. "Giving It All Away…and Getting It All Back Again: The Way of Living Generously." Grand Rapids, Mich. Zondervan, 2017. 192 pages. $19.99.Two key points I find in the book are the family conferences held by the Greens to develop a heritage as givers and a legacy of generosity. This did not happen by accident. The family's hard labor created an intentional plan that now involves three generations of Greens in the mission, strategy and values of a family committed to generosity and giving.
Even more, this family brought in Bill High and the National Christian Foundation to help them develop a strategy to be as generous as possible — and to use the tax laws to Kingdom benefit. This resulted in better communication across the family and a structure that requires family members to work for a living and give generously from the family fortune to churches and nonprofits — with a keen eye upon Kingdom initiatives.
Bill High's son, Joseph, attends Lipscomb University, where I serve. He is my son's soccer coach and has become dear to our family. The faith and intentionality of the Green and High families inspire me.
If your church has an 80/20 principle (where only a few families give about 80 percent of the weekly offering), then know that this book can benefit everyone in your congregation.
It will be especially helpful for your larger givers. Green and High will remind them to be intentional and laser-focused in giving — and not to coast behind large donations that do not engage the heart of the entire family.
To build a legacy of generosity for your family, start with this book. Then call a family meeting.

SCOTT SAGER is vice president for church services and a member of the Bible faculty at Lipscomb University in Nashville, Tenn. He is a former minister for the Preston Road Church of Christ in Dallas.