'Here, we feel God's words working in our life'
Jailed refugee family shows true beauty in Thailand.
---
Angelina makes chapati for visitors to her one-room apartment in Bangkok. (PHOTO BY ERIK TRYGGESTAD)
BANGKOK, Thailand — She may be the most beautiful woman I've ever met. And I almost didn't meet her.
Her name is Angelina. She was crouched in a corner of the one-room apartment she shares with her husband, Rahama, and their three children, pounding out chapati flatbread for us when we arrived.
She chatted with Gary and Michelle Ford, the missionaries who brought me to her home, as Rahama stirred a pot of boiling chickpeas, set atop a hot plate in the tiny kitchen that doubles as their bathroom.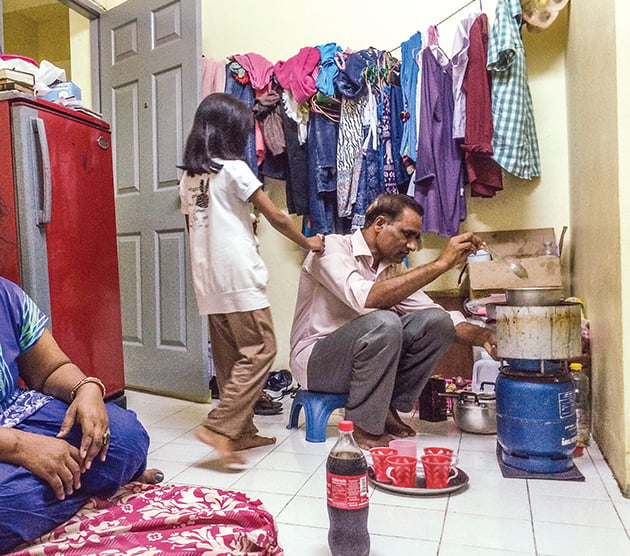 Related coverage: Survivors of the Taliban find new life — and new fears — in Bangkok. 
Across their bed — the only real piece of furniture in the room — they placed steaming plates of Pakistani delicacies. They had precious little money to spend on such a meal, but they insisted we eat. It was a feast.
In Pakistan, they were middle class. Rahama was a pipe welder who worked abroad. Angelina was an educator and healthcare worker who took part in campaigns to vaccinate children. Some Muslims protested, claiming she and her Christian friends were trying to sterilize them. 
Threats followed. They had to flee.
In Bangkok, they live as illegal aliens. The Thai government doesn't recognize their refugee status, and they've overstayed their visas. They live under constant threat of arrest and deportation.
But they rely on God.
I nearly didn't make the trip here from Singapore, where I was reporting on Churches of Christ. I had booked a cheap ticket on an airline I'd never heard of — AirAsia. 
My AirAsia flight back to Singapore. (PHOTO BY ERIK TRYGGESTAD)
Days before I left home, I got a news alert on my phone. AirAsia Flight 8501 had disappeared en route to Singapore. As I prepared to board the flight to Bangkok, rescue workers were pulling wreckage and bodies from the waters of the Java Sea. 
I thought about skipping this part of the trip but went ahead. With every bump of turbulence, I prayed. "This is it! We're going down!"
We didn't, of course, and the Fords gave me a world-class tour of their ministry in Bangkok. Shortly after they moved here, I learned, Pakistani refugees began showing up for worship at the Somprasong 4 Church of Christ, where the Fords serve. The couple and Thai Christians help the refugees with clothes, food and transportation. 
It takes Angelina and her family three buses and more than an hour to reach the church building, but "we go there and we hear the words of God," she said. She studied the Bible with Gary Ford and asked to be baptized. 
Angelina rose from the watery grave beaming. "I want to serve God," she declared. "I want to be a servant!"
A feast, spread across a bed sheet in a Bangkok apartment. (PHOTO BY ERIK TRYGGESTAD)
After the feast in their apartment, she talked about their former life in Pakistan. Their children used to spend 500 rupees (about $5) on ice cream and sweets — and refused to eat their vegetables. Now there are days when they can't afford vegetables. 
When one of their children was sick, she went to the doctor, not knowing how she would pay. A Thai man in the waiting room noticed her and handed her money.
"You know, we have not worried about anything," she said, "because we know God." What she used to take for granted — sweets, new clothes for her kids — "all these things are just things. They don't give us any happiness, any eternal life."
She paused, and Michelle Ford spoke up. "Their faith is huge, man," she said, and asked me if I was OK. 
I was blinking through tears, trying to see my notepad. The terror I felt a few days ago — at the thought of boarding a plane — seemed ridiculous now. 
"You … you put me to shame," I said.
Then Angelina wept.
In Pakistan, "we were reading the Bible, but we were going by our own wisdom," she said, choking back sobs. 
Now they cling to God's words — the promises he makes through prophets such as Jeremiah: "For I know the plans I have for you … plans to prosper you and not to harm you, plans to give you hope and a future."
"Here, we feel God's words working in our life," she said. "God gave us this opportunity."
Weeks after I met them, Angelina, Rahama and two of their children were arrested — the victims of a raid by police targeting human traffickers. 
Their 2-year-old son was taken to a children's home. The Fords and their Thai brethren rushed to the refugees' aid. They got permission to take the other child from the jail cell to Rahama's parents, also refugees. 
At a Bangkok jail, Rahama says goodbye to one of his daughters. (PHOTO PROVIDED)
The Thai believers fought tirelessly to keep their fellow Christians — and others arrested in the raid — from getting deported. They got help from a dedicated lawyer and advocates for the refugees, eventually securing their release. 
While they were in jail, the couple told Gary Ford that "no other churches or non-governmental organizations helped the jailed refugees as much as our congregation did," he said. "When people asked Angelina, 'Who are these people and what is this church?' she would proudly tell them, 'They are my brothers from the Church of Christ.'"
That's true beauty. 
Contact [email protected].  Learn more about Gary and Michelle Ford's mission to help Bangkok's urban refugees. The couple requested that some names be modified for security reasons.