'He's with me, and he's fighting'
Brain-injury victim's wife and parents pray for healing, while trusting in God's will.
---
ATLANTA
— Raindrops tap the roof of Hayley Waldron's temporary home in an Atlanta suburb.
It is Day 87, she realizes as she opens her eyes. Nearly three months have passed since tragedy interrupted the 22-year-old's life and that of her 23-year-old husband, Harrison.
Please, God, she begs. Let today be the day he wakes up and begins his full recovery.

First in a seriesHayley dresses, grabs a quick bite to eat and sets off on the 25-minute drive to the Shepherd Center, a rehabilitation hospital dedicated to caring for those with brain and spinal injuries.
For the next six hours, she'll sit with her husband. When possible, she'll assist with Harrison's speech, occupational and physical therapy.
They might watch The Weather Channel or the news together. Perhaps his younger sister, Laura, will come by to read the Bible to him, or their parents may visit to hug Hayley and speak softly to Harrison.
"I'm so thankful that I still have him," she said, "that I can come talk to him and hang out with him still."
Weeks after the accident, Hayley Waldron climbs into bed with Harrison. She has remained a constant presence by his side since he suffered a devastating brain injury. (PHOTO BY DONNA WALDRON)

DAY 1
Before tragedy struck, the young couple had spent the last few months celebrating their graduations from Harding University in Searcy, Ark., their one-year wedding anniversary and their move to her hometown of Nashville, Tenn., where Hayley grew up in the Tusculum Church of Christ.
Next up was supposed to be graduate school at Lipscomb University — Hayley in counseling and Harrison in a combination of fine arts and business.
But between their summer work and the start of classes at Lipscomb, they traveled to Jamestown, N.Y., for the wedding of two friends from Harding.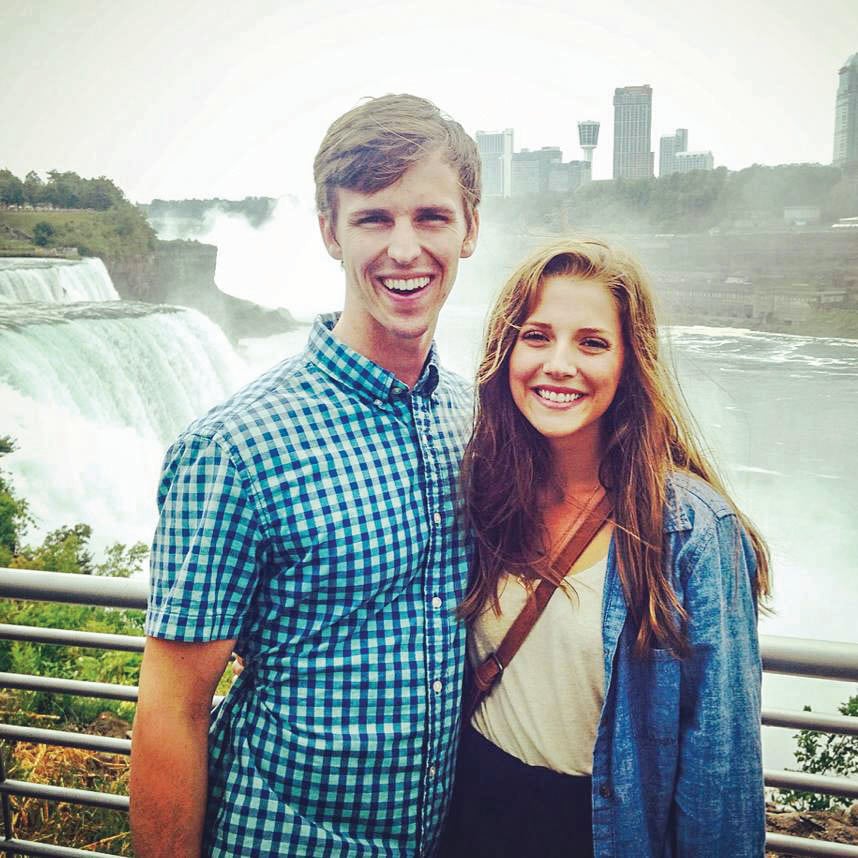 Harrison and Hayley Waldron pose for a photo at Niagara Falls before their trip to New York state for the wedding of friends took a tragic turn. (PHOTO BY NATALIE HEYEN)On Aug. 14, after the rehearsal dinner at the bride's family farm, a friend invited Harrison to ride on the back of an all-terrain vehicle. As they navigated the four-wheeler across the unfamiliar landscape, they encountered high grass. Before they knew what was happening, the ground gave way to a deep ravine, then plunged 10 feet.
The driver broke his wrist in two places. Harrison was thrown and landed hard between boulders at the bottom of the ravine, his head bearing the force of the fall.
By the time Hayley got word to Harrison's parents, Phil and Donna Waldron, their son had been flown 15 minutes away to the trauma unit in Erie, Pa., and prepped for emergency surgery to relieve pressure on his brain. The missionary couple, who live and work in Santa Rosa de Copán, Honduras, rushed to make arrangements and be by his side. Hayley's parents, Tim and Lisa Smith, of Nashville, hurried to support their daughter and son-in-law.
Hayley Waldron keeps Harrison's wedding band close to her heart until he can wear it again. (PHOTO BY BOBBY ROSS JR.)"We didn't know if he would die before we got there," Phil Waldron said.
"My prayer all the way there was that God would just let me see him alive," Donna Waldron said.
Even before they arrived 32 hours later, all were told that Harrison had suffered a devastating brain injury. He was in critical condition. His prognosis was grim.
Before the first surgery, a doctor removed Harrison's wedding band and gave it to Hayley. She wears it suspended on a chain around her neck and looks at it often.
"I thought, he's not going to get to wear this for a little while, but I will," she said. "And I'll keep it right next to my heart and just remind myself he's with me, and he's fighting. … I cannot wait to put it back on his finger one day when he wakes up."

UNCONDITIONAL LOVE
Before the accident, the future seemed so bright — so certain — for Harrison and Hayley, who met and fell in love as freshmen at Harding in 2012.
They hadn't been together long when a friend of Hayley's suffered traumatic injuries in a car wreck and later died. Harrison canceled spring break mission trip plans so he could care for Hayley.
"He drove me to Texas so I could see my friend one more time," she recalled. "Then, he came home with me for spring break and tried to take care of me. … I knew then that he just really loved me unconditionally already."
They married in May 2014 at the end of their junior year.
"It was a perfect moment," Lauren King, one of Hayley's bridesmaids, wrote in a blog post. "Two people chasing after the Lord first and foremost and experiencing love for each other in the midst of it. It was a stunning day filled with beautiful love."
Harding President Bruce McLarty called Harrison and Hayley two of the university's most joyous and talented students ever. In chapel, at devotionals and at faculty meetings — anywhere people gather for prayer — the Waldrons' names are spoken.
"To see two such beloved and wonderful people going through this experience is breaking our hearts, refining our faith and driving us to our knees," McLarty said. "The prayer is this: 'Lord, please bless Harrison and Hayley, and help Harrison to wake up!' Even our freshmen who have never met Harrison and Hayley feel that they know them and that part of their family is hurting."
Hayley said she feels those prayers. They sustain her. She tells Harrison many, many people are lifting them up every day.
"I try every afternoon to have a special time to encourage him. I say, 'God loves you, and he has a plan for your life. And I love you, and I'm here. I'm not leaving.' I try to reassure him and remind him that we're a team."
Hayley Waldron, center, walks down a hallway at the Shepherd Center in Atlanta, joined by her husband Harrison's parents, Phil and Donna Waldron. (PHOTO BY BOBBY ROSS JR.)

'WAIT AND SEE' TIMES A MILLION
Days 2 through 86 have seen Harrison transferred between facilities, upgraded to stable condition and diagnosed as minimally conscious.
Hayley writes daily in a journal she says is for Harrison to read later, to know what was happening while he was sleeping. He yawned today. He's fixating on people as they walk around. Progress, she said.
Christians from the Waldrons' and Smiths' home congregations and across the U.S. — and beyond — have fasted, donated to travel funds and helped pay for other expenses.
From her vantage point, Hayley has seen the one-time occurrences become more frequent, even regular.
A friend created a bracelet as a reminder of prayers for Harrison and used it to raise funds for the family. (PHOTO BY ALYSSA MOORE)He can open both eyes, sometimes simultaneously. He is able to give the thumbs-up sign when asked by therapists. Swallowing, yawning, even pressing "yes" and "no" buttons on an iPad are more common.
As to how far Harrison can take his recovery, the doctors cannot say. Nor can they predict a timetable.
"We probably heard 'wait and see' a million times in the past three months," said Donna Waldron, whose son also remains susceptible to illness and infection because of his weakened condition.
Hayley brushes off the doctors who sometimes give discouraging reports, preferring to focus on her husband's progress.
"I tell her she's like the little boy David that didn't know he couldn't kill Goliath," Phil Waldron said. "David just did it. Because of his faith and his courage, he was able to kill the giant. That's what we kind of think of Hayley."
"She walks inside this hospital every day, and she sits by his side, and you can't help but face the harsh possibilities if you do that," Donna Waldron said. "But she's chosen to be hopeful, faithful and fully trusting."
Hayley knows her positivity gives people pause.
"Sometimes people think I'm crazy because I'm like, 'God is going to take care of this.' (But) look at what he's done so far. He kept Harrison alive. He has been healing him. This healing process is not a quick one, but he has been healing him."
"(God) kept Harrison alive. He has been healing him. This healing process is not a quick one, but he has been healing him." Hayley Waldron, Harrison's wife