In theaters Aug. 26 —'Greater' — a story of faith and football
---
UPDATE:
"Greater" will open in theaters Aug. 26th.
Brandon Burlsworth has been called the greatest walk-on in the history of college football. And it seems Hollywood agrees.
His incredible true story of faith and football is portrayed in the upcoming movie, "Greater," set to be released this summer.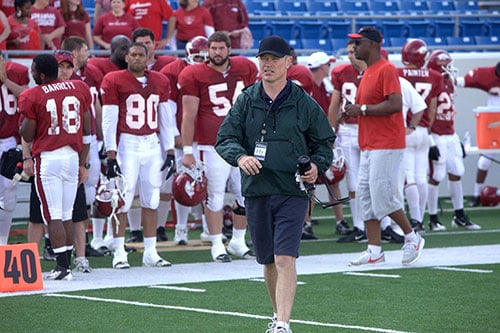 Neal McDonough, who portrays Brandon's brother, Marty Burlsworth, said it is his favorite movie he's ever done.
Growing up in Harrison, Ark., Burlsworth was a quiet kid with Christian values. With a little bit of skill and a lot of determination, he rose from a lowly walk-on to a starting offensive lineman during his time at the University of Arkansas in Fayetteville. 
"Brandon's story was of someone that worked their way up from basically being told they weren't capable," Burlsworth's older brother, Marty, told The Christian Chronicle. "He was discouraged over and over again but wouldn't take no for an answer."
After graduating with a master's, Burlsworth was the Indianapolis Colt's third round pick in the1999 NFL draft. Eleven days later he was killed in a car accident.
Marty and Vickie Burlsworth
"Bad things happen to everybody," said Marty Burlsworth's wife, Vickie. "We all go through periods of tragedy, but we must keep the faith."
Marty and Vickie Burlsworth, members of the Northside Church of Christ in Harrison, said the movie is better than they could have hoped.
"Right after Brandon died, several people approached us," Vickie Burlsworth said. "They wanted to 'Hollywood' it up and put things in there that weren't true. We had to hold out."
And they did — for 17 years. 
"Greater," rated PG, will show an honest portrayal of Burlsworth's unlikely rise to the top. 
"It's hard to show someone doing it right," Vickie said, "but Brandon's example comes through."
The family football film was originally scheduled for release in January, but in a press release issued just days before the scheduled release the film distributor, Chris Hammond, said the demand for the film larger than they had hoped. Hammond and writer/producer Brian Reindi said they believed it would be better to wait and release the film at a time when more screens would be available. 
Read the full press release  here .