Good News for good sports
Keeping players out of trouble and in the Word is a growing concern on Christian university campuses.
---
Anna Buhigas walked onto Lipscomb University's campus with equal amounts of prowess and pain.
At age 5, she endured an ugly custody battle as her parents divorced. Then her mom, after a cancer diagnosis, moved to her hometown in Spain and left Buhigas with her father.
"I remember the day that she left, taking a little piece of my heart," Buhigas said. Her father tried to fill the void with pets and horseback riding lessons. In high school, she lost herself in relationships.
"I just needed that affirmation everyday that I was beautiful, I was wanted," she said.
She found solace in sports. The soccer field became her home.
She came to Lipscomb to play.
On her first day at the Nashville, Tenn., university associated with Churches of Christ, she met goalkeeper coach Shannon O'Brien, who poured as much of herself into Buhigas as the young athlete poured into soccer. O'Brien quickly became a mentor — the mother figure Buhigas craved.
"Jesus answered my prayer. He sent me family."
She also met assistant coach Chris "Klotzy" Klotz, now director of spiritual formation for the university's athletic programs. His position is part of an initiative at Lipscomb, launched five years ago, to address the spiritual needs of student athletes.
Chris Klotz speaks to volleyball player Lauren Anderson before her baptism on the Nashville, Tenn., campus. With them is Callista Pascarella, a member of the women's soccer team.In his younger days, Klotz also "worshiped the god of soccer," as he put it, and played for the University of California, Irvine. Then he discovered Missionary Athletes International, a summer-league program that taught him how to become a sports minister, a disciple-maker, through his love of the game.
Inspired by her coaches, Buhigas joined her teammates on a mission trip to the Central American nation of El Salvador, where they played with children and served the impoverished.
Though she knew who Jesus was, "I didn't really know him until that trip," Buhigas said. "I just saw the love of my teammates, the joy, the freedom of knowing Jesus.
"We met an old lady there named Matilda. And I remember Klotzy asking her, 'If you had one piece of advice for this group of college girls, what would it be?' And she's like, 'I just want them to know that they should love their moms.'"
She returned to the U.S. encouraged, prayerful and excited.
"Things are going to be better," she told herself. "I'm going to go to Spain, and things with my mom are finally going to be better."
BREAKING RULES, MAKING HEADLINES
Not every student has the same experience when they sign up to play for a Christian university.
Back in the 1990s, when Brent High played baseball for Lipscomb, some athletes "would show up on campus in the fall — they'd been recruited — and they'd realize two or three days into being there that there was a curfew, there were Bible classes, that they had to go to chapel."
When they come to a Christian school, some athletes adapt to the rules. Others don't, said High, who later worked in the athletic director's office at Lipscomb. Often, students who repeatedly or egregiously violate policies at Christian schools lose scholarships or are quietly dismissed from the team.
Sometimes, however, their actions become national news.
In Waco, Texas, the nation's largest Baptist university, Baylor, is plagued by allegations that it failed to adequately handle cases of sexual assault. Earlier this year, a law firm hired by the university to investigate its policies painted a picture of a football program operating "above the rules." The team's coach, Art Briles, was fired, and the university's president, Ken Starr, was demoted and later resigned.
Faulkner University, a 2,500-student school in Montgomery, Ala., associated with Churches of Christ, also made headlines in December 2014 after the off-campus shooting death of Ryan Brooks, who played football for Faulkner, and the arrest of student athletes Marshall Wall, Ronnie Williams and Tabias Russell — all recently indicted on murder charges.
According to court documents, the four students attempted to enter the home of another Faulkner student and former athlete in an attempt to steal illegal drugs. The homeowner shot Brooks in self-defense, police said.
Billy Hilyer, Faulkner's then-president, called the tragic incident "completely counter to everything that we stand for at Faulkner" and promised change.
Nearly two years later, Faulkner has intensified its drug-testing efforts and decreased the size of its football program — a Division 1 team in the National Association of Intercollegiate Athletics, or NAIA — from 223 students to 145, eliminating its junior varsity team, said Christopher Kratzer, director of public relations. The more manageable size increases accountability and "lets everybody know everybody," he said.
But rules aren't enough, Kratzer added, and university officials have placed "a renewed emphasis on growing our players into positive, contributing members of our society."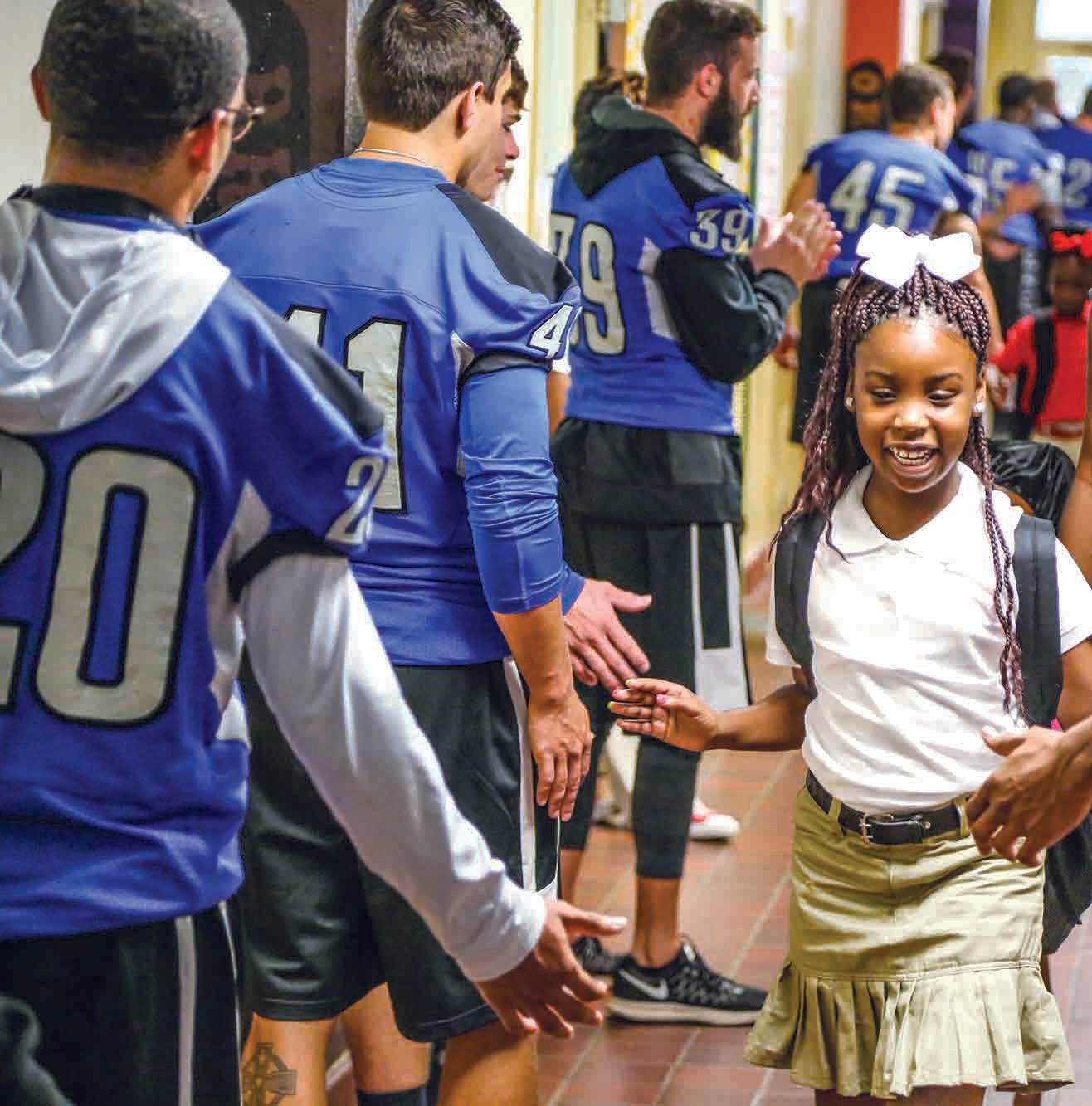 Administrators and students — including football and soccer players — from Faulkner University line the halls of an elementary school and welcome students to class.That includes a new mentoring program, faith-based counseling and team-specific service opportunities. Faulkner partners with a nearby elementary school that has student from underserved communities in Montgomery. Athletes seek to be mentors for the children. This fall, on the first day of school, Faulkner football and soccer players lined the halls and cheered for the children as they headed to class.
Marquis Grays, a junior from Huntsville, Ala., is a point guard for Faulkner's men's basketball team. Since age 6, he dreamed of "playing basketball at a higher level," he said.
But he never thought much about a higher power.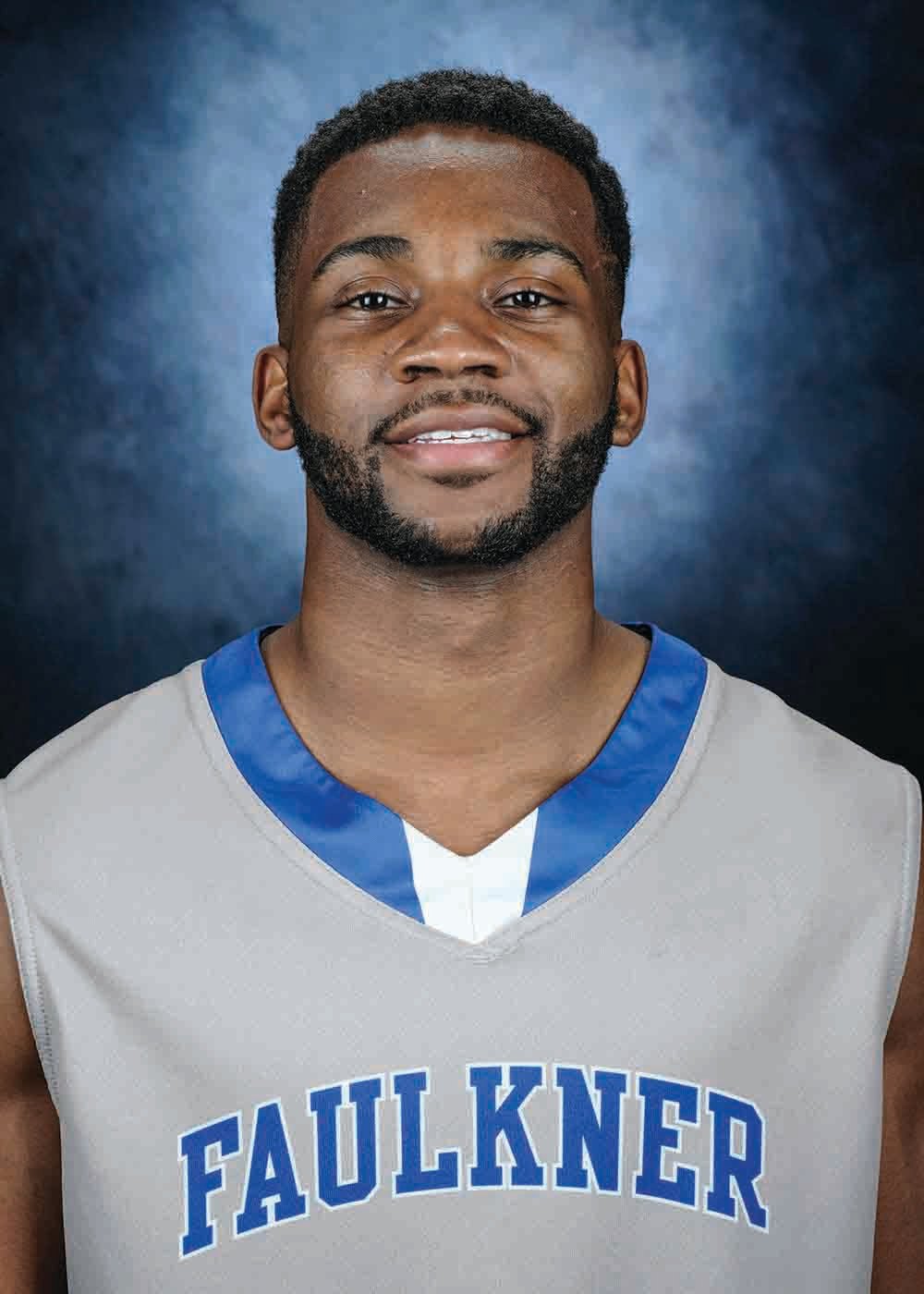 Marquis Grays"I was just trying to go find a place to play basketball," he said, and when he enrolled at Faulkner, "I got on the wrong path." But he also made Christian friends — students and fellow athletes who accepted him and "just let me be myself. I could talk to them about anything."
His coach, Scott Sanderson, stresses character and faith — and "motivates me to be the best man that I can possibly be," Grays said. The student athlete attends college ministry classes with the Landmark Church of Christ and was baptized a little more than a year ago.
"I love Romans 1:16, 'I am not ashamed of the Gospel,'" he said. "It motivates me.
"I'm a man now. Time to step up."
'THE CULTURE THAT YOU BUILD'
Keeping students on a path to spiritual growth — and out of trouble — requires "a culture that must be prioritized by all coaches and administrators," said Lisa Gilmore, an associate director of athletics at Abilene Christian University in Texas.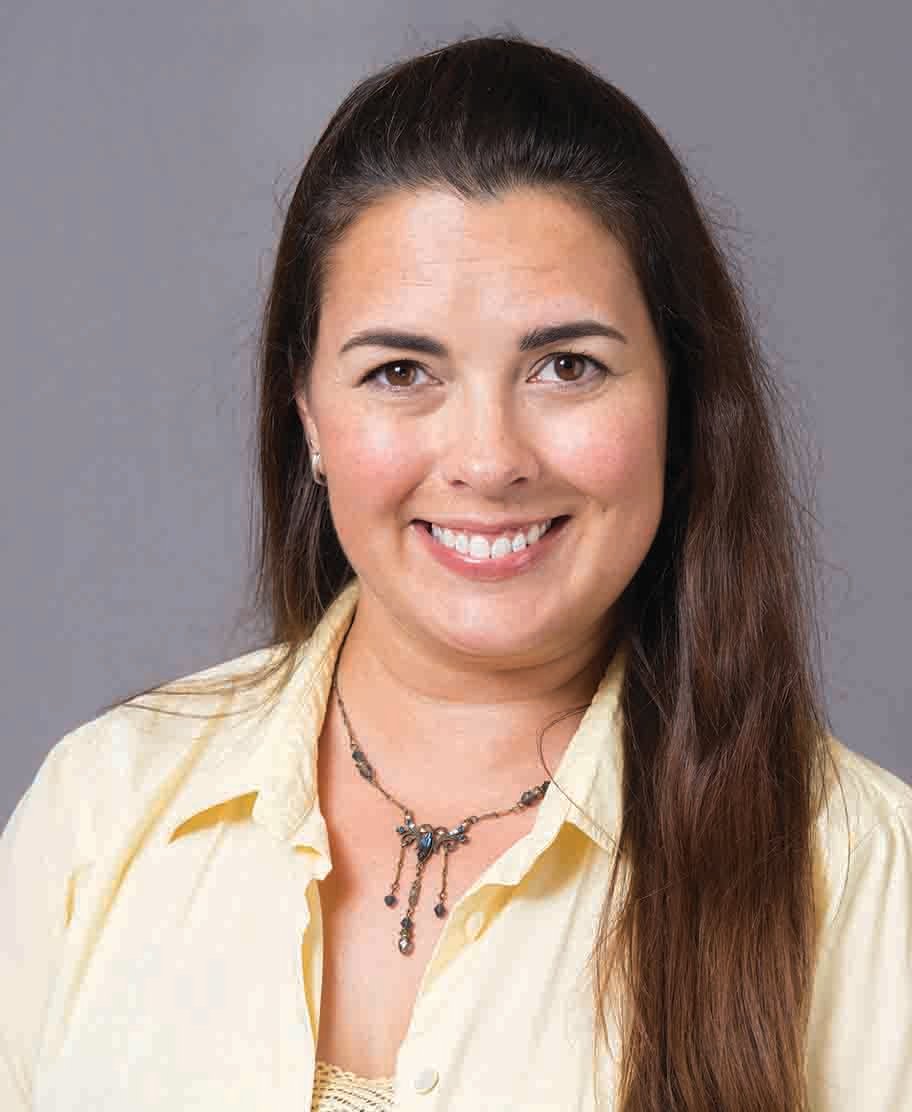 Lisa Gilmore"It's important for student athletes to see spiritual leadership from not only their head coach, but also from the athletic director, their athletic trainers, their professors," said Gilmore, who focuses on the welfare of student athletes at ACU, a 4,500-student school associated with Churches of Christ that plays NCAA Division 1 sports including football and basketball.
Curtis Janz, former athletic director for Oklahoma Christian University in Oklahoma City, agreed that success on and off the field depends on "the culture that you build" and stressed the need for administrators to be honest, accountable and consistent in disciplinary practices. The 2,500-student school competes in NCAA Division 2.
"I think we get in trouble when information stops — when someone tells a coach and the information stops, when a coach tells an athletic director and it stops," said Janz, now athletic director for the University of Arkansas-Fort Smith.
For nearly 20 years, Bob Crawford sought to cultivate that culture at Ohio Valley University, a 400-student school in Vienna, W.Va., associated with Churches of Christ. In the locker room, the baseball coach stressed integrity and character.
He also shared his faith freely with student athletes — many of whom came from outside Churches of Christ.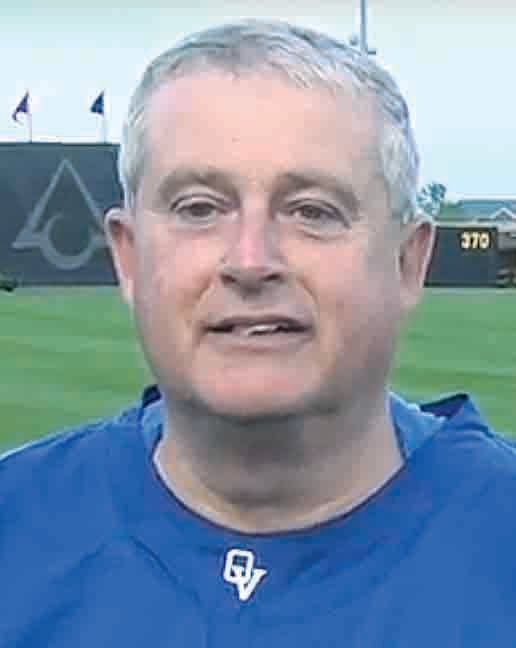 Bob Crawford"Just running cross-country and track will not get you into heaven," Crawford said. "But knowing Jesus and accepting him as your savior, (getting) baptized for the remission of sins and being faithful will get you to heaven."
Crawford, a self-described "circuit-riding preacher" who ministers for five area congregations, hosts devotionals for student athletes. Some go on mission trips and get involved with local churches.
During his career with OVU, more than 30 baseball players and cross-country runners have been baptized, Crawford said.
One of them, Chad Porter, is now the university's athletic director. Porter played two years of college baseball at Heidelburg University in Ohio before he "transferred to OVU and was transformed," he said.
"Coach Crawford … made an immediate spiritual impact on me," Porter said. "He showed me Scripture and was a great example. I also had great teammates who were a great influence on me."
Crawford stepped down from coaching in 2015 but continues to work with Porter as assistant athletic director for advancement and spiritual enrichment.
At Lipscomb, former baseball player Brent High served as the university's first associate athletic director for spiritual formation.
"If you really want to summarize what I did, I met kids where they were," High said. "When you're talking about 'How do you keep your faith? How do you stay pure?' the first thing you've got to learn is that these kids meet the same temptations as any other kid in any other school in America. We've dealt with everything you can imagine in a group of 300 student athletes."
Students "come to us with all kinds of baggage," he added. "You have to walk with kids through that baggage — whether its abuse issues, dependency issues … eating disorders. The counseling end of this became much larger than I ever expected."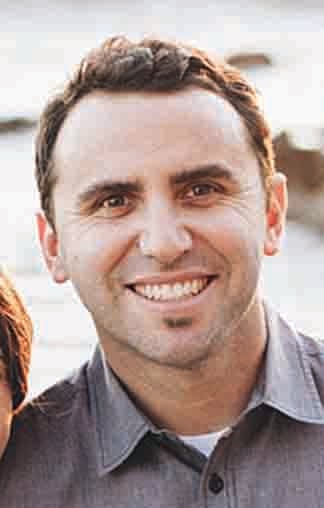 Chris KlotzChris Klotz now serves as director of spiritual formation for the university's athletic programs. He coordinates mission trips and local outreach efforts, mentors male students, oversees the university's chapter of the Fellowship of Christian Athletes, conducts chapel programs and serves as a chaplain for the athletic department.
In the past five years, student athletes have participated in 34 mission trips, Klotz said. And 65 have given their lives to Christ in baptism.
'JESUS ANSWERED MY PRAYER'
For soccer player Anna Buhigas, her trip to Spain didn't go as planned. She and her mother weren't able to mend the years of hurt.
"I felt so lonely, so frustrated, at rock-bottom with this relationship," she said. She fervently prayed for Jesus to "come into my life and fill that void."
"I know that God has picked me up — literally picked me up out of that lonely, abandoned kind of childhood — and placed me here."
The next morning, she got a text message from one of her best friends at Lipscomb. She wanted to visit Buhigas in Spain and had found the money to make the trip.
"Jesus answered my prayer," Buhigas said. "He sent me family."
This March, Buhigas — the reigning Atlantic Sun Conference Goalkeeper of the Year — returned to El Salvador with her Lipscomb teammates.
There, in the waters of the Pacific Ocean, she was baptized.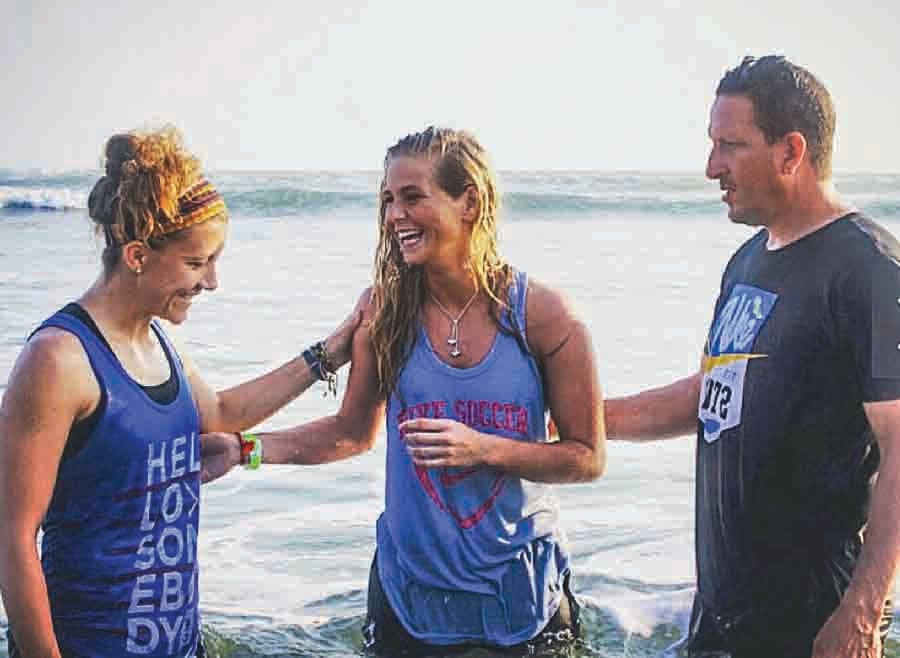 In the coastal waters of El Salvador, Anna Buhigas celebrates her baptism with Lipscomb associate head soccer coach Kelsey Fenix and head coach Kevin O'Brien.
"I can't even describe how much my life's changed," she said. "I don't need relationships to affirm me or fill that void anymore. I don't need my dad to be my hero, my savior, buy me things … to fill that void.
"I know that God has picked me up — literally picked me up out of that lonely, abandoned kind of childhood — and placed me here."

Additional reporting: Katie Jones
Related
• Keeping the faith, on and off the field