'God has brought a mission field to us'
Hispanic church planter Hector Hinojosa urges Christians to serve U.S. Latinos across multiple generations.
---
Hector Hinojosa and his family use a computer program,
Rosetta Stone
, to help them brush up on a foreign language — Spanish.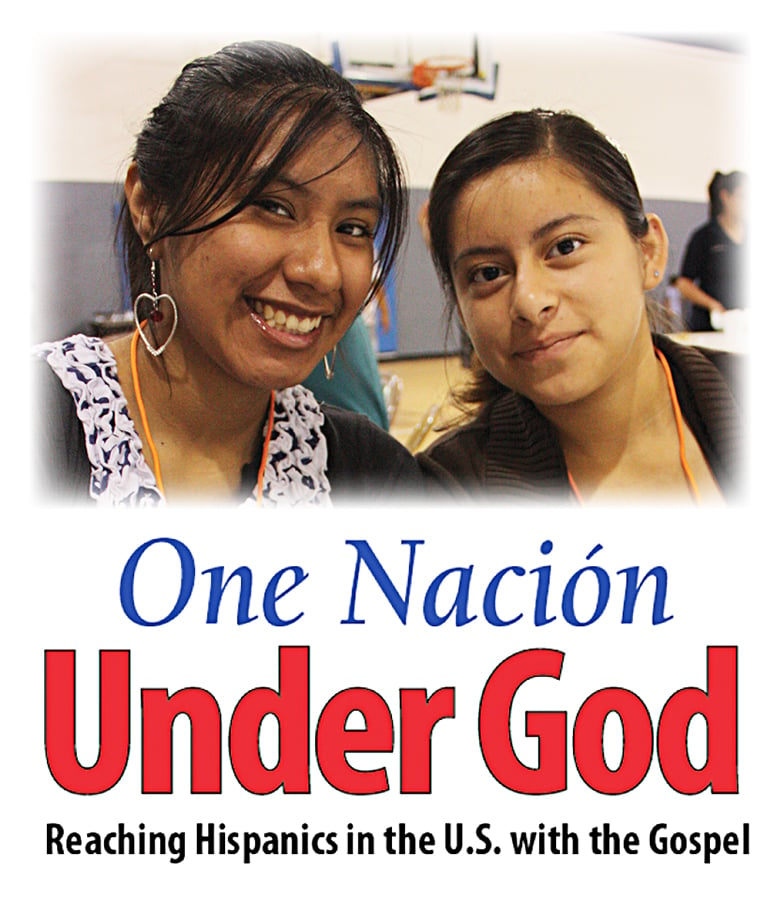 That may seem strange for a family with roots in Mexico, but just like many second- and third-generation Latinos in the U.S., the Hinojosas speak — and worship — primarily in English.
Born in Brownsville, in far south Texas, Hinojosa grew up in a predominantly Anglo neighborhood. Raised Catholic, he was baptized at age 33 after participating in a Bible study with members of the Brownsville Church of Christ.
He worked alongside fellow Hispanic Christians through
Genesis Alliance
— a ministry designed to reach first-generation immigrants from Latin America.
Recently, he and other U.S.-born Latino Christians launched Hyphen, a sister ministry designed to reach a demographic they believe is underserved by churches — Hispanics who grow up speaking English and find themselves lost between two cultures.
There are differences between immigrants and their descendants, he says. (Throw a ball to a first-generation Hispanic, and he'll dribble it with his feet. Throw one to a third-generation Latino, and he'll likely catch it.)
However, "the one thing that is the same is family. It's not unusual for us to make huge sacrifices for our families."
What are some misconceptions about Hispanic ministry?
The big one is that all Hispanics speak Spanish. If there is one thing I want your readers to understand, it is that we are talking about both Spanish- and English-speaking Hispanics. For the English-speaking Hispanic, it's not about the language. It's about the culture.
Another misconception is that all Hispanics think the same and like the same things. "Not all Hispanics like tacos" is a saying we like to use.
Still another misconception is that if a traditional congregation sings one or two hymns in Spanish once in a while, Hispanics will rush to their church. While that is not a bad idea, much more has to be done.
What to do — and how to do it — is what Genesis Alliance and Hyphen are all about. We work with churches to help them formulate a plan to reach this community. Genesis Alliance focuses on first-generation Hispanics, while Hyphen focuses on the English-dominant Hispanics of the second and third generations.
Every church and community is different, so every plan will be different. We can work with church leaders to make their congregation Hispanic-sensitive.
We may not have all the answers, but we know the questions to ask.


How many Spanish-speaking Churches of Christ are there in the Dallas-Fort Worth area?
In the Metroplex, I count about 20 first-generation churches. Most of these are churches within a church. A Caucasian congregation saw a need to reach out to Spanish-speaking people and started a work. Genesis Alliance has helped plant many such churches. This is why Sixto Rivera, executive director of Genesis Alliance, founded the ministry.
What kind of ministry is needed to serve the Hispanic community? 


In a word, intentional.
Hispanics are not going to accidentally start attending our churches.
Spanish-speaking churches have been — and will continue to be — a vital area of our ministry. We will always be in this business because new immigrants are getting here every day. They are not coming in the numbers they used to, but they are still coming, and they need to hear about Jesus in the only language they know — Spanish.
But the real potential is in the second- and third-generation Hispanic. We live "in the hyphen" of the Hispanic American demographic — not being Hispanic enough to feel comfortable in a Spanish-speaking service, but not feeling that we belong in a predominantly Caucasian congregation. We need ministries that will introduce this demographic to God's Word in a non-threatening, non-judgmental way. We will be more effective if we invite them to a relationship with Christ and are not viewed as trying to "convert" them out of Catholicism.
The Discovery Bible Study, used by our ministry, is a great tool for this. It's a way to get them into the Word. We need to make disciples that make disciples, because when you make disciples, you get a church. You don't necessarily get disciples if you plant a church.
What challenges face churches that want to reach the Hispanic community in their backyard?


The first challenge is to see who God has put in our backyard. Many of our churches have had Latino communities grow up around their buildings. Many already serve the community. The next logical step is to invite them to have a relationship with Jesus.

The Christian Chronicle
has reported that there is a
declining number of Churches of Christ in the U.S.
— and that there are fewer people in those churches. This is a disturbing trend. But God has brought a mission field to us. And many in this mission field have an understanding of God because of their Catholic (or other church) backgrounds. But most have never studied the Bible.
A question I was hoping you would ask is, "How did I, a former Catholic, become a member of the church?"
It's pretty simple. It was not because of our doctrine or traditions, but it was because someone in the church demonstrated the amazing grace of Jesus when I did not deserve it but needed it most.
I think, ultimately, that is what we are called to do, with Hispanics or anyone else. Love people into the Kingdom.