God 'conquered the pueblo'
Among the mountains of South America, a small church experiences the depths of persecution — and the heights of faith.
---
Taray, Peru — A haunting melody, sung through smiles and tears in a language few outsiders understand, floats through this quiet mountain village.  
"This song is sad. It's about the suffering of Christ," says Narciso Roya. "Sometimes I cry when I sing this song because it's so sad."
There are white flecks of cement in his jet-black hair and on his soccer jersey. He's been hard at work building a new meeting place for the 25-member Huancalle Church of Christ, which worships among the mountains surrounding Cuzco. Here, they're close to God — 11,276 feet above sea level.
Roya and three of his fellow Christians have taken a break so that a pair of visitors can hear selections from "Iñiq Taqa Espiritual Kaq Takikuna," a hymnal in their indigenous language, Quechua. 
Roya closes his eyes as he sings about the cross, the nails, the blood. His voice quivers with each staccato word.
Jesuslláy, Jesuslláy, (My Jesus, my Jesus)
reqsikuykikum rantiqniykupaq (we know you as the one who purchased us with your blood).
Qespiqlláy, Qespiqlláy, (Savior, Savior,)
chaskikuykikum Señorniykupaq (we welcome you as our Lord).
Roya knows what it means to suffer for his beliefs. His community is a traditional Peruvian pueblo, or village, populated by descendants of the Incas, who built a mighty empire and the ancient city of Macchu Picchu, not far from here. 
Since the days of the conquistadors, Catholicism had been the only acceptable faith here. Roya grew up never thinking much of it. 
"For me, God wasn't God of Heaven; he was god of the images, god of the idols," Roya says in his second language, Spanish, as one of the visitors, missionary Barton Kizer, translates. 
"He had read the Bible," Kizer says, "but hadn't understood."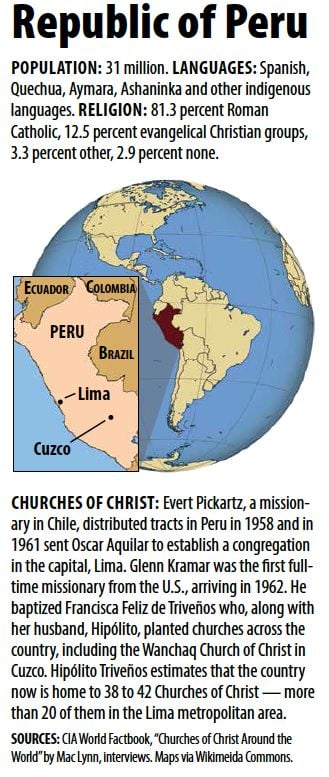 Then he joined a construction crew working in the Peruvian jungle about five hours from the pueblo. In the village where he stayed, he saw a curious group of people bowing down and praying. They were holding Bibles and looked to be reading them — something he thought only priests did. 
And they were singing. It sounded heavenly.
"Who are these people?" he asked a coworker, who put his hand to his mouth and whispered, "They're evangelicals."
It was the 1970s. Non-Catholic churches in Peru's rural, indigenous communities were treated with suspicion — and talked about in hushed tones. But Roya liked what he heard. 
When he returned home, he found an evangelical church in a nearby village and started worshiping with them. Then he began hosting church services in his own pueblo. 
That's when the problems started.
"People wanted to shoot me with guns," he says. "It was very difficult. My parents hated me, kicked me out of the house." But he kept worshiping, studying and inviting — despite those in his family who called the new church a bunch of devils. They would "blame the evangelicals for lack of rain, for hail, for all the bad things that happened."
But a few neighbors believed that the young church was just trying to follow the Bible. Attendance started to grow. Some angry villagers tried to douse their meeting place with kerosine and burn it down, so they moved from house to house. 
The new believers listened to gospel radio programs, including one from Cuzco hosted by Hipólito Triveños, a minister for the Wanchaq Church of Christ. 
Members contacted the minister, who came to the pueblo in 1982 to hand out gospel tracts. He met Roya and helped him study the Bible, even though a villager once tossed hot ashes on his head, Triveños recalls. 
But Triveños and another preacher in Cuzco kept coming back to the village and became a great source of encouragement, Roya says. The congregation's members were baptized.
As years passed, things slowly began to change in the pueblo. Neighbors who had once scoffed at the church noticed that its members were kind. They didn't abuse alcohol. 
The church members got involved in their local government. They helped remove corrupt leaders and took positions as community treasurers and secretaries, promising to be fair and just, as commanded by Scripture.
"That's how we conquered the pueblo," Roya says. "It was the Word of God."
After decades of meeting in homes, the church members received a plot of land for a church building. They've since outgrown it, so they tore the building down and are building it again, bigger than before. Each family has contributed their own funds for construction.  
"The people here, they sew, they cultivate, they do whatever they can" to earn money, says Triveños, who has since planted another Church of Christ in Cuzco's San Sebastián district. He visits the mountain congregation regularly. Its members travel to Cuzco on Saturdays to sell their wares in the open-air markets. 
But they're always back home on Sundays, he adds, ready to sing hymns in their native tongue — some of which they composed themselves.
When asked if he ever envisioned, during the years of persecution, that the church would one day have its own building, Roya replies,"I never thought about that. We didn't think we'd grow like this. 
"So now we're tearing down what we had and building something more permanent."
Soon, the church members will fill this new space with beautiful, haunting Quechua hymns about the suffering Christ endured — and the salvation his blood brings.
Jesuslláy, Jesuslláy, we know you as the one who purchased us with your blood. Savior, Savior, we welcome you as our Lord.