Genesis Alliance hosts college fair for Latino students
Rapid growth among Hispanics in U.S. "is an opportunity that may save our nation," says Dan Bouchelle of Missions Resource Network. Latinos bring vitality, energy "and a love of family that we have lost in our country."
---
Representatives of Lubbock Christian University in Texas talk to potential students during College Day at the Highland Oaks Church of Christ in Dallas. (PHOTO BY JAMES NORED)
DALLAS — Christian universities face the same challenge churches face as they strive to reach the fastest-growing ethnic group in the U.S.
Though they claim their doors are open wide for Latinos, few seem to be walking across the threshold. 
The Latino ministers and church members who comprise Genesis Alliance hope to change that. The ministry, designed to reach first-generation Latinos in the U.S., hosted its first-ever College Day Oct. 25 at the Highland Oaks Church of Christ. About 50 students and parents attended.
Since 1990, the number of people who identify themselves as Hispanic has grown from 22 million to about 53 million, according to census data. That's about 17 percent of the U.S. population. Churches of Christ across the U.S. seek to reach this rapidly growing demographic. And Christian universities struggle to grow their percentages of Latino students, which lag behind the national statistics.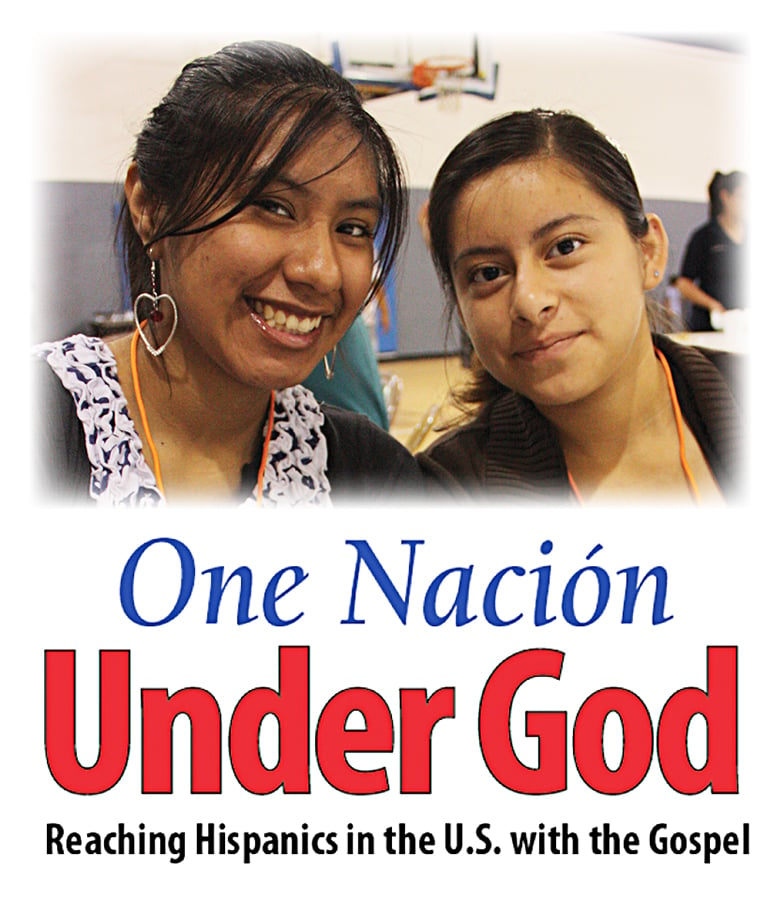 • In a Latino trailer park, a 'bus ministry kid' pays his blessings forward.
• In Atlanta, technology helps bring together Spanish, English speakers
• See more stories in our ongoing series

Representatives of universities associated with Churches of Christ — including Abilene Christian University and Lubbock Christian University, both in Texas; Oklahoma Christian University in Oklahoma City; Ohio Valley University in Vienna, W.Va.; and Harding University in Searcy, Ark., talked to Hispanic parents and students about the value of a Christian education.
At a dinner hosted by Genesis Alliance after the college fair, ministry leaders discussed ways churches and universities are adapting and adopting strategies to reach an increasingly Latino nation.
"The U.S. is becoming Latinized at a stunning rate — and this is not a problem," said Dan Bouchelle, president of Missions Resource Network, a nonprofit that seeks to help Churches of Christ plant strong congregations worldwide. 
"This is an opportunity that may save our nation," Bouchelle said, "because these people are coming with a vitality and an energy and a love of family that we have lost in our country."
Genesis Alliance uses an organic approach of bringing Jesus into the Latino community rather than focusing on a traditional church structure, said Executive Director Sixto Rivera. 
Through videoconferencing, Rivera hosts training, coaching and mentoring sessions for potential church leaders across the U.S. and Latin America. 
For ministries among Hispanics to grow, church leaders must be willing to look for — and cultivate — new talent, Rivera said. 
"That's how Jesus did it," he said. "He got tax collectors and common people and he made them leaders.
Rivera urged ministers and elders of churches — Latino and Anglo — to focus on goals beyond adding a few extra people to their pews on Sunday mornings.
"If we plant churches, we may make disciples," he said, "but if we make disciples, we will plant churches."
Dan Bouchelle, president of Bedford, Texas-based Missions Resource Network, speaks about "Embracing a God-Given Opportunity" to reach Hispanics with the Gospel during a Genesis Alliance dinner at the Highland Oaks Church of Christ in Dallas. (PHOTO BY JAMES NORED)
Bouchelle encouraged churches across the U.S. to see the great need to reach Latinos in their communities — and to utilize ministries such as Genesis Alliance as the seek to spread the Gospel in an increasingly diverse nation.
"This ministry stands in the river that is downstream from a giant snowfall, and it's beginning to thaw," Bouchelle said of Genesis Alliance. "This river is going to flood its banks and wash over this entire area, and I think maybe we ought to pay attention and join in — and get in the stream with them."