From bat boy to major-league executive
San Diego Padres' vice president and assistant general manager Chad MacDonald devoted to his faith.
---
ARLINGTON, Texas — On his frequent trips to the San Diego Padres' international baseball academy in the Dominican Republic, Chad MacDonald usually takes along an extra suitcase.
It's not because MacDonald, the Padres' vice president and assistant general manager of player personnel, has trouble packing lightly.
"He fills it with shoes and flip-flops and things because the kids down there are playing baseball barefooted in the sticks and rocks," said Doug Peters, senior minister for the 600-member
North Davis Church of Christ,
the North Texas congregation where MacDonald is active when he's not on the road.
Minister Doug Peters, with Chad MacDonald and Caden MacDonald, after a Sunday morning assembly of the North Davis Church of Christ in Arlington, Texas. (PHOTO BY BOBBY ROSS JR.)
MacDonald, 44,
got his start
as a batboy for his hometown Texas Rangers — who play not far from the North Davis church building — in the 1980s.
Now in his third season with the Padres and 22nd overall on a major-league payroll, the dedicated Christian characterizes his benevolence in Latin America as "no big deal."
"That's easy to do," he told The Christian Chronicle. "I love my job, but I try to live out my faith, too. So when you see people in need, you're there to help. I think that's somewhere in the Bible."
Two shoulder surgeries derailed MacDonald's once-promising career as a pitcher.
An Arlington native like her husband, Julie MacDonald grew up in the North Davis church — the daughter and granddaughter of church elders — and served as the congregation's first children's minister.
Chad MacDonald's office is in San Diego, but the family lives in Arlington.
Sons Caden, 13, and Cort, 10, both play youth baseball. Their father makes it to as many games as possible, but he misses more than he'd like.
"Our roots are here," he said. "I can get on a plane and get anywhere from Dallas."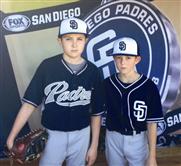 Caden MacDonald, 13, and his brother, Cort, 10, show their support for their father's team, the San Diego Padres. (PHOTO PROVIDED BY CHAD MACDONALD)

A DREAM JOB

MacDonald began his front-office career with the Rangers in 1993, later serving as a scout for the Cleveland Indians and the Los Angeles Angels. 
He spent five seasons as the Arizona Diamondbacks' assistant scouting director and director of international scouting and a season as the New York Mets' director of scouting. He previously worked with Padres general manager Josh Byrnes in Cleveland and Arizona.
"It's a dream job, other than waking up early and going to the airport and missing time with family," MacDonald said. "But it's baseball. It's a group of people trying to pull in one direction to get the big-league team to win. That's exciting."
His lofty goal: bring a first-ever World Series title to San Diego.
The Padres finished 76-86 the last two seasons, but MacDonald has high hopes.
"Our pitching's really good. We've got some frontline guys. We've got depth," he said. "I think our bullpen will be good. And we hope to score some runs."
He predicts a bounceback year for third baseman
Chase Headley,
who hit 31 home runs and led the National League with 115 RBIs in 2012. Headley dipped to 13 home runs and 50 RBIs last season.
MacDonald is hopeful, too, that outfielder
Carlos Quentin,
who began the season with his seventh career stint on the disabled list, can rebound from a left knee injury. If Quentin can stay healthy, he "has a chance to be really productive," the assistant GM said.
"People recognize our farm system as one of the top five in baseball, so we have some prospects coming up, too," MacDonald said. "It's an exciting time to be a Padre."
A HEART FOR PEOPLE

MacDonald has made dozens of scouting trips to the Dominican Republic. 
People in the Caribbean nation are passionate about baseball and life, he said, but they sleep in homes with dirt floors.
"So when you do something for them down there, it's appreciated, and it's meaningful," he said. "I think it's impactful, too."
MacDonald has a job to do, but he isn't afraid to treat prospects as real people with real needs, said Sheryl Peters, the minister's wife.
"I think he's part-time psychologist and counselor," she said.
MacDonald's concern extends to those close to home, whether they can play baseball or not, Doug Peters said.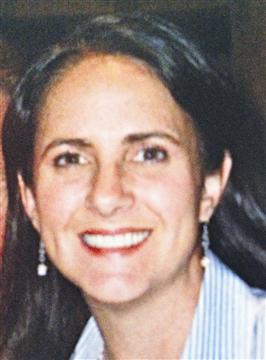 Julie MacDonald
"Chad's got a real heart for people in the community," said the preacher, who visited MacDonald at spring training in Arizona. "He's always working with kids and doing things in our family life center with kids."
Julie MacDonald said of her husband: "Anybody who's been drafted by Chad knows he cares a lot about them. He's in their homes and finding out about them."
Chad MacDonald stresses that it's his job to evaluate players' baseball skills, talent and potential.
Will that guy ever be able to hit a curveball? What does the way that young man wears his uniform say about him? Is that batter afraid of the ball?
"But it's also my job to help them along as people," MacDonald added. "I won't really shove my faith down their throats. But hopefully, they do see that I care about them as people and baseball players. It's a delicate balance."
Chad MacDonald, a member of the North Davis Church of Christ in Arlington, Texas, poses in the San Diego Padres' dugout. MacDonald is the Padres' vice president and assistant general manager of player personnel. (PHOTO PROVIDED BY CHAD MACDONALD)
MORE BASEBALL STORIES