Former nun, 'Change of Habit' author Joanne Howe dies at 80
---
Before she was a sister in Christ, Joanne Howe was a Sister. 
The Pittsburg native, who grew up in a Catholic family, entered the Sisters of St. Joseph in Baden, Pa., in 1949 and remained in the order for 19 years. She later was baptized, worshiped with Churches of Christ and wrote books about her experiences including "A Change of Habit: The Autobiography Of A Former Catholic Nun

."
Howe, a member of the Nashville Road Church of Christ in Hendersonville, Tenn., died Feb. 4. She was 80.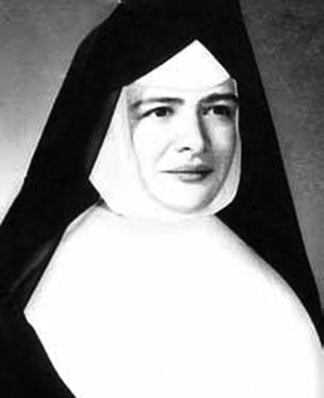 Joanne Howe a few days after she became a member of the Sisters of St. Joseph. (PHOTO VIA GOSPEL ADVOCATE AND HENDERSONVILLE MEMORY GARDENS)
The oldest of 11 children, Howe began at age 13 to prepare to serve as a nun. She later became disillusioned and left the order, though she continued to attend Mass. For the next four years she worked as a schoolteacher and struggled to adjust to life outside the convent. 
She became emotionally involved with the father of one of her students, only to learn he was involved in a sexual affair with his secretary.
Howe confided in a friend that she needed professional help. Her friend recommended Paul Coffman, minister for the Hyattsville Church of Christ in Maryland. During a visit, the minister set a Bible in front of her and asked, "Joanne, are you familiar with this book?"
She was. She even slept with a copy under her mattress for protection. But she had never truly read the book in order to gain an understanding of its words, she recalled.
"Joanne, this book will tell you who you are, where you are going and the road that you need to take to get there," Coffman told her.  
After six months of counseling and study, Coffman baptized Howe on Oct. 4, 1972. Seventeen years later, Howe's mother also was baptized — at age 77.
Howe found a new calling in what she called "seed planting," introducing all who crossed her path to the Good News of Jesus, she said in a 2012 interview with Christian Woman magazine. She shared her personal testimony with everyone she met — even a police officer who once pulled her over for speeding — and gave out countless copies of her books. In addition to "A Change of Habit," she authored "From Nun to Priest: Hope for Those Bound by Tradition
" and, most recently "Biblical Answers to Catholic Questions
," all published by the Gospel Advocate in Nashville, Tenn. 
Howe shared her story in numerous television and radio interviews. She was a sought-after speaker for lectureships, ladies' Bible classes and retreats. She traveled as far as Austria, South Africa and Asia to talk about her faith.
In Nashville, Howe spoke regularly for a local religious broadcaster, presenting 15-minute segments on women in the Bible.
"Life is full of ordinary moments," Howe said, "that can be turned into extraordinary opportunities to show the love of Jesus and lead lost souls to eternal salvation."
She believed every person she encountered would face her on the day of judgment and either say "Thank you for loving me enough to tell me the truth" or "Why didn't you love me enough to tell me the truth?"