For a Nicaraguan church, a revival
Once-struggling congregation finds new life through the work of native missionaries and their Oklahoma supporters.
---
MASAYA, Nicaragua
— The front door of the Sacuanjoche Church of Christ swings open, and children — 260 of them — stream out of a cramped concrete building with a tin roof.
The boys and girls sport freshly painted T-shirts that declare "God is our faithful provider" in Spanish. They carry Bible-themed crafts and sack puppets with Jesus' hair colored brown, orange and even blue.
These young residents of Central America's poorest country — most of whom live in homes with dirt floors — giggle as they dig into plastic goodie bags filled with coloring books, crayons, candy, stuffed animals, toothpaste and toothbrushes.
It's the final afternoon of Vacation Bible School in a busy neighborhood where bikes, motorcycles, small cars and horse-drawn carts share a street paved with hand-laid bricks.
In recent years, this congregation in the heart of a city of 150,000 — about 45 minutes southeast of Managua, the nation's capital — has experienced a spiritual and numerical revival.
Two girls play in the rain under the awning of the Sacuanjoche Church of Christ in Masaya as they await the start of that afternoon's Vacation Bible School. (PHOTO BY BOBBY ROSS JR.)
"It's a 180-degree change from being not unified at all to now being a full, one-for-all congregation," said member Eduardo Ortega, speaking through a translator.
Just a few years ago, internal strife caused the church to dwindle to less than a dozen adult members, said Ortega, an anesthesiologist who helped found the 15-year-old congregation.
"The previous preacher thought that he owned the church," Ortega said, blaming the turmoil on poor leadership.
But now, Sunday attendance tops 70 adults, he said. Weekly giving has quadrupled, hitting 1,700
cordobas
— about 70 American dollars in a country where many live on just a few dollars a day.
The church has grown to the point that kids must gather outside for Sunday school, sitting in tiny plastic chairs arranged on tree-shaded patches of dirt.
Ortega and other members attribute the Sacuanjoche church's revival largely to three native Nicaraguan missionaries — José Guido, Juan Pablo Perez and Gabriel Rivera — and the Oklahoma supporters who sent them.
"They've been more than a blessing," Ortega said of the missionary team, which began work in Masaya in 2010. "They've been the greatest help."
Pictured, from left, are Juan Pablo, Isaac, Fatima, Keyling and Rebecca Perez; José Guido; and Cruz, Jeremy and Gabriel Rivera. Cruz Rivera is Guido's sister. (PHOTO BY DUSTIN RISLEY)

A SCRIPT FROM ABOVE?

It all started on a Nicaraguan coffee farm.
A decade ago, Joe Romero — an American with a passion for Latin American missions — decided to raise coffee as a means of self-sustainable support.
He moved to a rural area about an hour south of Managua, between San Marcos and Diriamba.
In 2004, three large Churches of Christ in Managua — the Ducuali, Tipitapa and Villa Alemania congregations — organized an evangelistic campaign and conducted a nightly gospel meeting at Romero's farm.
Austin Hammonds and Robert Brown toss a girl into the air and prepare to catch her as they play with children at a Vacation Bible School at the Almendro Church of Christ. (PHOTO BY BOBBY ROSS JR.)
A new congregation — the Almendro Church of Christ — grew out of that meeting, which produced two dozen baptisms. Managua native Giovanny Tellez, who had served as a minister for the Villa Alemania church, came to work with the farm church. The
Seminole Church of Christ
 in Oklahoma sponsors his ministry.
Between their junior and senior years at
Oklahoma Christian University
, David and Kim Romero — Joe Romero's son and daughter-in-law — traveled to Nicaragua to participate in the inaugural campaign.
After graduation, the couple decided to join the work as full-time missionaries. Friends and fellow Christians in the young marrieds class at the
Edmond Church of Christ
— the Romeros' home congregation in Oklahoma — came up with half their salary. The church's elders agreed to provide the rest.
On the farm, the Romeros met Guido, Perez and Rivera — the future missionaries.
Guido, the oldest of seven children, grew up in Leon, a city in northwestern Nicaragua.
His family raised crops such as corn and beans, and he learned at an early age how to work with tools and oxen. At times, demands of farm life kept him from going to school.
His mother, Patricia, gave her life to Christ when he was a young boy. His father, Mateo, later followed. At age 11, Guido was baptized. Within a year or two, he preached his first sermon.
"A lot of the members were surprised because they saw that I was very young in Christ and also young in age," recalled Guido, now 27.
When he was 18, his family moved to the San Marcos area to work on the coffee farm.
Perez grew up near Masaya, gaining experience in agriculture. A relative who was helping care for the coffee farm enlisted his help, and he, too, made the move.
Rivera grew up in Managua, working on car and tire repairs. The "spiritual child" of Tellez and his wife, Carolina — as the couple describes him — he joined the family when they moved to the rural area.
"It's very unique and just very interesting," Guido said, "that all three of us came from different backgrounds and different cities."
God, he believes, brought them together.

THE NATIVES ARE PRECIOUS
In 2008, Guido, Perez and Rivera left the farm and enrolled in the
Biblical Institute of Central America
, a two-year preacher training school with campuses in Nicaragua, Honduras and Guatemala.
Their typical schedule at the Jinotepe, Nicaragua, campus involved three weeks of studies followed by weeklong door-knocking campaigns in various cities.
As the young men prepared to graduate in 2010, David and Kim Romero contemplated their own future.
Kim and David Romero remain active in supporting Nicaraguan mission efforts. (PHOTO BY DUSTIN RISLEY)

By 2009, the American couple had begun working in Matagalpa, a hilly agricultural community in northern Nicaragua. There, they became close with minister Efrain Perez and his wife, Martha, who struggled to make ends meet for their family of five.
The Romeros grappled with whether they could reach more souls by returning to the U.S. and supporting Nicaraguan-born missionaries.
"You have to overcome the language and the culture," Kim Romero said of serving as a foreign missionary. "It takes a lot for the people to accept you and for you to understand the culture, but there are plenty of Nicaraguans who are willing and able to teach if they could get the support."
From the time the Romeros' class took on their support, members began making annual mission trips to this small country the size of Mississippi.
Besides mixing concrete and organizing Vacation Bible Schools, the Oklahomans developed close relationships with their Nicaraguan brothers and sisters — including Guido, Juan Pablo Perez and Rivera.
"It was great because we got to see them in action and see them grow up as young men, so we had a high trust level with them," said Kyle Mauck, a deacon who serves on the Edmond church's missions committee.
Kyle Mauck visits with three boys during Vacation Bible School at the Almendro Church of Christ, which grew out of a gospel meeting at a nearby coffee farm. (PHOTO BY BOBBY ROSS JR.)

BOSS, CHIEF …  AND PREACHER

"El jefe" is a Spanish term for "the boss."
Nicaraguans often refer to "el cacique," which means "the chief."
Among the 120 or so Churches of Christ in this country of 6 million people, both words frequently apply to the preacher. Only a handful of congregations — including the three large Managua churches — have elders.
"That's been the tradition here in the church, of just having that one individual," Guido said. "There aren't elderships because the preacher is afraid of losing that control, that power."
Some of that tradition can be traced to the role of priests in the predominantly Roman Catholic nation, he said.
When the Romeros chose to return home, the Edmond church turned to Guido, Perez and Rivera — who formed a missionary team to bolster small, struggling congregations and teach the biblical model of leadership.
"A lot of people have had bad experiences with supporting locals, but we knew the quality of guys that we had," Mauck said. "We knew their love for God."
"A lot of people have had bad experiences with supporting locals, but we knew the quality of guys that we had. We knew their love for God."Kyle Mauck, deacon, Edmond Church of Christ
Before the team's arrival, the Sacuanjoche church suffered from years of unstable leadership, said Tellez, who has helped mentor the missionaries.
"They had four or five preachers. Every year they got a new preacher," said Tellez, speaking in Spanish. "But whenever these three guys came, they strengthened the church."
Tellez has helped his own congregation — the Almendro church — grow to 115 adult members and 70 children.
The congregation's VBS this summer drew 500 children. Nonetheless, he sees Nicaragua's improving economy as detrimental to ministry.
"Now, the people are a little bit more stable. They've got their cell phones and their cars," said Tellez, who came of age in the 1980s, the decade of the Iran-Contra scandal, when the U.S. used profits from secret arms sales to fund guerillas opposed to Nicaragua's Marxist government, the Sandinistas.
"Whenever the need they have has been fulfilled, they don't pay a lot of attention to God. Every day, it becomes a little bit more difficult to win a soul," he said, quipping that Nicaragua needs more earthquakes and war.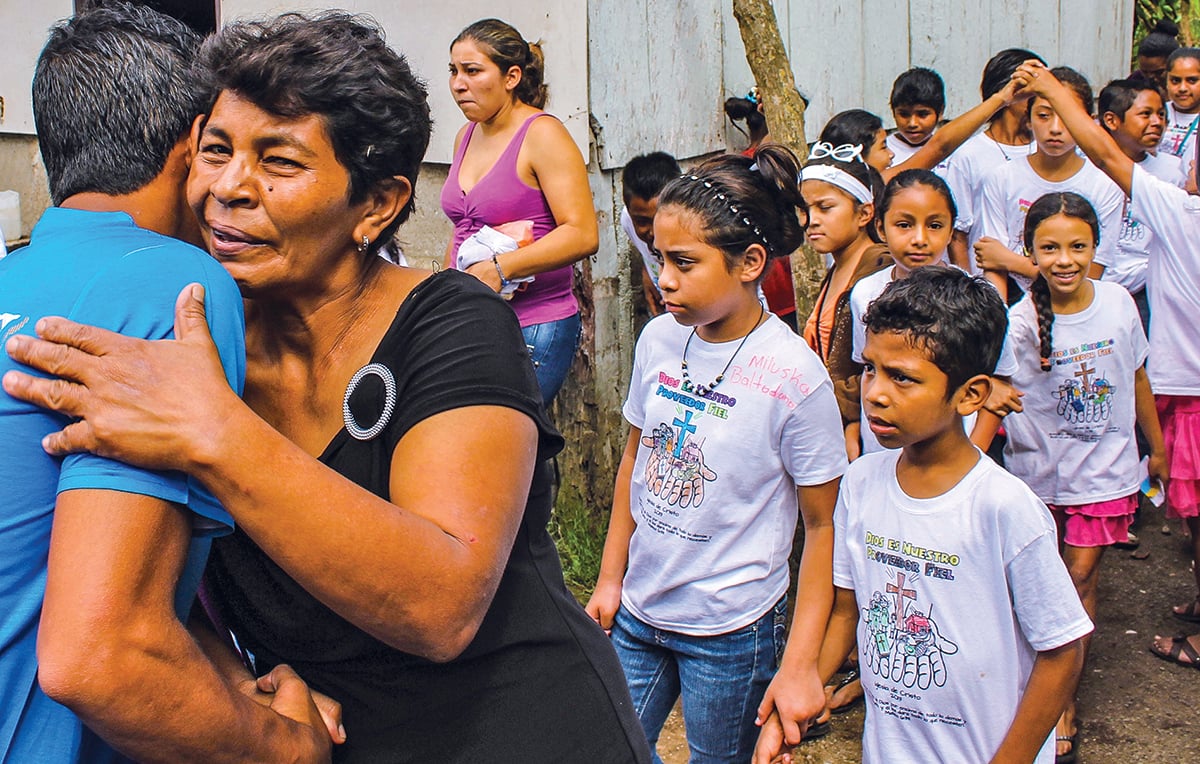 Maria Dolores Salamanca hugs Eyton Perez, the 19-year-old son of minister Efrain Perez and his wife, Martha, before a Vacation Bible School program at the Almendro Church of Christ. (PHOTO BY BOBBY ROSS JR.)
TIME TO SAY GOODBYE

Back in Masaya, Guido, Perez and Rivera focus on evangelizing the community, restoring fallen-away Christians and training leaders to oversee areas such as visitation, new converts and children's programs.
"The idea was to get more members involved in different parts of serving the church," Guido said. "From the very beginning, we wanted to share this responsibility so it didn't fall on just one person."
But soon, the missionaries will move on. After working with the Sacuanjoche church for three years, they believe it has reached a point where it can survive — and thrive — without them.
The congregation has a new preacher, Gerson Bravo. Although it has not appointed elders, the church is making positive steps in that direction, Ortega said.
Still, he'll miss Guido, Perez and Rivera.
His voice fills with emotion as he discusses their departure to work with a Church of Christ in nearby Masatepe: "My heart is going with them."
"My heart is going with them." Eduardo Ortega, member,  Sacuanjoche Church of Christ
So are the Oklahomans who have helped lead VBS here for three straight summers. Next year, they'll be going to a different city — and sharing the story of Jesus with different children.
"Even this year, a lot of us have pulled back and let the locals lead all of the crafts," said Audrey Mauck, Kyle's wife. "So at this point, with the missionaries leaving, the church will be fine here."
Even so, she said, "It'll be hard not to see our friends."
Neighbors can be seen through the open-air window as a Masaya resident joins a mission group from Oklahoma in painting her home. Other service projects included installing concrete floors, erecting walls and building outdoor showers/garden planters. (PHOTO BY BOBBY ROSS JR.)
RELATED COLUMN
Feedback

Thanks for this inspiring story of overseas ministry that focuses on the edification and training of the local Christians to become their own elders and preachers and VBS teachers. God bless all those who support this work.

Clark Coleman

Rugby Avenue Church of Christ

Charlottesville, VA
USA

August, 8 2013