For a closed urban church, an alternate ending
Disbanded congregation's old building purchased by Impact Houston, which plans to expand to a second location.
---
HOUSTON — Another closed church.
Another lost opportunity to serve wounded souls in the inner city.
That could have been the story as the Lindale Church of Christ — a once-flourishing congregation in the nation's fourth-largest city — disbanded in December 2015.
A side door is broken open at the Lindale church building. Inside, squatters take up residence. (PHOTO BY BOBBY ROSS JR.)However, leaders and supporters of the Impact Houston Church of Christ — which has become a model of urban ministry among Churches of Christ — intend to write a different ending.
In the Lindale church's heyday, hundreds of worshipers filled the elegant, red-brick building — a landmark near Houston's busy interchange of Interstates 45 and 610.
Now, thousands of motorists pass a dilapidated structure with boarded-up windows, broken bricks and letters falling off the "Lindale" below the steeple.
On a recent visit to the church property, Impact elder Ron Sellers discovered a side door busted open. Blankets, pill bottles and scraps of garbage were scattered inside the dark, moldy building. The debris indicated that squatters had taken up residence.
Far from discouraged, Sellers said the scene only reinforced the need for bringing hope — physical and spiritual — to this hurting community.
"We almost waited too long," Sellers said of Impact's hopes to restore life to the Lindale facilities. "But fortunately, God has given us the opportunity."
Ron Sellers, right, discusses Impact Houston's plans for the former Lindale church building with David Duncan, minister for the Memorial Church of Christ in Houston. (PHOTO BY BOBBY ROSS JR.)
•••
In 1987, three couples with hearts for serving Houston's most disadvantaged residents came together to plant the Impact church.
Charlie and Mollie Middlebrook and Doug and Bethul Williams joined Ron and Linda Sellers on the original ministry team.
Back then, the couples lacked the faith to anticipate that — 30 years later — Impact would be a bilingual, racially diverse church with Sunday attendance of 500 and thriving outreaches to homeless people, drug addicts and poor families, Ron Sellers said.
"We were trying to figure out what we could do to keep going for two years because we didn't have support," Sellers said.
But Houston-area Churches of Christ embraced Impact's vision and offered volunteers and financial assistance.
"The Impact church is the most godly work I've ever witnessed in my time as a Christian," said Frank Devine, an elder of the Memorial Church of Christ in Houston, one of Impact's longtime supporting congregations. "They take care of their members, and they're constantly reaching out to the ones that are non-churched and bringing them in."
Houston is in Harris County, which has 121 Churches of Christ, according to a national directory published by 21st Century Christian. That's the most congregations of any county in the nation.
More than 45 Houston-area Churches of Christ help Impact in some way, from preparing Sunday fellowship meals to distributing food to low-income residents to paying salaries for staff members.
Dozens of other congregations in Texas and beyond send summer mission teams to help with Vacation Bible Schools and other mission projects at Impact.
"This work is a shining example of Churches of Christ working together," said Paul Woodward, an Impact elder who spent 16 years as the church's first youth minister. "It gives me chill bumps anytime I think about it."
•••
The mother had AIDS. She was dying.
Homeless and starving, Selia Vela brought her three young children — who had been sleeping in an abandoned car — to the Impact Houston church.
At Impact, the family sought physical help. But they also received something else: spiritual hope and salvation in Jesus Christ.
"People don't come to church looking for God," said Dave Gibbs, an elder of the Grace Crossing Church of Christ in Conroe, Texas, north of Houston. "If we're astute … we'll introduce them to God while they're there.
"Selia is a classic example of that," added Gibbs, who with his wife, Joy, cared for the mother after her 1990 baptism and adopted her orphaned children. "Impact rescued their bodies but also rescued their souls."
A quarter-century later, the children — Sammantha, Gerardo and Thomas — are active, faithful Christians.
"It's been a real redemption story," Gibbs said.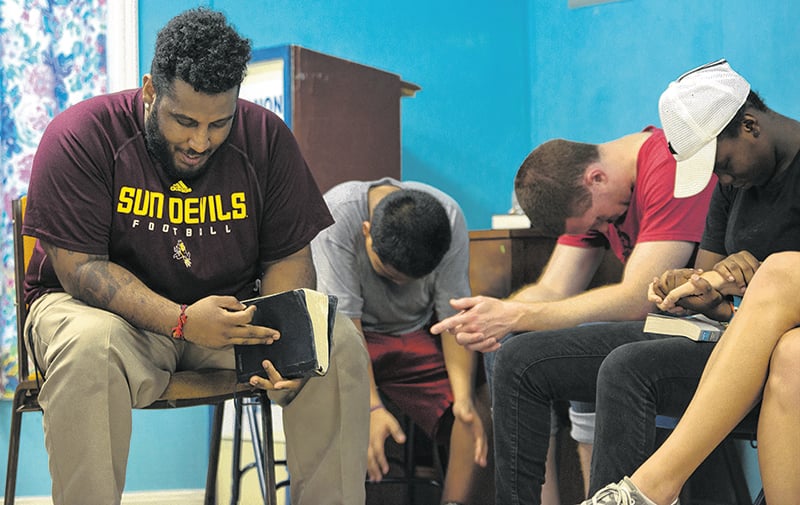 Impact member Kenny Stewart prays during a Bible study. Stewart first came to the inner-city church as a summer intern from Lubbock Christian University. (PHOTO BY MARICELA WILSON)
•••
Impact specializes in redemption stories.
Claudia Martinez was 10 years old and living with her grandmother in the projects when she got on an Impact church van driven by Woodward, then the youth minister.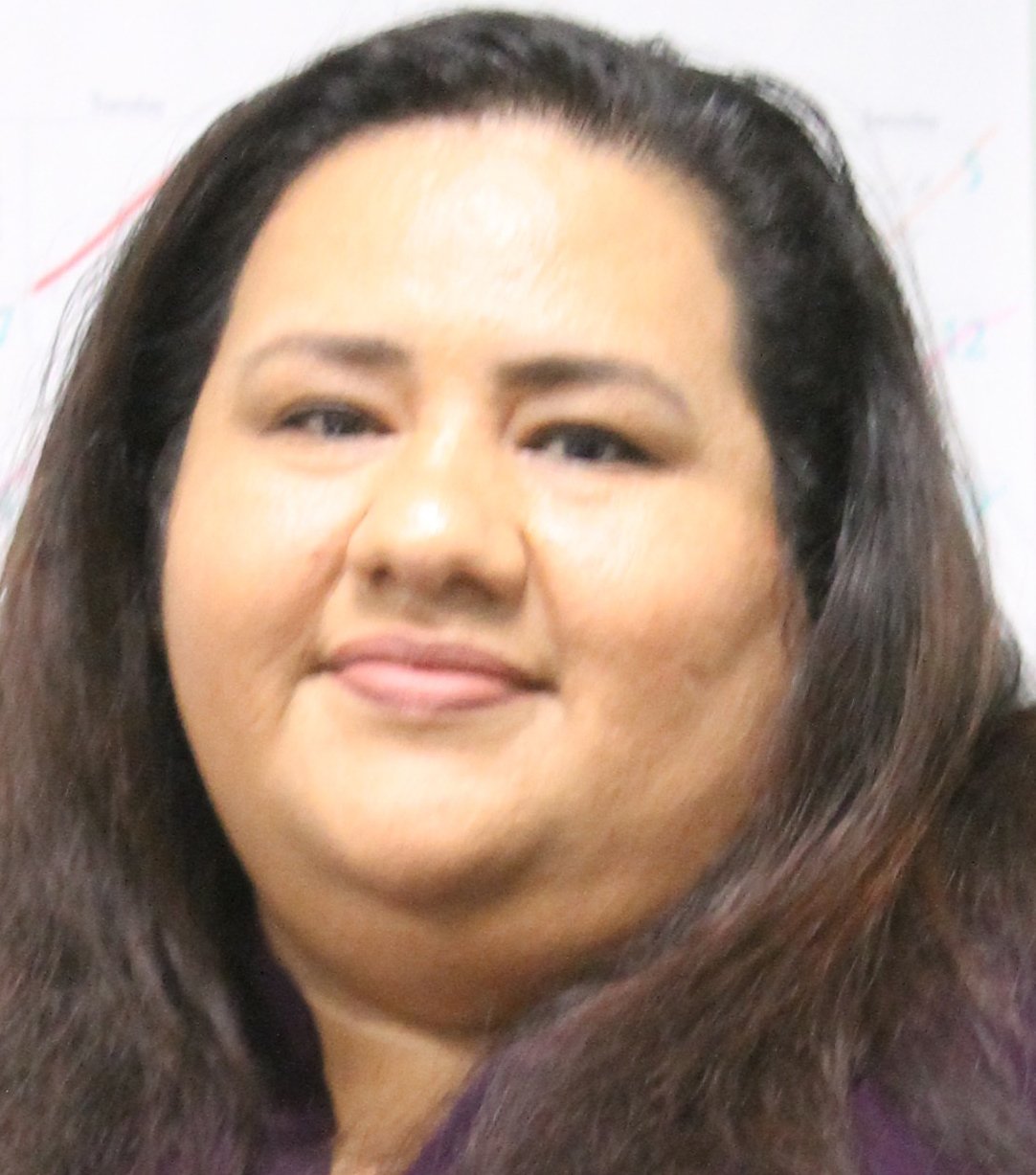 Claudia MartinezPeople from the church would bring bags of groceries when Martinez's family had nothing to eat.
"We only had Thanksgiving meals and Christmas gifts because of Impact," said Martinez, who was baptized as a teenager at a camp sponsored by Impact. "Even in high school, my prom dress, my letterman jacket — the only reason I had those things was because of Impact."
Now a 32-year-old mother of two, Martinez works on Impact's staff as a finance clerk.
"I'm still here today because I can give back to other people," she said.
Impact Houston has helped David Lewis turn his life around. (PHOTO BY BOBBY ROSS JR.)Six months ago, David Lewis was sleeping on the streets and wasting away on marijuana, crack cocaine and booze.
Now, he's sober, living in an addiction treatment house at Impact and going to church on Sundays.
"It's a great experience here," said Lewis, who is active both in Bible studies and Alcoholics Anonymous meetings. "They make you feel welcome."
Nate Banks, one of Lewis' mentors at Impact, joined Impact's staff after overcoming his own alcohol addiction.
"A career is something you choose. A calling is something you answer," said Banks, the recovery house's assistant manager. "I just feel like it was God's purpose for me to be here."
Church members Elizabeth Palau and her mother, Allison Blizzard, process Spanish-speaking clients' paperwork for food distribution so ministers can focus on listening to their personal stories. (PHOTO BY BOBBY ROSS JR.)
For its first 11 years, Impact moved from place to place, renting various facilities.
Then it found a permanent home in an impoverished part of Houston's First Ward, where its facilities include a food distribution center, an education building, youth meeting rooms and several houses to help get the homeless off the streets.
But in recent years, the poor community originally served by Impact has undergone a transformation — with the construction of upscale townhomes and other urban renewal projects pushing the poor into other areas.
Those areas include the neighborhoods around the old Lindale church — property that Impact recently bought for $500,000 with a goal of raising an additional $2 million for building renovations.
Impact has outgrown its existing facilities and sees expanding to a second site — 4.7 miles north — as a way to reach more people with the Gospel and return a Church of Christ presence to a prime location.
"The purchase of the Lindale property represents an important stake in the ground for the Kingdom," said Patrick Lemmons, one of Impact's ministers, "in that the property of a formerly large and significant Church of Christ … will not be converted to something like a Holiday Inn but will rather be reclaimed and used to minister to the lost and hurting in that area."
Volunteers and staff members distribute bags of groceries outside Impact Houston's food distribution center. (PHOTO BY BOBBY ROSS JR.)

•••
Lovee Sherwin met her late husband, Woody, at the Lindale church. That's where they exchanged their wedding vows.
Sherwin, now a member of the Memorial church, recalls when Lindale's Sunday worship assemblies used to draw 500 people.
She laughs while remembering Vacation Bible School pranks. Her voice becomes more emotional while reflecting on close-knit members who never failed to take care of each other during difficult times.
"You're going to have me bawling because there were so many good memories there," she said.
Over the years, though, suburban flight took its toll.
It's a familiar story: Middle-class families moved away. The area suffered from decline and neglect. The church lost members and struggled to survive. The congregation eventually saw no choice but to close.
"The presence of the church there has been so long, and people in the neighborhood are aware of that," Sherwin said. "I really do hope they can come back and be a thriving instrument for the Lord there."
For three decades, Impact has focused on bringing new life to struggling souls.
Now, it intends to do the same for an old church in desperate need of restoration.
"Lindale gives another entry point into the key areas of our city that really need an Impact church," Gibbs said. "I'm so excited about it. I'm grinning ear to ear."
Thomas Reed is one of five men who take turns preaching at the Impact Houston Church of Christ's English-speaking services. A Spanish-speaking group assembles in an adjacent room each Sunday. (PHOTO BY MARICELA WILSON)
IMPACT HOUSTON CHURCH OF CHRIST

FOOD DISTRIBUTION CENTER: What began as a small food bank has expanded to a facility that provides over 1.6 million pounds of food a year.
HOMELESS MINISTRY: Impact touches more than 400 people living on the streets each year. The ministry gives out 120 bags of food and necessities each week and regularly provides hot meals to at least 60 people every day its kitchen is open.
ADDICTION RECOVERY: Impact has a residential recovery program and also provides licensed counseling to others seeking help with addiction in their daily lives.
EVANGELISTIC OUTREACH: Sixty-one Bible classes are offered at Impact each week, including 29 for children and teens and 32 for adults.
YOUTH AND CHILDREN: Impact serves about 200 elementary school students and 120 middle and high school students throughout the school year. Eighty-five percent of these young people attend church and pursue Impact services without parental involvement.
SUMMER YOUTH PROGRAM: The program serves 520 children and teens. It's staffed by 50 summer interns, at least 40 visiting youth groups, 75 volunteer reading teachers, 25 vans and bus drivers and many more volunteers.
ONE-ON-ONE MENTORING: This program matches children with an adult mentor for the purpose of developing a long-term, consistent relationship. Many of the children grow up in poor, single-parent households.

SPANISH MINISTRY: About 50 people attend Impact's Spanish-speaking assembly each Sunday. Impact has two Spanish-language ministers and a Hispanic elder, Dimas Velasquez, who a quarter-century ago was Impact's first male Spanish-speaking convert.
ARMS OF HOPE: Impact partners with the Christian nonprofit based in Medina, Texas, to serve families struggling with the challenges of poverty. Through this program, Impact provides a full-time certified social workers and access to partnerships with other organizations.