Faith that moves Mountaineers
West Virginia volleyball standout keeps God first
---
"Caleah! Caleah! Caleah!"

The crowd chants as young women position themselves on the indoor volleyball court and wait for the serve. 
"It's funny," says Caleah Wells, a 6-foot-1 senior for the West Virginia University Mountaineers, "people know I'm not from around here, so they are always confused when there are 15 to 20 people in the stands screaming my name.
"And when they ask me, I proudly say, 'That's my church family.'"
Wells, a native of Las Vegas, dedicates her life to the volleyball court and the church pews around a rigorous schedule of corporate psychology classes. 
Caleah Wells celebrates a victory. As a junior, she put up a season-best 13 kills (point-scoring plays) in a win over Texas Christian University. (PHOTO BY STEVEN M. PRUNT, WEST VIRGINIA UNIVERSITY)
"She often comes to services directly from practice when she is clearly tired and hungry," said Ben Jones, preacher for the University Church of Christ in Morgantown, W.Va. "Some of our members regularly attend her home matches, but I think most people are fans of Caleah more than the volleyball."
Jill Kramer, former coach for the Mountaineers, also was a fan of the standount player for Red Oak High School in Dallas. 
As Wells considered attending the university — a newly minted member of the Big 12 conference — she made sure her visit to the campus included worship with the University church. 
She invited Kramer to come along and, to her surprise, her prospective coach said yes.
The experience was "somewhat nerve-racking," Wells recalls, but Kramer later described how she admired the church for rallying behind the athlete — even before she signed with the Mountaineers. 
The invitation only marked the beginning of Wells' evangelism journey in West Virginia.
'God, family, volleyball'
Growing up in a city known for its vices, Wells developed strong connections with the North Las Vegas Church of Christ. 
"It was seriously my second home," she said. "From Bible studies, singing practice and worship on Sundays, my family was heavily involved in the church."
Her mother, Calinda Wells, said Caleah decided early in her life to make her family's faith her own.
"She was very aware at 10 years old," Calinda Wells said. "She made a commitment early that she wanted to follow Christ."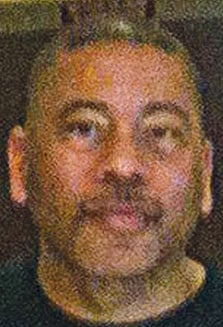 Samuel Wells
Caleah's father, Samuel Wells, is the greatest spiritual influence in the young athlete's life, her mother said. He often sends his daughter Bible verses via text message when she gets discouraged.
"I constantly use God's Word to make her realize this world is not our home," Samuel Wells said. "All things work for them who love the Lord." 
The family, including Caleah and her two brothers, moved to Dallas when Caleah was in sixth grade. Transitioning from a small faith community to a city with dozens of Churches of Christ, Caleah said she was surprised that congregations in Dallas seemed to host fewer activities than her previous church.
"Living in Las Vegas, there are way more temptations that capture the people who live there — excessive gambling, excessive drinking," she said. "So, in order to keep people active, the church always had something going on at the building."
Nonetheless, "I had a difficult time making friends at school, and because of this I really relied on the friends I had at church," she said. "When I look back, I am so thankful that my parents' first priority was to find a loving church home."
Caleh Wells and her mother, Calinda, at Caleh's high school graduation. (PHOTO PROVIDED BY CALINDA WELLS)Her mother enrolled Caleah in a volleyball league at the local YMCA. She also played tennis, softball and basketball. 
At Red Oak, a high school whose volleyball team was undefeated in its district for more than 20 years, she started for the "B" team and earned a spot on the varsity squad her sophomore year. 
Her coach, Arthur Stanfield, saw her potential and "basically gave me private sessions working on blocking and hitting," she said.
"That was when I decided that I needed to take volleyball seriously," she added. Her parents decided to enroll her in club-league volleyball. 
It was a financial sacrifice for the family — and it competed for her time in the classroom and at church. 
At one point she received a letter "about how I was missing so much school," she said. "If I missed any more I would have to go to truancy court — all for volleyball."
She worked hard to keep her grades up and went to early church services on Sundays when she had volleyball games. Her parents asked coaches to leave Wednesday nights open on practice schedules so she could attend Bible study.
"Thankfully I had understanding coaches that realized that I was serious when it comes to my priorities — God, family, volleyball," she said.  
bible studies and away games
Caleah Wells had a lot of offers and options for college. She chose West Virginia, 1,200 miles from home, partly because the coach, Kramer, was friends with Caleah's club coach, who recommended her. 
Mostly, however, "I really fell in love with the people here," she said. 
She signed to play for the Mountaineers in 2012 and was one of two freshmen to play in every set of every match during the season.
After Caleah's third season, Kramer resigned and many of her teammates left. Only Caleah and one other senior decided to stay. 
Reed Sunahara, the new coach for the Mountaineers, said he appreciates Caleah's decision.
"She could have easily left," Sunahara said. "It means she's a committed person. I know she's going to excel not only on the volleyball court, but in life." 
Caleah Wells, No. 7, at the net for WVU. (PHOTO PROVIDED BY WEST VIRGINIA UNIVERSITY)
Balancing a full course load with weight training, cardiovascular training and twice-a-day practices, Wells still makes time to participate in activities with two campus ministries — sponsored by the University Church of Christ and the Morgantown Church of Christ.
Ben Jones, the preacher for the University church, said, "Caleah has the competitive drive that you would expect from a high-level college athlete, but she is also one of the most relatable members of the congregation." 
She's also an evangelist who makes connections outside church buildings, her parents said. She doesn't just invite coaches to church — also her teammates, roommates and friends. She hosts Bible studies.
In addition to interactions with fellow believers, her mother stressed the importance their family places on church attendance. 
"She knows she has to have that as an example," Calinda Wells said.
Her coaches have never kept her from worship, Caleah Wells said. 
"My freshman year, (Kramer) actually drove me to church on an away trip," she added. "She took me and picked me up."
Advice for Christian athletes
As she sets and spikes for her teammates — and sets an example for them off the court — Wells encourages other Christian athletes to share their faith. 
Her advice for a spiritual-athletic relationship: Remember what comes first — God — and find a school that you would like to attend for purely academic reasons. Personnel change, she said, so find an institution you love.
"Find people of like mind," she said. "Being athletes, we are surrounded by temptation. It is very important to have people around you who are going to hold you to your Christian standards. 
"Not everyone is going to understand what you are trying to accomplish with your relationship with God. Teammates are great, but you need a Christian support group. 
"Also, know that it is possible to do all these things and keep God first."