Faith in the headlines: 'All children are God's children,' Muslims, Christians, refugees
---
• • •
"Faith in the headlines" is an occasional column highlighting headlines in the world of religion as we endeavor to inform readers about significant current events and trends.

• • •
In my 14 years with The Christian Chronicle, I've spent a lot of time talking about — and talking to — refugees.
Faith in the headlines | Erik Tryggestad
One of my "about" stories appeared last month. As refugees fleeing from war-torn Syria flowed into Europe, Churches of Christ were quick to respond — with bell peppers and Bibles. (See our report, "Europe's refugee crisis calls churches to respond, but how?" ) 
After the article, several of our readers (including a few in Europe) expressed concern that radical Islamic terrorists could sneak in among those seeking asylum in countries such as Austria, France and the Scandinavian nations. 
Then the Paris attacks happened, and those voices of concern became much louder.
Europe's refugee crisis calls churches to respond — but how? @eriktryggestad reports: http://t.co/9z7qsUptaE pic.twitter.com/2qqnxkMa09

— Christian Chronicle (@CofCnews) September 17, 2015
Church of Christ in France prays alongside Syrian refugees for victims of #ParisAttacks https://t.co/mWeCefPiQp pic.twitter.com/43oGczG7Da

— Christian Chronicle (@CofCnews) November 19, 2015

In France, members of the Marseilles Church of Christ were on a church retreat when they heard about the attacks. They prayed for their country alongside a family of Syrian refugees who had accompanied them on the retreat.
Meanwhile, in the U.S., Christians debated our responsibilities toward refugees. Many put forward the view that it's simply un-Christian (and un-American) to turn away refugees because of concerns that terrorists might be among them. Others argued that Christians have the right — even the obligation — to defend themselves against the dangers posed by radical Islam.
Evangelicals debate state governors' bans on Syrian refugees https://t.co/kupf1RkjjD

— Christianity Today (@CTmagazine) November 17, 2015
Here are 12 passages that discuss how Christians should treat immigrants, refugees and those in need of help. https://t.co/hHjXUI2fOi

— RELEVANT (@RELEVANT) November 17, 2015
ICYMI: 'Would Jesus take in Syrian refugees?': Washington Post asks the right question: https://t.co/Lcm1ZMYvA5 pic.twitter.com/Oi7Xh3pYLs

— Bobby Ross Jr. (@bobbyross) November 18, 2015

Some also claimed that the current system of resettlement for refugees is biased against the persecuted minorities of the Middle East who profess Christ.
Washington Post: Stop pitting security and compassion against each other in the Syrian refugee crisis https://t.co/JvJFDNRlOx

— Russell Moore (@drmoore) November 19, 2015

Now U.S. politicians have weighed in. After the governors of more than half the U.S. states told President Barack Obama that they would not take in Syrian refugees, the House of Representatives passed a bill that would suspend the program allowing Syrian and Iraqi refugees into the country until key national security agencies certify they don't pose a security risk. Critics argue that the vetting proposed in the bill makes it nearly impossible for a Middle Eastern refugee to gain entrance to the U.S. 
John McCain On Refugees: 'All Children Are God's Children' – Huffington Post https://t.co/CltpEd1ppR

— First Focus (@First_Focus) November 19, 2015

Recently, Republican presidential hopeful Sen. Ted Cruz (R-Texas) proposed that the U.S. should allow persecuted Christians refuge, but that persecuted Muslims should instead be resettled in predominantly Muslim nations. Others, including Sen. John McCain (R-Ariz.), rejected the idea, The Washington Post reports.
"My faith is that all children are God's children," McCain said.

…

McCain said he doesn't think all refugees should be kept out of the U.S. But he acknowledged, "There should be a pause until we have the confidence of the American people that we have the procedures to make sure that no one who is coming into this country will commit an act of terror." European authorities have suggested at least one Paris terror suspect may have entered France with people fleeing violence in Syria.
Read the full story.
For all the talk about refugees, I thought it helpful to include links some of our "talking to refugees" stories from the past few years. As you can see, Churches of Christ around the globe take an active role in responding with love to the crises that plague our globe.
••••

• Ukraine's refugees share stories of loss, hope, new life: When I was in Ukraine this year covering the refugee crisis created by the turmoil in the country's east, I heard heartbreaking and heartwarming stories from those seeking safety in Ukraine's capital, Kiev. Some, including a recovering drug addict, found new faith and were baptized.

Once a drug addict and now a ministry student, Maxim Dotsenko talks about his journey from eastern Ukraine and his baptism in Kiev as his wife, Olga, listens. (PHOTO BY ERIK TRYGGESTAD)
••••
• The long road from Baghdad:  Wissam Al-Aethawi, a former refugee from Iraq, spoke to Bobby Ross Jr. about his endeavors to take the Gospel to the epicenter of Arab life in America.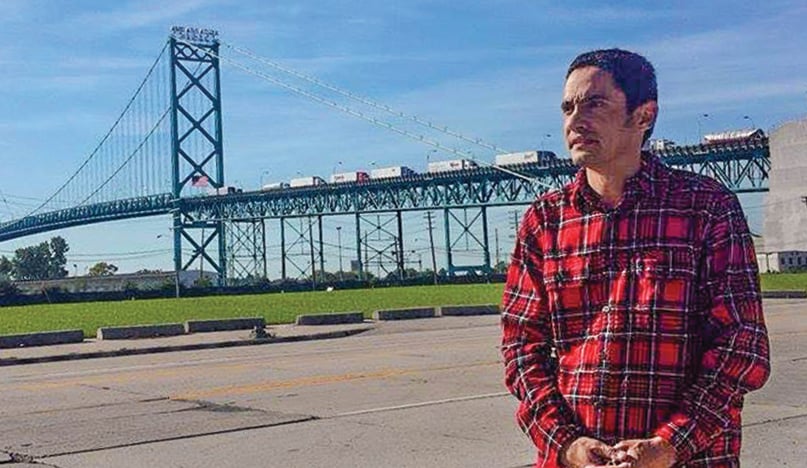 Wissam Al-Aethawi stands by the Ambassador Bridge, which connects Detroit to the Canadian city of Windsor, Ontario. (PHOTO PROVIDED BY WISSAM AL-AETHAWI)
••••
• The people of Nonesuch Road: In Abilene, Texas, I met groups of refugees from the Central Asian nation of Bhutan and learned about the Church of Christ that serves them. In addition to food, clothing and rides to the doctor, church members have brought the Gospel to this community and have a thriving Bhutanese ministry with many baptisms.
In Abilene, Texas, many refugees who fled wars and persecution in their homelands find shelter in the apartments of Nonesuch Road. (PHOTO BY DAN McGREGOR)
••••
• 'This is my place': Just before the African nation of South Sudan celebrated its independence, I traveled there and met Sudanese Christians, baptized in the refugee camps of Kenya and Uganda, who had returned home to plant new congregations.
Christians worship under a tattered tarp and thatch awning in Parajok, Sudan. Many members of the Church of Christ here were baptized as refugees in Uganda. (PHOTO BY ERIK TRYGGESTAD)
••••
• A refugee's granddaughter on Europe's crisis:  "Growing up, I only heard my grandmother's story. Now I see it,' says Eleni Melirrytos, whose grandmother fled a genocide in Turkey after World War I. Now the Church of Christ she serves in Athens, Greece, sees a new generation of refugees.
Eleni Melirrytos, right, speaks with Middle Eastern refugees at a port in Athens, Greece, after distributing relief supplies on behalf of the Omonia Church of Christ. (PHOTO BY ALEXANDER MELIRRYTOS)
••••
• 'Here, we feel God's words working in our life': One of the most moving, powerful experiences I've had working for The Christian Chronicle was earlier this year as I talked to Christian refugees from Pakistan living illegally in Bangkok, Thailand. 
Angelina makes chapati for visitors to her one-room apartment in Bangkok. (PHOTO BY ERIK TRYGGESTAD)