Faith and Zumba
Christian mother in Alabama credits God, her church and her love of movement in her battle with breast cancer.
---
MONTGOMERY, Ala. —
Two things helped Heather Holladay throughout her fight against breast cancer — her faith in God and her love of Zumba.
When she was first diagnosed with cancer on Sept. 12, 2012, she knew the battle would take her complete trust in God and the support of her
Landmark Church of Christ
community.
But equally important was her determination to continue doing what she loved — teaching
Zumba
, an increasingly popular form of group exercise rooted in Latin dancing.
Holladay was introduced to the class four or five years ago after 18 years of exercising through high-impact step aerobics. She later became Zumba-certified and began teaching at the East YMCA in Montgomery.
But Holladay's cancer diagnosis in 2012 threatened the active woman's lifestyle.
Though there was some suspicion she might be at risk for breast cancer as she had a mass removed in her 20s, nothing could have prepared her for the diagnosis.
Holladay's skin had started itching while teaching Zumba one night. She thought it was a rash. Finding out it was instead advanced stage breast cancer, a little bit larger than a tennis ball, was heartwrenching.
"I almost passed out," she said. "Hearing that word knotted my stomach up. It's not a matter of hearing it; I heard it as a curse word."

Holladay ultimately decided to seek treatment from Cancer Treatment Centers of America in Newnan, Ga., where multiple members of her husband's family worked.

"I had no fear, no anxiety, all I had was my faith," she said. "All I could do was rely on God. I had faith that he would work through the doctors and nurses."
Eight intense chemotherapy treatments in 16 weeks followed and, to everyone's amazement, the cancer was eradicated. Additional surgeries and procedures, as well as radiation treatment, ensured the cancer was gone.
The medical expertise of Holladay's doctors coupled with a sincere concern for her spiritual wellbeing as she underwent treatment.

"They treat the whole person, not just the cancer," she said. "I knew I was at the right place, and you can't tell me any different. When you walked in, you knew the Holy Spirit was there. You cannot tell me God does not work through that place."
Holladay was also determined to stay physically active through her beloved Zumba during cancer treatments.
"It's nothing but dance," she said "It kept my energy up and it was something to focus on during chemo.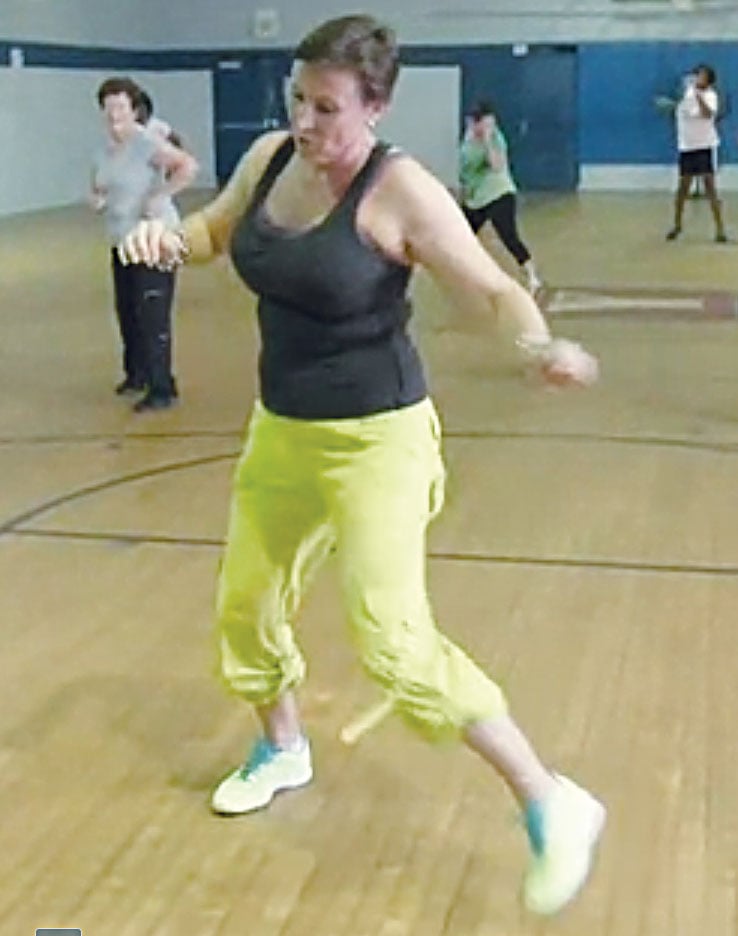 As she battled breast cancer, Heather Holladay continued to teach Zumba exercise classes. (STILL FROM VIDEO PRODUCED BY CANER TREATMENT CENTERS OF AMERICA)She didn't miss a beat of the Latin fusion exercise throughout chemotherapy, offering free Zumba classes at CTCA for other patients.
Landmark Church of Christ Preaching and Senior Minister Buddy Bell said the woman is nothing short of an inspiration to her fellow congregants.
"I've seen her and her family's faith grow," Bell said. "She's been real sympathetic to other people who have had cancer, compassionate to other people who've lost (people to cancer). It's been neat seeing her faith grow through all of this… I think God has used her."
Because of Holladay's resilience and trust in God throughout her cancer journey, the ever-busy mother of two, graduate student and full-time worker is scheduled to be featured in three commercials for CTCA – one for Zumba, one more faith-based and another that will serve as more of an infomercial.
As she looks back on her experience, Holladay said she learned how important it is to stay positive and rely on faith when hard times come.
"It's all about attitude," Holladay said. "If you are not positive and you dwell on the negative, it's going to be a negative situation. If you don't have a spiritual relationship, get one. It will be what gets you through these trials. Having a positive attitude is the biggest thing – stay positive."