Faith and crawfish
'Before we knew the lord, he sent his servants to teach us,' says one of hundreds of Chinese impacted by the South Baton Rouge Church of Christ.
---
BATON ROUGE, La. —
Growing up in northern China, Jinshan Wang never knew of God.
But he met Jesus more than 7,000 miles from home, in the heart of Louisiana.
Jinshan Wang shares his testimony as he opens the homecoming service in Baton Rouge. (PHOTO BY JOAN NEE)
"Before we knew the Lord, he sent his servants to teach us the Gospel," Wang said in Chinese to his church family at the South Baton Rouge Church of Christ in July. "If it wasn't for the Americans, none of us would know the Lord today."
Wang is one of hundreds of Chinese immigrants introduced to Christianity by members of the congregation in the past three decades, part of a thriving ministry that began with graduate students at Louisiana State University. 
About 170 of those converts attended a recent homecoming — hosted by the church once every five years — to pray and worship in their native language, enjoy steaming piles of boiled crawfish and celebrate the place where their faith began.
The Chinese ministry is a highly visible part of the 600-member congregation. Most Sundays, Chinese men and women fill the first five pews in the auditorium, worshiping alongside their American brothers and sisters. As many as 70 Chinese participate in the ministry's small-group studies.
Chinese members of the South Baton Rouge Church of Christ worship on Sunday. (PHOTO BY LE YAN)
Most of them knew nothing of Christianity before arriving in Baton Rouge. The massive People's Republic of China, a communist nation since 1949, imposes strict regulations on religious observances. 
"When I came here, we were all so helpless," said Erhei Liang, a classical music composer who moved to Baton Rouge in 1986 with his wife, Weiping, to pursue a doctorate at LSU. "The language was difficult, and we didn't know how things worked here."
Then they met Doug Traylor, a fellow student who invited them to a worship service.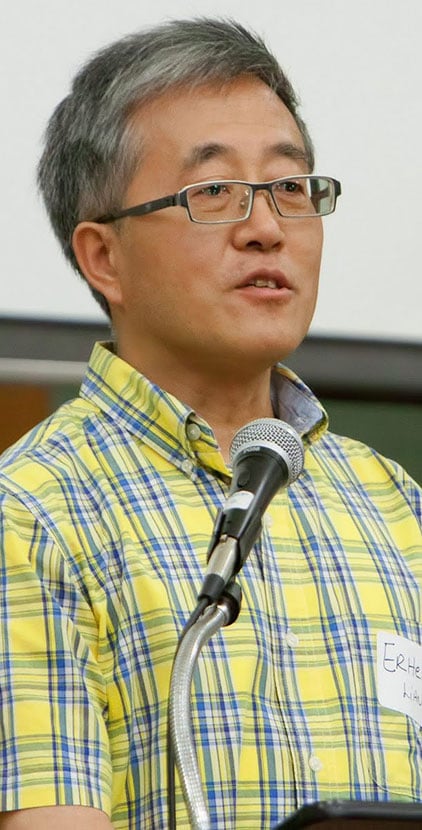 Erhei Liang (PHOTO BY JOAN NEE)
"We went to church, and immediately we met brothers and sisters here who treated us as a family," Erhei Liang said. Traylor and Ray Morris, a member who volunteered with the youth, offered to study with them at their apartment.
"They were very intellectually honest about things," Traylor said. "They questioned everything."
Although she had trouble with the language, Weiping Liang loved the  a cappella worship services.
"What touched my heart was the singing — the praying and the singing," she said. Though she barely spoke a word of English at the time, "the singing was so precious."
Soon, the couple asked to be baptized. And a ministry was born. Within a year, Morris was meeting with 10 small groups of Chinese students each week.
"Really, God opened that door," Morris said. "I had never studied with the Chinese. I don't know any language. They were open. We were open. Because they were open we just studied with them."
FROM CONVERTS TO LEADERS 
For the next decade, Morris and a few members of the South Baton Rouge church studied with Chinese students and their friends and family. 
The ministry grew.
"The fact that they didn't speak any Chinese and accomplished what they did was remarkable," said David Finch, whom South Baton Rouge hired in 1997 as a full-time minister to the Chinese population.
David Finch (PHOTO BY JOAN NEE)
Finch understood that the new converts needed to take leadership roles. He encouraged the men to say prayers and serve communion during Sunday worship. Eventually, the men formed a committee to oversee the ministry. The church now has three Chinese deacons.
"You stretch people slowly until they get a little more faith and confidence and they excel," Finch said. "Once they start taking leadership, that changes everything."
Because most of the Chinese members are students, many leave after graduation. However, enough have found jobs locally that the ministry maintains a foundation of mature Christians, Finch said. 
The Liangs now live in Toronto. Other converts, including Jinshan Wang, have stayed in Baton Rouge. Wang serves as one of the deacons.
Through small-group ministry, the Chinese Christians reach out to their non-Christian countrymen.
"What we have is unique," Finch said. "We have an opportunity for two cultures to come together and at the same time to meet the needs of those Chinese who need opportunities to study."
At the South Baton Rouge Church of Christ, Jingtao Feng baptizes a woman from China after studying the Bible with her. (PHOTO BY QIONGFANG NI)
Longtime church members including Sue Carter have watched the Chinese ministry grow and add to the congregation's diversity. 
"Our church represents the make-up of our city," Carter said. 
New generations of Chinese believers have raised their children in the church, said Lance Hendrix, who directs Camp Smiling Acres, which serves Churches of Christ in the area. 
"They really focus in on some of the fundamentals" of the Christian faith, Hendrix said, "and they don't really get caught up in what I would call the peripheral elements."
Gene Fu signs a piece of art that reads "Jesus is the Lord of our House" in Chinese. The art was framed and given to volunteers who helped the Chinese ministry grow. (PHOTO BY KYLE PEVETO)
The Chinese members hope to spread God's word in their home nation, where interest in Christianity is on the rise. The Pew Research Center estimates that as much as 5 percent of the nation's 1.3 billion souls now profess Christ as Lord.
Three years ago, the Chinese ministry of the South Baton Rouge church started supporting mission efforts in China. They devote about one-third of the Chinese ministry's budget to the work, and the congregation's missions committee has promised to match it. 
For all of those back home who don't yet know God, the love of Christ will change their lives, Erhei Liang said.
"We have hope," he said. "I think Christianity is the most wonderful thing on the earth. To live in that life is the ideal life in this world."
Zhihao Xiao, a graduate student in physics at Louisiana State University, leads singing during the Chinese ministry homecoming at South Baton Rouge Church of Christ. (PHOTO BY KYLE PEVETO)