'Every life matters,' Texas minister declares at rally honoring slain sheriff's deputy
West Houston Church of Christ organizes prayer walk to remember Deputy Darren Goforth and call for 'love and unity and solidarity.'
---
Full speech from our preaching minister, Brian Offutt. #DeputyDarrenGoforth #WHCCPrayerWalk #AllLivesMatter

Posted by West Houston Church of Christ on Sunday, August 30, 2015
The West Houston Church of Christ organized a prayer walk to remember slain sheriff's Deputy Darren Goforth, whose death has made national headlines.
More than 1,000 people joined the march Sunday night, Aug. 30, KTRK in Houston reported.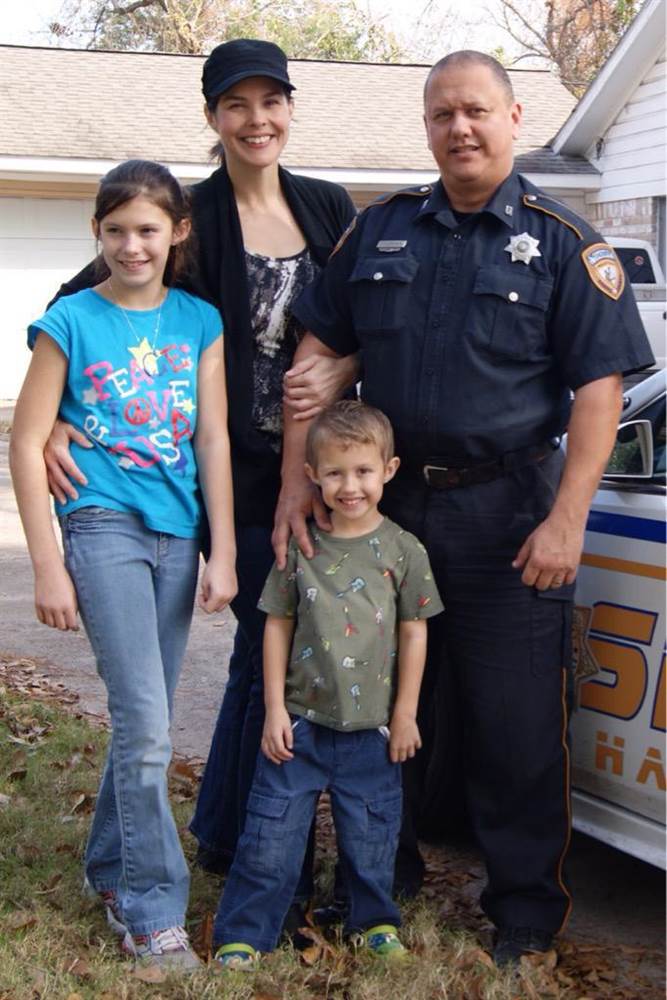 Deputy Darren Goforth, with his wife and children. (FAMILY PHOTO)Preaching minister Brian Offutt spoke at the rally (see video above):
We've come out here tonight as a symbol of our unity, to show our support and love for this community, for the Harris County Sheriff's Department and the Goforth family. And we've come out tonight to stand up against evil, and we've come out to say, 'No more!' Enough is enough, because every life matters.

It's time for the people of this great nation to stand up and say, "We're going to come together in love and unity and solidarity and come together as 'one nation under God, indivisible, with liberty and justice for all.' Our country has been divided for far too long, and it's time to come to an end.

We've been divided along socio-economic lines. We've been divided against race and ethnicity and culture. And it's time for us to come together and grab hands across the aisles. God loves every single person — red, yellow, black and white, they are precious in his sight.

And we want to stand up as a community … and we want to say, "We are a people who stand for something different. We are a people who stand for love. We stand for unity. We stand for togetherness. We stand together as one." Amen!?

Let's pray. Father God, we come together as a community to encircle this great nation of ours. Thank you, Father, for the people that have come out tonight, for the Harris County Sheriff's Office and for the way that they have supported this event. God, we lift up all our men and women who serve our country. God, we pray for this nation that you would bind us together and bring us together in love and unity, Father. May we stamp out hate and evil in this world.

Father, we say a special prayer for the Goforth family and all of those fallen heroes that have served this nation. Give them peace and comfort as only you can. In the name of Christ we pray. Amen.
On its Facebook page, the Harris County Sheriff's Office thanked the church for "putting together a beautiful tribute to Deputy Goforth and his family. … Seeing the community come together like this means so much to the law enforcement community here in Houston and across the nation."
Harris County Chaplain Shepherd delivers a final prayer to conclude the prayer walk at the Chevron station at Telge & West roads.

Posted by West Houston Church of Christ on Sunday, August 30, 2015