Upper Cumberland, TN Area-Wide Congregational Acapella Singing
May 13, 6:00 pm

-

8:00 pm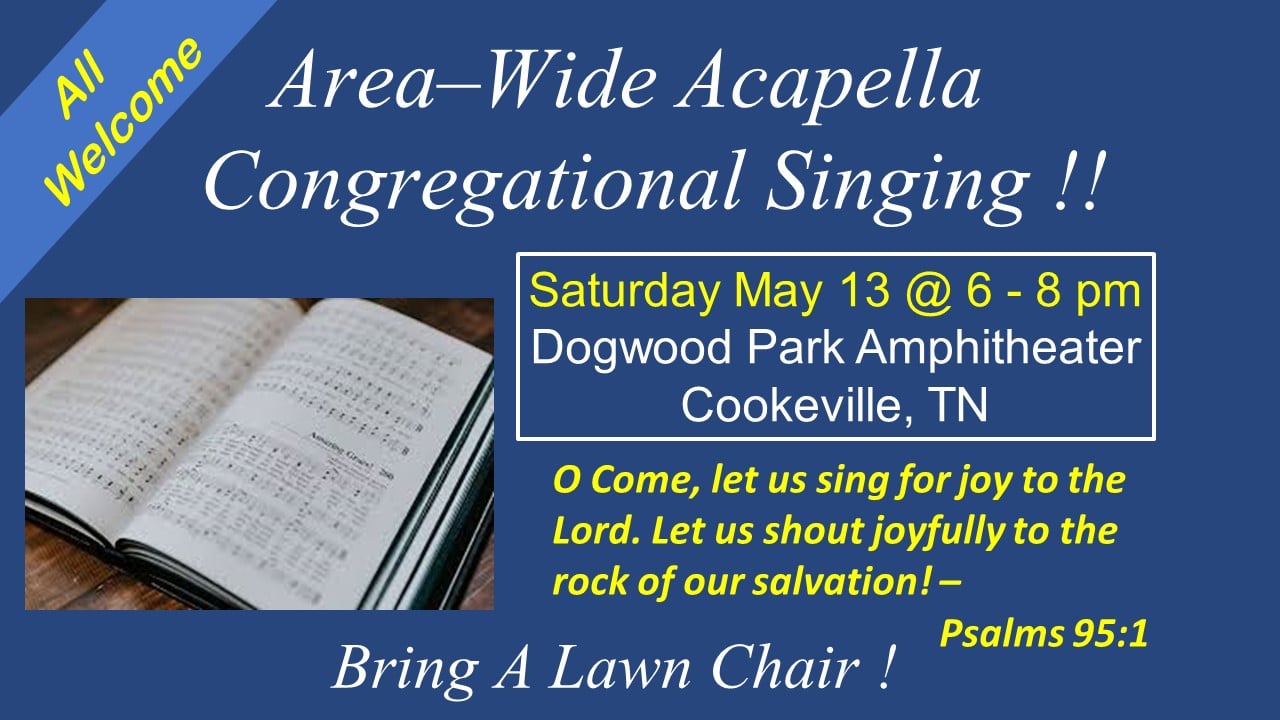 Upper Cumberland Area-Wide Congregational Acapella Singing – Saturday, May 13th 6-8 PM 
Dogwood Park Performance Pavilion Amphitheatre; 30 E. Broad St., Cookeville, TN 38501 
Hello! 
Everyone is invited… Save The Date & Bring A Lawn Chair! 
On Saturday, May 13, 2023 from 6-8 pm, the 2nd "Upper Cumberland Area Congregational Acapella Singing" will be outdoors at Dogwood Park Amphitheatre in Cookeville. Directions: https://www.cookeville-tn.gov/Facilities/Facility/Details/Dogwood-Performance-Pavilion-35 organized by multiple area Church of Christ congregations. 
Rain/Inclement Weather plan will be to move to the auditorium of Jefferson Ave. Church of Christ at 521 South Jefferson Avenue, Cookeville, TN 38501. 
It is a great idea to gather in Dogwood Park in downtown Cookeville and fill the area with the sound of wonderful acapella singing. The song leaders have already started planning the details, and you can be sure that many of your favorites will be on the list. 
This will also be great opportunity to invite friends & family who might enjoy but not normally be exposed to acapella congregational singing. God can use this singing to open doors! 
When this historic outdoor singing was first held two years ago, coming out of the covid pandemic, there were song leaders from 15 congregations leading almost 500 in attendance. This time, we are mailing and emailing the information to over 100 congregations in the Upper Cumberland area 
Please help spread the word far and wide for this exciting event now! Please find an attached flyer that you can post &/or publish on your bulletin boards, church bulletins, website, & social media by every means available to you to everyone you know and beginning with your own congregation now. 
Dogwood Park Amphitheater can hold up to 3,000. Wouldn't it be wonderful to see it full, joining our voices together in praise to God! Let's all work to fill it up, starting with your congregation. 
The song leading will be organized by Steve Leddy. Please recommend or have experienced song leaders interested in leading 2 songs, by contacting Steve at [email protected] 
or cell 931-260-6371. 
Bring A Lawn Chair! 
Bobby Lane