Europe's refugee crisis calls churches to respond — but how?
Church of Christ in Austria feeds those fleeing from conflicts in Syria, Afghanistan, as aid ministries prepare for response.
---
With bell peppers and Bibles, Reggy Hiller is fighting Europe's refugee crisis.
Hiller and members of the small Church of Christ that meets in her Vienna, Austria, home, carried steaming pots of home-cooked chicken and rice to the weary souls, some of them living in tents, who escaped the horrors of war in Syria and Afghanistan.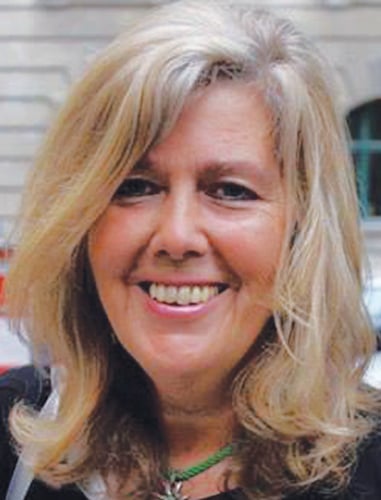 Reggy Hiller
They also gave copies of the New Testament, produced by Eastern European Mission, to those interested.
It wasn't the feeding of the 5,000 — closer to 40, Hiller said. At least 60 more people wanted to eat, so the Christians gave them what pieces of bread and cake they had left.
"It was quite overwhelming to experience how many of them were starving," Hiller said, "and we ran out of food within a short period of time."
Worldwide, Christians clamor for a compassionate response to Europe's Middle Eastern refugees, sparked by the shocking image of a lifeless, 3-year-old boy washed ashore on a Turkish beach. The boy, Alan, a Syrian Kurdfrom Kobani, Syria, drowned after the boat ferrying his family from Turkey to Greece — along with other refugees from Syria — capsized. Twelve died, including Alan, his mother and his 5-year-old brother.
"You and I, when we see images of that little boy … these images touch our hearts," said Danny Sims, director of Texas-based Global Samaritan Resources. "But nobody knows what to do."
Church member Gerhard Krassnig, left, gives refugees New Testaments produced by Eastern European Mission. (PHOTO BY REGGY HILLER)
Sims voiced the frustration many in Churches of Christ feel as they see news of refugees from the Middle East in Europe. In countries including Hungary, the refugees are herded into overcrowded camps and mistreated — even kicked — as they make their way to nations that offer them asylum, including Austria, Germany and Scandinavian nations.
In Vienna, "it was a great joy and pleasant surprise to see how many native Austrians, as well as Germans, welcomed the refugees with clothing, bottled water, food items, toys," Hiller said.
Partners in Progress, an Arkansas-based ministry supported by Churches of Christ, is helping the church provide for the refugees' needs. Hiller prays that the acts of kindness will kindle friendships — and opportunities to introduce the war-torn refugees to a loving Savior.
"Foremost," Hiller said, "we want to bring honor and glory to our Lord by serving these precious souls."
ONCE HOMELESS, SHE NOW FEEDS THE HOMELESS: Radmila Horneck, a member of a house church in Vienna, Austria, serves chicken, rice and peppers to refugees from the Middle East. The native of Serbia knows what it's like to be hungry, fellow church member Reggy Hiller said. "Radmila was brought to Christ through our ministry in a shelter for homeless families some years ago," Hiller said. "Now her daughter and granddaughter are also followers of Christ." Church members fed about 100 refugees on a recent Sunday. (PHOTO BY REGGY HILLER)
SERVING FROM UKRAINE TO IRAQ
The thousands fleeing Syria's brutal conflict represent only a fraction of the 19.5 million refugees worldwide, the United Nations estimates.
In Europe and around the world, Christians and ministries do what they can to help those living between borders — in poverty and uncertainty.
In Cologne, Germany, a 25-member Church of Christ reaches out to refugee communities, teaching German using faith-based materials such as the Let's Start Talking program, said Uli Steiniger, one of the congregation's three elders.
More from Ukraine
• Jeremiah's Hope: Christian camp south of Chernobyl becomes a place of refuge
• Ukrainian refugees share stories of fear, hope and new life
• Peace in the Valley: In Ukraine, Christians sing and pray for their divided homeland
• Heroes, Satan and Ukraine: Church elder in Donetsk ministers to separatists who seized his congregation's building
• As they remember the Cold War, Slovakian Christians pray for Ukraine
Members invite refugees to church and fellowship meals. They help provide for basic needs — from baby formula to bicycles.
"The whole church is involved," Steiniger told The Christian Chronicle. "So far we are managing and require no external help — except big prayers. God has his hands in this."
In the Middle East, Global Samaritan Resources has provided material aid for Syrian refugees in neighboring Jordan. The ministry is sending supplies and food to Kurdistan in northern Iraq, Sims said, helping Kurds who have suffered due to the ongoing Syrian conflict and attacks by the Islamic State of Iraq and Syria, or ISIS.
Meanwhile, Churches of Christ continue to respond to the refugee crisis in Ukraine, where pro-Russian separatists have seized control of cities in the east, displacing about 1.4 million people.
Andrew Kelly, who has spent the past year housing and assisting refugees through the Jeremiah's Hope ministry, was in the U.S. recently supervising the loading of the eighth container of relief supplies for those served by the ministry.
Kelly said he's thankful for the assistance from Christians in the U.S.
He also urged believers moved by the photo of 3-year-old Alan to consider the long-term physical and spiritual needs of refugees.
"I see churches now responding to Ukraine, 18 months later," he said. "I think this Syria situation is only going to get worse."
Ministries collecting funds for refugees in Europe

• Christian Relief Fund

• Jeremiah's Hope (for refugees in Ukraine)
More on churches serving refugees
• Editorial: We all are displaced
• The long road form Baghdad: Former Muslim spreads Gospel to Michigan's Arab community

• Ukraine's refugees share stories of loss, hope, new life
• South of Chernobyl, Christian camp becomes a place of refuge
• The people of Nonesuch Road: In Abilene, Texas, refugees find new struggles, new life