En inglés y español, 'una iglesia para todos'
En Tennessee, el ministro insta a los cristianos, en dos idiomas, a 'abrazar la visión multicultural, multiétnica de Dios.'
---
Enoch Rinks, del ministerio Great Cities Missions, dirige "Alabanzas Dad a Cristo" ("When We All Get to Heaven"). (FOTO POR ERIK TRYGGESTAD)
NASHVILLE, Tenn. — Té dulce y tortillas caseras. 
Los creyentes que disfrutan de uno, o de ambos — cantaron alabanzas a Dios, juntos, durante un servicio de adoración bilingüe organizada por la iglesia de Cristo en Brentwood Hills.
Las letras a los cantos como "I Will Call Upon the Lord," o "A Jehová Invocaré," son proyectadas a través de las pantallas, alternando entre inglés y español.
Enoch Rinks, un ex misionero en Paraguay y director de cantos esa mañana, sabía que muchos de los creyentes ante que — no hablaban bien ambos idiomas.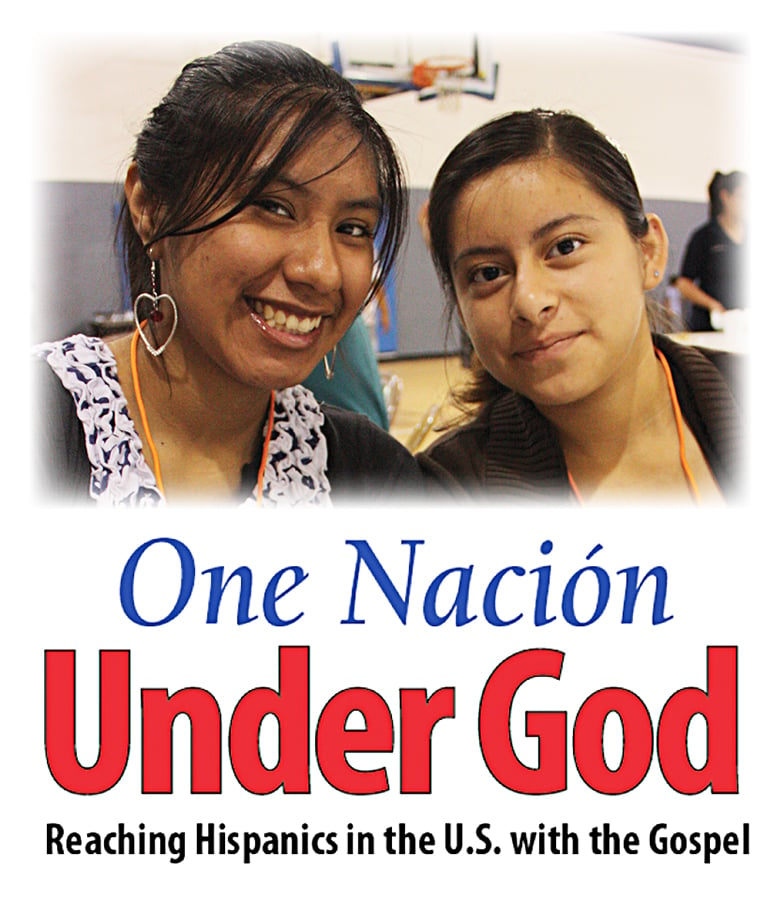 "Simplemente intenten lo mejor que puedan," los animó.
En la capital de Tennessee, la sede de la música country y no menos de 74 congregaciones de las iglesias de Cristo, es fácil conformarse a permanecer en congregaciones separadas, dijo el conferencista invitado Dan Rodríguez. 
"Aquí, en Nashville, se puede tener una iglesia de la forma o el color que usted quiera – y estoy solamente hablando de las iglesias de Cristo," dijo Rodríguez, quien ministra en la iglesia de Cristo en Hollywood, California, y da clases de religión y estudios hispanos en la Universidad Pepperdine.
Pero mantenerse como una iglesia de una sóla cultura en una ciudad cada vez más diversa niega a las iglesias la oportunidad de crecer, dijo — y de reflejar la asamblea celestial representada en Apocalipsis 7:9 — "Una gran multitud, la cual nadie podía contar, de toda nación, tribu, pueblo y lengua , de pie delante del trono y en la presencia del Cordero."
"No es fácil," dijo Rodríguez. "Estamos nadando contra la corriente cuando queremos abrazar la visión multirracial y multiétnica de Dios."
Durante el servicio, Junior High, un anciano de la iglesia de Brentwood Hills, oró para que los seguidores de Cristo se "esfuerzan por ser una iglesia para todas las personas." 
"Ayúdanos a saber que eres un sólo Dios para todos nosotros," oró.
UN AUGE DEMOGRÁFICO
El sermón del domingo "me abrió aún más los ojos a la conclusión emocionante de que el cielo va a ser culturalmente diverso," dijo Walt Leaver, ministro predicador en Brentwood Hills.
El servicio incluía a miembros de la iglesia de Cristo en Grandview, una iglesia de 70 miembros que se reúne unas cuatro millas al este de la iglesia de Brentwood Hills. Roberto Santiago sirve como ministro. 
"Funcionamos como una sóla iglesia con Brentwood Hills," dijo Santiago. La iglesia está bajo el liderazgo de los ancianos de Brentwood Hills, quien nombró a dos miembros de habla hispana para fungir como diáconos en la iglesia en Grandview.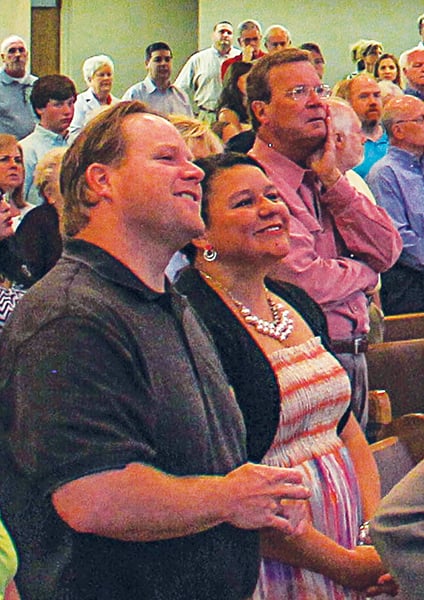 Los Cristianos intonan cantos de Alabanza en ambos idiomas durante el culto de adoración bilingüe. (FOTO POR ERIK TRYGGESTAD)
Ellos sirven a una población latina creciendo rápidamente en los EE.UU. Desde 1990, el número de personas que se identifican como latinos al nivel nacional ha crecido de 22 millones a cerca de 53 millones, según los datos del censo.
Casi el 10 por ciento de las 659,000 almas en el Condado de Davidson, que incluye Nashville, se identifican como hispanos o latinos (términos que Rodríguez y otros ministros utilizan indistintamente).
Grandview es la única congregación de habla hispana independiente registrada en Nashville en la más reciente edición de Iglesias de Cristo en los Estados Unidos, un directorio publicado en 2012 por 21st Century Christian, con sede en Nashville. Otras nueve iglesias en el área metropolitana de Nashville ofrecen ministerios en español.
Al nivel nacional, Grandview es una de las 222 iglesias de Cristo de habla hispana , de acuerdo con el directorio. Otras 315 iglesias anglos adicionales ofrecen servicios en español — un salto de 9.8 por ciento desde la anterior edición del directorio en 2009.
Unos predicadores de Latinoamérica ocupan muchos de esos puestos. Marco Díaz, oriundo de Guatemala, viajó con un grupo de cristianos hispanos de Chattanooga, Tennessee, a Nashville para realizar un culto mancomunado, que fue también la primera parte de la Summer Celebration Lectureship (Reunión de Celebración de Verano), las conferencias anuales de la Universidad Lipscomb.
Marco Diaz en la congregación de Brentwood Hills. (FOTO POR ERIK TRYGGESTAD)
Díaz trabajó para Health Talents International (Talentos de Salud Internacional), una misión médica de la iglesia, antes de mudarse a los EE.UU. hace 12 años para predicar a una iglesia hispana. 
Él y otros ministros de habla hispana trajeron nuevas almas para Cristo – incluyendo muchos inmigrantes de primera generación.
Wilber Medrano es uno de ellos. Vino a Nashville hace más de dos décadas atrás del país centroamericano El Salvador, huyendo de una sangrienta guerra civil y con la esperanza de tener éxito en el negocio de los restaurantes. Hace tres años, él era víctima del robo de identidad. Arruinó su crédito bancario. 
"Perdí todo," dijo el padre de tres hijos. Un amigo lo llevó a la iglesia en Grandview. Los hermanos lo apoyaron mientras reconstruía su vida. "Vi el amor de Jesús en ellos," dijo. "Eso me llegó al corazón. Yo les dije, 'Quiero ser una parte de ustedes.' "
ALCANZANDO A LA GENERACIÓN 'SPANGLISH'
Medrano ahora es dueño de una máquina para cortar carne y su carnicería va en crecimiento, suministrando los trozos de carne para la industria creciente de los restaurantes móvilies. Él y su familia participan con la iglesia en Grandview. 
Sus hijos, Brian, 17, y Aris, 12, nacieron en Tennessee. Pueden estudiar la Biblia en cualquier idioma, pero "me siento más cómodo orando en español," dijo Brian Medrano.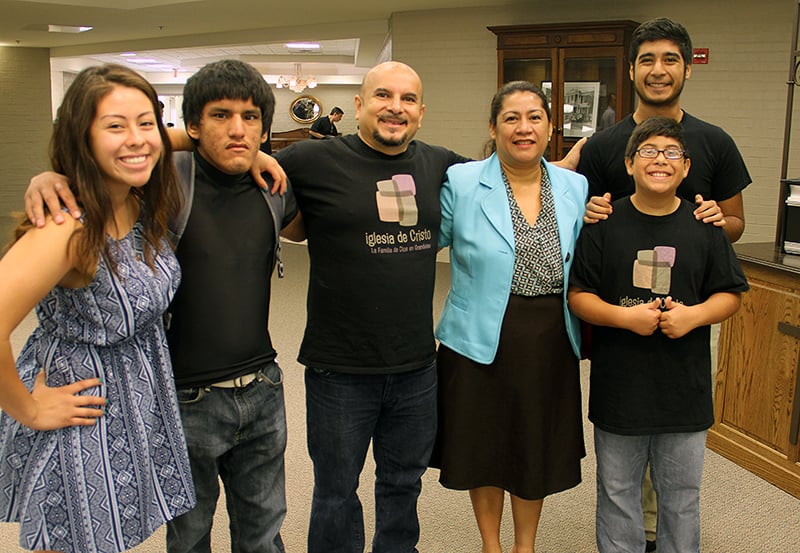 Wilber Medrano, y su familia (incluyendo sus hijos, Brian y Aris) junto con otros miembros de la iglesia de Cristo en Grandview. A la mano izquierda está Veronica Giron Vasquez . (FOTO POR ERIK TRYGGESTAD)
Además de los latinos, la iglesia Grandview también tiene algunos miembros blancos y morenos. Las clases para los niños y el grupo de jóvenes son principalmente en inglés. La adoración tiende a ser en su mayoría en español.
Otro miembro en Grandview, de 19 años de edad, Verónica Girón Vásquez, describe su idioma nativo como "Spanglish." Nacida en Nashville y criada católica, fue bautizada en Grandview hace unos cinco años, porque a ella y su familia "nos encantaron el ambiente y las personas," dijo.
Ha viajado en viajes misioneros con el grupo de jóvenes de Brentwood Hills a Honduras. Fue "una gran revelación," dijo. "No nos damos cuenta de lo mucho que tenemos aquí."
En Grandview, cuando escucha un sermón en español, sigue la lectura en su Biblia en inglés. 
"Es el amor que sientes a tu alrededor," respondió, cuando se le preguntó por qué ella prefiere Grandview a una iglesia que hable solamente inglés. "Aún cuando no entiendes todo, se siente el amor."
MULTICULTURAL: No Es Fácil, Pero Vale La Pena
Los hermanos Vázquez y Medrano representan a la mayoría de los latinos nacidos en los EE.UU.
Alrededor de 63 por ciento de los hispanos en el país son los hijos, nietos y descendientes de inmigrantes, según un estudio por el Pew Hispanic Center en Washington.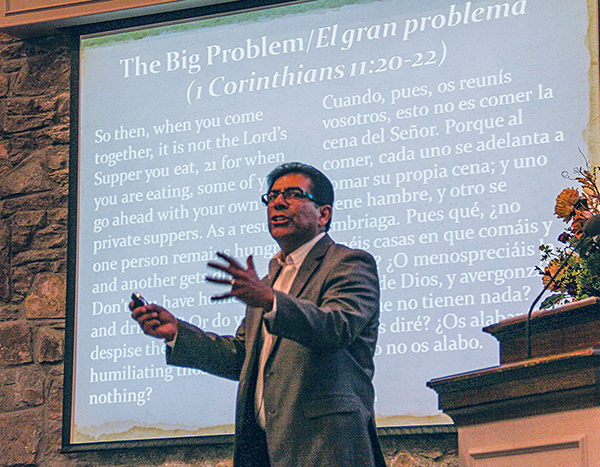 Dan Rodriguez enseña sobre los problemas en las iglesia del primer siglo entre los cristianos de cultura judía y los cristianos de cultura gentíl, descrita en 1 Corintios, y el reto del etno-centrismo — es decir, juzgar a los demás según los criterios de la cultura propia de uno. (FOTO POR ERIK TRYGGESTAD)
La mayoría son ignorados por los líderes de la iglesia, que igualan el "ministerio hispano" con "el ministerio en el idioma español", dijo Rodríguez, él mismo de tercera generación hispanoamericana–no aprendió él a hablar español con fluidez que hasta los 30 años.
Rodríguez investigó en iglesias de varias tradiciones de fe antes de escribir su libro, "Un Futuro para la Iglesia Latina", dando cuenta de que, en los EE.UU., las iglesias multi-culturales que atraen a los de segunda y tercera generación de latinos son difíciles de mantener. Las iglesias que se centran en convertirse multi-étnica en lugar de hacer discípulos de Cristo probablemente fracasarán, dijo.
Sin embargo, "el mayor crecimiento lo han experimentado las iglesias que han superado las barreras étnicas,"dijo. "Las iglesias de este tipo son escasas, difíciles de mantener, y valen la pena."
No es la barrera del idioma — es la barrera cultural que es la más difícil de superar, agregó. Para los cristianos anglo-sajones, los servicios bilingües pueden parecer largos, aburridos e incómodos. Y algunos cristianos hispanos ven la cultura anglo como fria, en contradicción con los valores familiares — incluso "en contra de la voluntad de Dios."
Es fácil para los cristianos en ambos grupos "aislarse en cualquier área de nuestras vidas," dijo Rebecca Dorris, una miembra de la iglesia anglo en Brentwood Hills que asistió al servicio bilingüe. 
Ella vio como se desmoronaron estas barreras étnicas cuando los jóvenes en la iglesia – que han aprendido un poco de español en la escuela y en los viajes de misión –cantaron con entusiasmo en los dos idiomas ." Cuando buscamos el propósito de Dios para nuestras vidas y en la adoración, éso debería acercarnos más los unos a los otros, como creyentes," dijo. 
Wilber Medrano, quien fue mostrado compasión por la iglesia Grandview, dijo que ambas etnias tienen que mostrar ese mismo espíritu de generosidad cuando interactúan. 
"El punto es que el latino también tiene que cambiar ," dijo. "La forma en que hemos recibido, esa es la manera en que tenemos que dar."
'TE AMO WITH THE LOVE OF THE LORD'
Cuando el servicio concluía, Leaver pidió a los hermanos de tomarse de las manos mientras Rinks dirigía el canto final "Te Amo en el Amor del Señor" ("I Love You with the Love of the Lord"), primero en inglés, después en español, y por último, simultáneamente.
A pesar de que los dos idiomas pueden discrepar un poco, en ese momento me sentí como si estuviéramos más cerca unos de los otros y más cerca del Señor," Leaver dijo, "y tal vez un poco más cerca de lo que el cielo va a ser en realidad.''
Rodríguez hace referencia de la visión de los cielos — escrito por el apóstol Juan en Apocalipsis 7 — la multitud canta: "La salvación pertenece a nuestro Dios" — no el himno nacional de México o de los EE.UU.
"Nuestro Salvador regresa de nuestra patria," dijo Rodríguez. "No va a venir para los americanos, para los mexicano-americanos, para los americanos salvadoreños.
"Él viene por su novia. Él viene por la iglesia de Cristo."
Walt Leaver, ministro de la iglesia de Cristo en Brentwood Hills, invita a los ministros de las congregaciones de habla hispanas las de habla inglesa a pasarse al frente para cantar "Te Amo con la Amor del Señor" en ambos idiomas. (FOTO POR  ERIK TRYGGESTAD)