En Colorado, la Reunión de las Montañas Rocosas cruza la barrera del idioma
---
WESTMINSTER, Colorado — "Amen! Amen! Amen!" dijo un coro de voces que se hizo eco en el auditorio de la Iglesia de Cristo Northwest cuando el ministro visitante Steven Curo predicó acerca de 1 Corintios 1:18.
Segundos después, Curo repitió el mismo versículo sobre el mensaje de la cruz que es locura para los que se pierden, pero es el poder de Dios a los que se salvan.
De nuevo, un afable serie de "¡Amén! Amén! Amén!" siguió a la lectura de la Escritura — sólo que esta vez con diferentes acentos de español.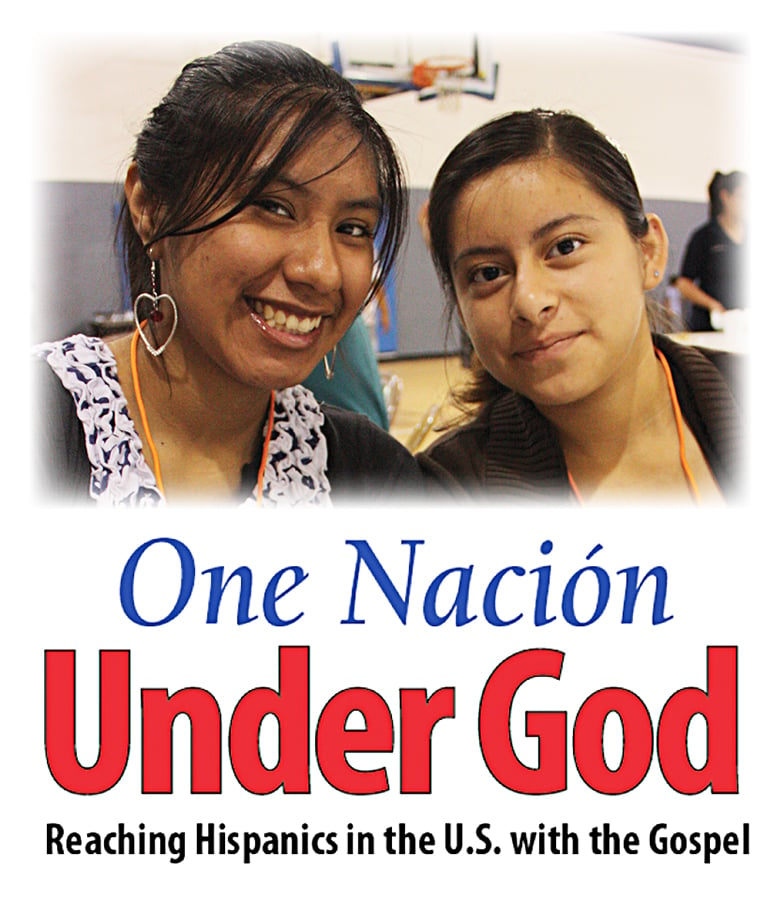 Curo alternó entre inglés y español mientras pronunciaba un sermón bilingüe en la Reunión de las Montañas Rocosas — un evento diseñado para mejorar la unidad entre los cristianos en el norte de Colorado.
"Fue increíble," dijo Jesús de Hijar, un miembro de la iglesia, acerca de la asamblea inaugural, donde los hermanos cantaron himnos tales como "Love Lifted Me" y "Dios es amor" de forma simultánea en ambos idiomas. "Fue realmente algo que a mí, personalmente, me llenó."
Colorado es uno de los siete estados que cuentan con una población hispana de al menos 20 por ciento.
Los exploradores españoles llegaron al estado en el siglo XVI en busca de oro. El nombre "Colorado" se deriva de una palabra española para "rojizo" o "rojo" usada para describir al río Colorado.
Entre 2000 y 2010, la población en Colorado aumentó de 4.3 a 5 millones de personas; los latinos representan el 42 por ciento del aumento — las cifras del censo así lo muestran. La último cálculo de la población es de 5.3 millones.
La mayoría de los hispanos en los EE.UU. pertenecen a la Iglesia Católica Romana. Pero la participación católica de la población está disminuyendo, mientras que un número creciente de hispanos se identifican como protestantes o no afiliado a ninguna religión, según una encuesta nacional realizada por el Centro de Investigaciones Pew (Pew Research Center).
¿Cuál es la mejor manera de introducir el Evangelio a esta población hispana que crece tan rápidamente?
La sugerencia de Curo es tan simple como compleja: "Tienes que aprender a hablar español si quieres evangelizar a la comunidad hispana. Eso es probablemente un lugar para empezar. "(Otros expertos señalan que muchos latinos de segunda y tercera generación hablan inglés y aún lo prefieren.)
Sin embargo, en la década de 2000, Curo y otros fundadores de iglesias encontraron sólo una Iglesia de Cristo de habla española en el área de Denver.
Steven Curo preaches in English and Spanish at the Colorado event. (PHOTO BY BOBBY ROSS JR.)
Curo aprendió español durante su juventud en la iglesia de Cristo Bostonia en El Cajon, California.
Por su penúltimo año de escuela secundaria, el hablante nativo de inglés dirigía la adoración y la predicación en español en la iglesia.
En la Universidad de Harding en Searcy, Arkansas, Curo se especializó en la Biblia con menor especialización en el español. En 2001, se mudó a Denver y ayudó a iniciar una congregación de habla hispana que se reunía en el apartamento de un inmigrante antes que se mudó al edificio de la iglesia de Cristo Northwest.
"El predicar es pura alegría," dijo Curo, ahora ministro de la iglesia de Cristo Castle Rock, entre Denver y Colorado Springs. "Ser capaz de hacerlo en los dos idiomas es muy emocionante."
UNA CONGREGACIÓN EN DOS IDIOMAS
Alrededor de 50 cristianos de habla hispana adoran todos los domingos en el gimnasio de la iglesia de Cristo Northwest. "Somos una congregación en dos idiomas," dijo el anciano Jim Bailey.
Cynthia Rivera and her husband, Jesús de Hijar, attend the Northwest Church of Christ in Westminster, Colo. (PHOTO BY BOBBY ROSS JR.)
Allan Javellana, de 37 años de edad, padre de cinco, quien primero estudió español en la escuela secundaria, adora con el grupo hispano. Sus hijos asisten a las clases bíblicas en inglés, pero se unen a él y a su esposa Mollie para la adoración en español, a pesar de que hablan un idioma diferente.
"Estoy convencido de la necesidad de hacer algo para la integración y la necesidad de ayudar al grupo hispano," nos dijo Javellana. 
Pero la creación de una unidad verdadera aún sigue siendo un desafío.
Algunas de las mujeres hispanas temen hablar con sus hermanos y hermanas de origen anglo, nos cuenta Cynthia Rivera, esposa de Hijar. Tienen miedo de decir algo inapropiado.
"Muchas de las mujeres hispanas me dicen, 'No me van a entender,'" dijo Rivera. "Yo les digo, 'No te preocupes. Simplemente sé tú misma.'" 
Sin esfuerzos decididos para superar la barrera, es fácil que ambos grupos permanezcan separados, dijo Javellana, quien dirigió los cantos en la asamblea bilingüe.
"Sabemos que alguien mas se reúne aquí," dijo sobre el modo de pensar que se puede desarrollar. "Simplemente no nos conocemos."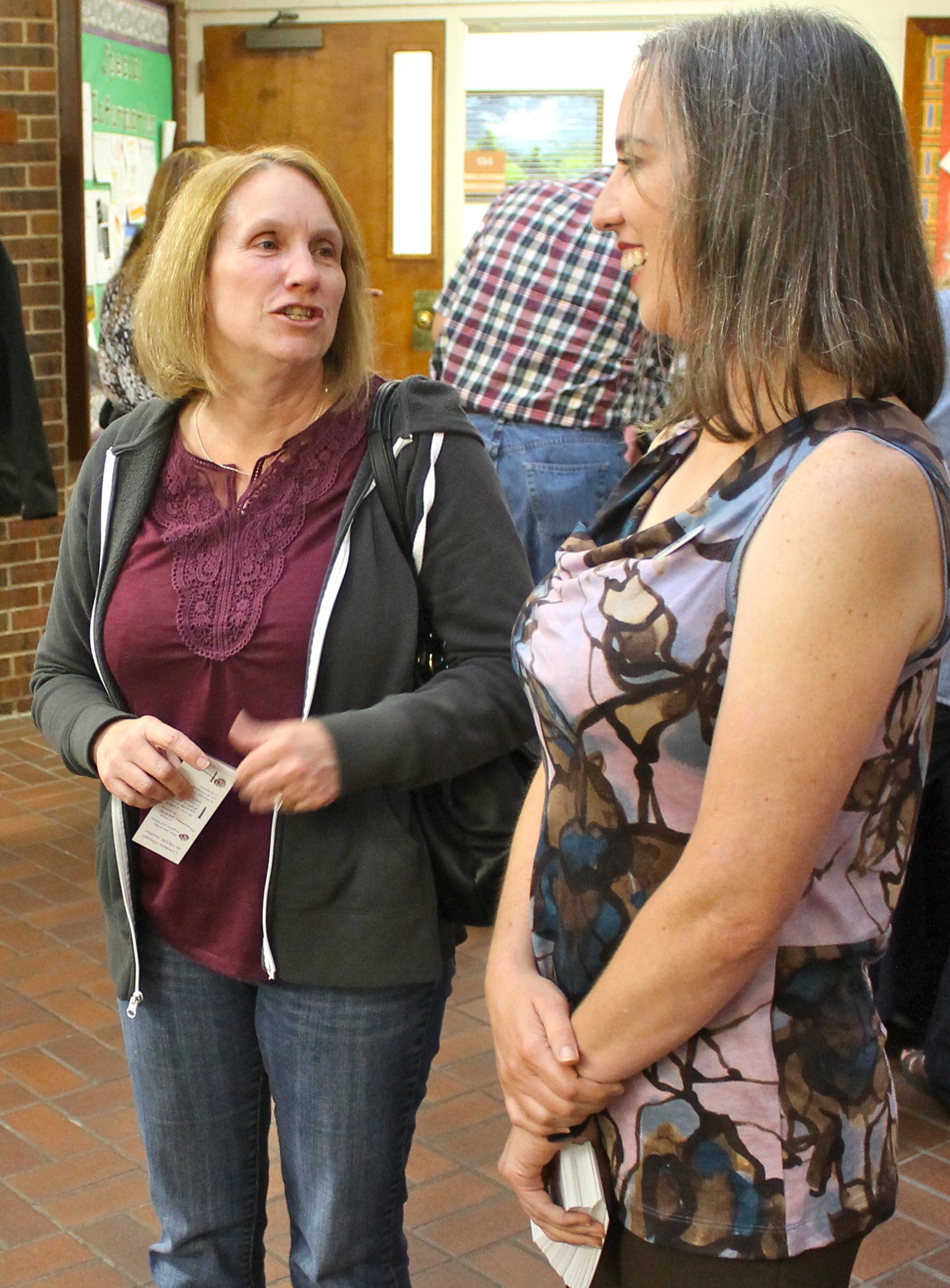 Michelle Goff, right, visits with an attendee of the Rocky Mountain Reunion. (PHOTO BY BOBBY ROSS JR.)
Todos los hermanos en Northwest – tanto de anglo como de las familias hispanas – asisten a las mismas clases bíblicas. Esto ayuda a los dos grupos a conocerse entre sí, dijeron los líderes.
También los convivios habituales bendicen a la congregación de 350 miembros.
De hecho, los miembros anglos particularmente disfrutan de las noches en las que las mujeres hispanas preparan las comidas, dijeron los miembros de la iglesia. 
"Los hermanos de habla inglés quieren saber si el grupo hispano estará cocinando porque saben que va a ser realmente bueno," dijo la hermana Michelle Goff, una ex-misionera a Venezuela bilingüe. "Las cosas como éstas han ayudado a superar algunas de las barreras."
UN GESTO DE UNIDAD Y DE AMOR

Las diferencias que a veces dividen a las Iglesias de Cristo inspiraron a la congregación Northwest a organizar la Reunión de las Montañas Rocosas. 
Pero en un estado con una población hispana creciente de 21 por ciento, reunir a distintas congregaciones significaba naturalmente cruzar la barrera del idioma también.
"Han pasado muchos años desde que las iglesias del norte de Colorado se han reunido para orar, cantar y estudiar la Palabra," dijo John Rakestraw, un anciano en la iglesia de Cristo Northwest. "Pensábamos que era hora de animarnos unos a otros de nuevo."
El Ministro Sam Pace dijo: "En los últimos años, ha habido un poco de la polarización entre las iglesias en el área de Denver, y estamos tratando de recuperar más unidad."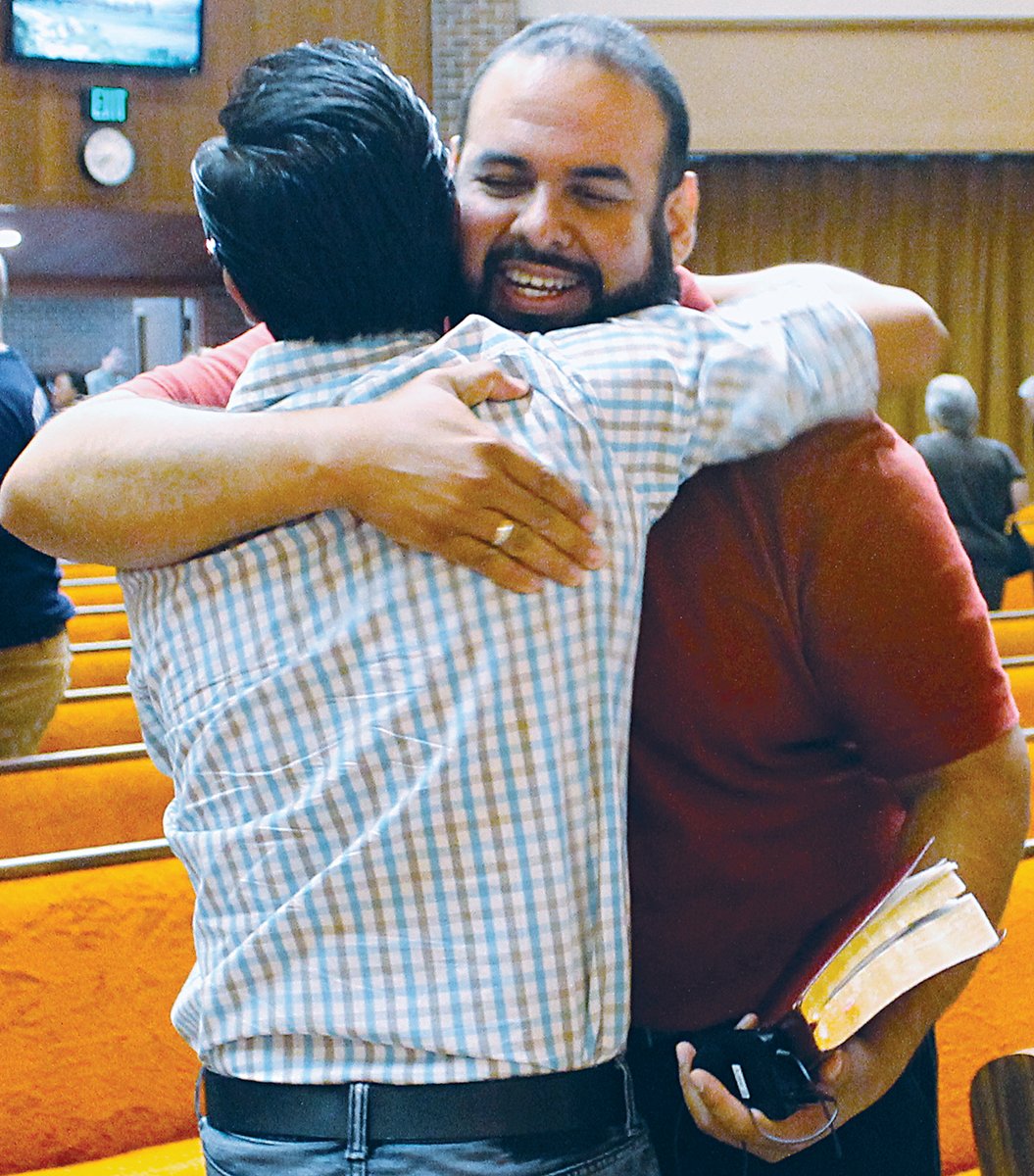 Alex Quintero, right, a minister for the West Seventh Street Church of Christ in Columbia, Tenn., hugs a fellow Christian during the Rocky Mountain Reunion. (PHOTO BY BOBBY ROSS JR.)
John Wheeler, ministro de la iglesia de Cristo University en Denver, aplaudió el esfuerzo. 
"Todo lo que nos une probablemente es bueno," dijo Wheeler. "Todavía hay un poco de aislamiento entre las diferentes iglesias."
Los líderes de la iglesia Northwest invitaron a participar a 65 congregaciones, de Colorado Springs hasta la línea estatal de Wyoming – incluyendo ocho iglesias de habla hispana. 
En la planificación del evento, los organizadores decidieron comenzar con un servicio de adoración bilingüe el viernes por la noche y tener clases en inglés y español separadas todo el día el sábado.
Todos los 160 participantes disfrutaron de un buen convivio de chalupas, arroz y frijoles el sábado. 
"Si hablamos chino o portugués o lo que sea, todos somos hermanos en Cristo, así que queríamos asegurarnos de que se resaltara," dijo Rakestraw. 
Curo se describió a sí mismo como "súper-inspirado" por el énfasis bilingüe.
"Necesitamos estar más unidos," dijo. "No hay divisiones entre nosotros, es sólo a causa de la barrera del idioma que no interactuamos."
Goff dirige Iron Rose Sister Ministries (Ministerio Hermana Rosa de Hierro), que desarrolla estudios bíblicos para mujeres en español y en inglés. 
Ella caracteriza la asamblea bilingüe como un gesto de enorme importancia del amor y de la unidad. 
"El Reino está compuesto de todas las lenguas y todas las culturas, y creo que cuanto más lo podemos ver, ayuda a ampliar nuestra visión," dijo Goff. "Nos ayuda a ser sensibles y a comprender otras culturas e idiomas, incluso en nuestras propias ciudades."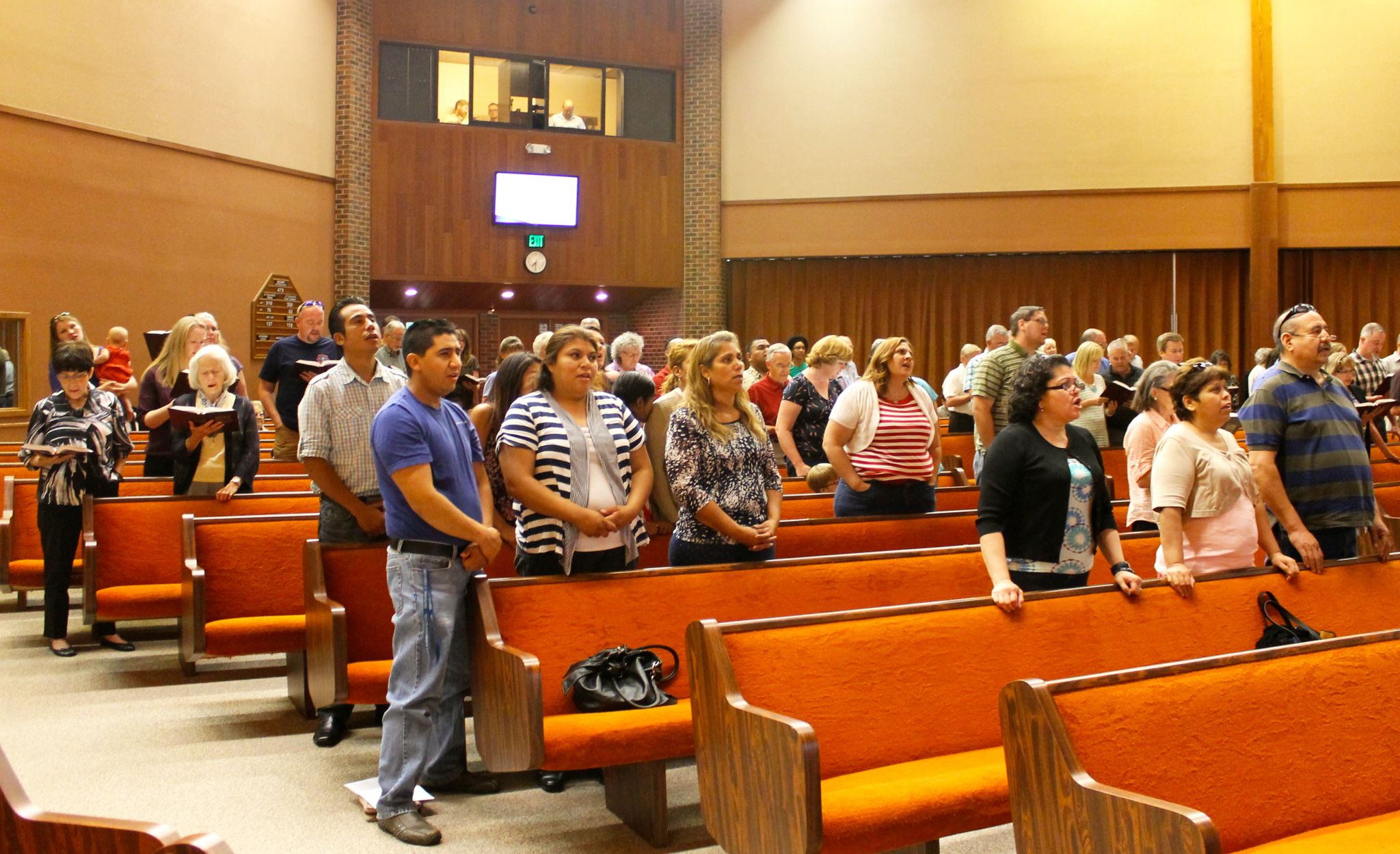 Attendees sing during the opening bilingual assembly at the Rocky Mountain Reunion. (PHOTO BY BOBBY ROSS JR.)