Ebola: Liberia's new war
Eleven years after a decades-long, violent conflict, Christians in this developing West African nation battle an invisible, deadly foe with prayer.
---
Update: Churches of Christ in Liberia will host prayer vigils on Aug. 14 to 16. See more details in the comments section below.
Maxwell Whea, right, bows his head during a prayer for his native Liberia in 2005 — alongside children who live near the meeting place of his congregation, the Smythe Road Church of Christ. At left is Gordon Wells, a minister in South Africa. Gary Chamblee, a church member from Atlanta (not pictured) says the prayer. (PHOTO BY ERIK TRYGGESTAD)
"With our civil war behind us … we had once more begun to laugh."
That's how Maxwell J. Whea described the atmosphere in his native Liberia, a small, struggling democracy in West Africa that endured a decades-long civil war. 
The conflict, which began in 1989, lasted until 2003, with only brief respites, and claimed at least 200,000 lives. (See our  2005 report from Liberia's capital , Monrovia.)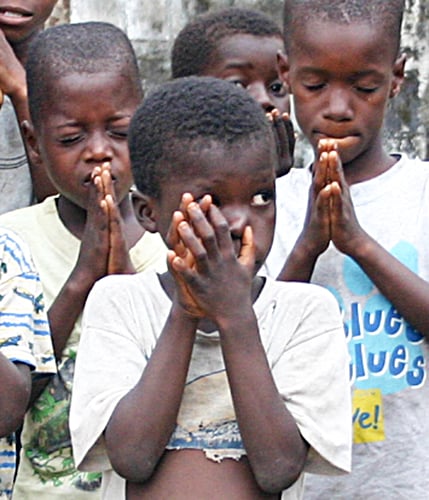 Prayers for West Africa: 
The church and Ebola
Now, after nearly a dozen years of relative peace, the nation of 14.2 million souls faces a deadly, invisible foe — the Ebola virus. 
And the laughter, once again, is silenced.
Many of the country's borders are shut, its schools are closed and its people have stopped shaking hands, said Whea, minister for the Smythe Road Church of Christ in Monrovia. The virus has infected more than 300 people and claimed more than 150 lives in Liberia. To the north, more than 1,000 additional cases are reported in Sierra Leone and Guinea.  
None of the Churches of Christ in Liberia have yet reported deaths due to the virus, Whea said. 
Meanwhile, Christians seek to navigate a sea of misinformation and rumors about Ebola, said Isaac Daye, a longtime evangelist who works with Churches of Christ throughout West Africa and World Bible School, a Texas-based correspondence ministry.
At least one church member has died of what was thought to be Ebola, Daye said. However, tests later showed that the deceased member did not have the virus. A Pentecostal pastor was warned to stop harboring Liberians infected with Ebola after he claimed he could heal the sickness with prayer, Daye added. Members of another denomination caught the virus after attending the funeral of one of its members. 
'He was the one fighting the virus,' Liberian minister Maxwell Whea said of Dr. Kent Brantly.  Across West Africa, Christians are praying for the physician infected with Ebola. See our continuing coverage of Brantly, who attended the Southside Church of Christ in Fort Worth, Texas, before moving to Liberia. (PHOTO VIA SAMARITANSPURSE.ORG)
"Liberia is now facing a new war," Daye told The Christian Chronicle, "and, from every indication, the best weapon we have to fight back with is faith in the Lord — and the application of advice given by health authorities. The situation is serious."
Across West Africa, plans are underway "to mobilize the Church for fasting and prayer," Daye said.
Elders of the Smythe Road congregation, one of the the largest Churches of Christ in Liberia, are organizing a vigil to "pray for God to let this deadly virus pass over our country," Whea told the Chronicle. Another goal is to "sensitize our members and the community in which we are located about the virus."
The church is considering a fundraising initiative to provide hygiene items for the community — including disinfectants, buckets, hand sanitizer and soap, Whea said. 
Church members stand outside the meeting place of the Smythe Road Church of Christ in Monrovia, Liberia, after Sunday worship in 2005. (PHOTO BY ERIK TRYGGESTAD)
"Doctors continue to warn us that washing of hands and not touching people seriously sick are some ways of protecting oneself," he said. "So we, as the church, want to take this step of distributing some of these (items) among our members and the community."
Isaac Daye
Churches of Christ also are using radio programs, sponsored by Louisiana-based
World Radio Gospel Broadcasts
, to raise awareness of the outbreak and "challenge our listeners to put away sin and turn to the Lord," Daye said.
Meanwhile, congregations "continue to pray for God's protection — and the expulsion of the virus from our land," Daye said. "We will survive this invasion of Ebola by the special grace of God."
Members of the Smythe Road Church of Christ worship on a Sunday morning in 2005. The church includes sign language translation for the hearing impaired. (PHOTO BY ERIK TRYGGESTAD)

Related coverage

• Dr. Kent Brantly receives prayers from around the globe — and blood from an Ebola survivor
• Texas doctor with Ebola — a Church of Christ member — known for 'compassionate heart'