Ebola kills, Jesus saves
In West Africa, as death toll rises, Christians give aid, spread the Word
---
In Conakry, Guinea, Nestor Tonguino, left, baptizes one of five students recently who found out about the church through its radio ministry. (PHOTO PROVIDED)
Physical contact is "fundamental" to everyday life in West Africa, said Nestor Tonguino.
"We shake hands to greet one another, travel in the same vehicles and attend the same churches and mosques," said Tonguino, minister for a Church of Christ in Conakry, the capital of Guinea. 
As the Ebola virus spreads across his country, it also is ripping apart the social fabric, he said.
"How do we greet one another without shaking hands," he said, "when this is the ancestral custom in our communities?"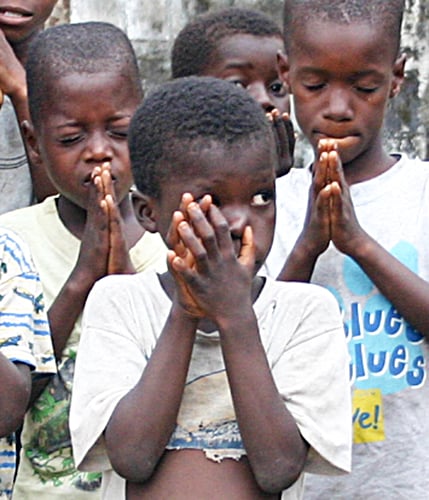 Prayers for West Africa: 
The church and Ebola
Meanwhile, the death toll rises. 
Emanuel Sakila, a medical worker and member of a Church of Christ in Koindu, Sierra Leone, died recently from the virus. Authorities quarantined two of his apprentices, also church members, plus his mother and daughter, said Francis Musa, another minister in Guinea.
"It's frightening," Musa said, "and we can only pray for them and other relatives around there."
Affected nations, including Liberia, have shut their borders to flights and commerce, causing food prices to spike. Ministries supported by Churches of Christ have responded, said Liberian minister Isaac Daye. Texas-based
Christian Relief Fund
and Lousiana-based
White's Ferry Road Relief
have sent funds to help the hungry. Church members distributed rice, soap and buckets to more than 100 churches across Liberia, Daye said.
Healing Hands International
is partnering with a Church of Christ in Sanniquellie, Liberia, whose members will distribute supplies in their city's hospital, including surgical gowns, gloves and face masks.
As they provide aid, churches spread the message that "Ebola kills, but Jesus saves," said Jacob Sesay, a minister for a Church of Christ in Sierra Leone's capital, Freetown. Recently, a congregation to the southwest, in Tengbeh Town, reported the baptism of two women who studied the Scriptures through the
World Bible School
correspondence program.
Meanwhile, Christians in Freetown pray for one of their own — a church member and his family quarantined after a doctor in their community died from the virus.
"We now completely focus our attention on God Almighty," Sesay said, "for his mercy upon the people of West Africa."