Dust and love: Finding God after Italian quake
A journalist covering the devastation following an earthquake in Italy shares her experience.
---
AMATRICE, Italy —
Rubble, tears, sweat. Crumbling houses, broken furniture and family heirlooms scattered everywhere.
Air filled with dust.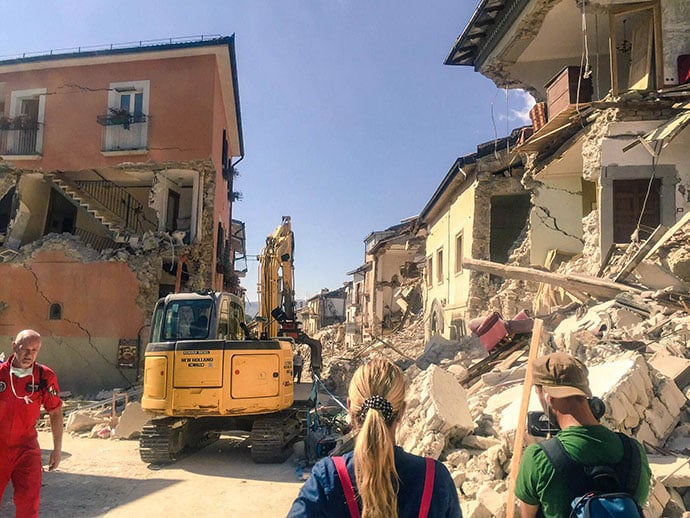 Damage in Italy following a 6.2 magnitude quake. (PHOTO BY VIRGINIA "VIVI" VITALONE)
The apocalyptic view of this city in central Italy, after a 6.2-magnitude earthquake killed 293 people in the middle of the night, reminded me of May 4, 2014 — the day I covered the tornado-hit town of Mayflower, Ark., for my last class assignment at Harding University.
Now, three years later, I saw flattened buildings, hundreds of firemen digging tourists and locals from underneath the rubble.
"Once the dust will settle down, please don't forget us".
And dead, dozens of them, lined up under white sheets. The survivors, many still in pajamas, walked aimlessly, calling for their loved ones, hoping they ran fast enough to avoid the collapsing buildings. Many didn't.
I freelance as a producer for Raw-News, an agency that links me to TV stations around the world. I launched my career in Rome in April 2015, reporting for Al-Jazeera English after a shipwreck in the Mediterranean killed more than 700 migrants.
In Amatrice, I was with an NBC crew, covering more lives interrupted. More destruction. But among the rubble, tears and sweat, I saw the magnificence of humans' altruism — and God's love through unexpected hands.

(PHOTO BY VIRGINIA "VIVI" VITALONE)
On that first night, a gym bathroom seemed to be the only functioning one in the whole town. Between the displaced and aid workers, at least 3,000 people were using it. A girl stood diligently in front, cleaning it every 10 minutes. I asked her what organization she belonged to.
"Oh, no one," she said. "I'm from a town near here. My whole family is alive, so I figured I'd come help."
Throughout the week, I kept thinking of the words of 1 Kings 19:11 as the prophet Elijah waited on the Lord. There was wind, but God was not in the wind, "and after the wind an earthquake, but the Lord was not in the earthquake."
But one day, as I was walking with a colleague — a navigated war correspondent — he pointed out that the city looked like it had been bombed. There are indeed cities, around the world, reduced to dust by men and not natural causes.
I remembered the words of my former professor, Noah Darnell, himself a photojournalist who covered the aftermath of the 2010 Haiti earthquake:
"Stay human. You are not lacking professionalism, nor losing time, if you hold an interviewee who just can't stop crying."
Virginia "Vivi" VitaloneExhausted after three days of nonstop reporting, my colleagues and I found the only restaurant still standing in a nearby town. Deep cracks scarred its walls.
The owner, a fragile, middle-aged woman, refused to speak about the quake.
"I'm sorry, but I just can't stand journalists," she kept repeating, tears in her eyes.
Nonetheless, she served us for three nights — and apparently forgot her restaurant's closing time. She let us stay late to finish our work in peace.
Rubble, tears, sweat and love.
"The TVs come, find their stories, and then leave," the woman said on our last night. "Once the dust will settle down, please don't forget us".
No ma'am. I promise. I won't.
VIRGINIA "VIVI" VITALONE is a native of Rome, where she worships with the Viale Jonio Church of Christ. A graduate of Harding University in Searcy, Ark., she works as a freelance news producer. related:
•In Italy, shock and aftershocks