Don't just sit in those pews
In the heart of Dallas-Fort Worth, a once-shrinking congregation finds revival as it serves its community.
---
ARLINGTON, Texas
— It's a Tuesday after school, and basketballs are flying at the North Davis Church of Christ family life center.

Welcome to "The Rec," as the banner outside declares.
Two afternoons per week, the
600-member church
opens its doors for up to 120 students from nearby Lamar High School to hang out, shoot hoops and enjoy free snacks and beverages.
"It's a good thing," said Christian Retana, 15. "It gets kids out of trouble."
A Lamar High School student shoots a basket at "The Rec," an after-school program hosted each Tuesday and Thursday by the North Davis church. (PHOTO BY BOBBY ROSS JR.)
"This is a good environment," agreed Deshaun Lowry, 17. "Nobody's ever fighting, especially in a church. Everybody gets along here."
A few years ago, dozens of Lamar High teens congregating in a Walgreens store parking lot after school drew complaints of violence, thefts and illegal drug activity.
Arlington Mayor Robert Cluck
That's when the North Davis church decided to partner with Arlington police and school officials to offer an alternative.
"We said, 'Let's give them something better,'" said Darrell Lanford, youth family minister.
Cluck, Arlington's mayor since 2003, describes North Davis as "the church that always says 'yes' when we need something."
"They are a true community partner — not only offering assistance during times of crisis but also in day-to-day community needs," said Cluck, specifically praising senior minister Doug Peters as "always willing to be involved in the community and help make Arlington a better place for all citizens."
CHANGES AND CHALLENGES
The North Davis church building sits just off Interstate 30 — in the shadow of the Six Flags theme park and the home stadiums of the Dallas Cowboys and the Texas Rangers.
As this city between Dallas and Fort Worth boomed with new housing and explosive population growth in the 1980s, the church reached a membership of 1,000.
An aerial view of the major sports stadiums in Arlington, Texas. (PHOTO PROVIDED BY ARLINGTON CONVENTION AND VISITORS BUREAU)
But by the 1990s, Arlington began to take on a more urban feel — with a higher poverty rate and increased racial and ethnic diversity.
Arlington's changing demographics, combined with ministerial and leadership turmoil at North Davis, contributed to 12 straight years of decline in Sunday attendance.
With that turmoil still fresh in members' minds, the church hired a new preacher — Peters — in 2001.
As longtime members describe it, Peters brought a new vision for how the then-shrinking church could fulfill God's will in its diverse community.
Peters stepped to the pulpit each Sunday and delivered a simple message, said Sheila Carter, wife of elder Bob Carter.
That message: "We weren't supposed to just be sitting in those pews."
The middle-class white church — comprised of commuters and surrounded by aging apartment buildings — could have relocated.
"In fact, there are a lot of area congregations that have moved away," Peters said.
Instead, North Davis built a new family life center that opened in 2003 and sought out new opportunities to feed the hungry, house the homeless and clothe the naked — to put the church's vision in Matthew 25 terms.
North Davis members sing "Everlasting God" during a Sunday morning worship assembly. (PHOTO BY BOBBY ROSS JR.)
By all accounts,
Hurricane Katrina
in 2005 marked a turning point. The church welcomed hundreds of New Orleans evacuees to sleep on cots in its building.
The Katrina victims arrived on yellow school buses, many wearing mud-stained clothing and carrying all their belongings in paper sacks, said Lana Wolff, an Arlington city councilman.
"With opened arms and a beautiful smile, the volunteers reassured the hopeless and the restless that they were safe here," the councilwoman wrote in an email to The Christian Chronicle. "Spiritual support was always apparent."
In the Katrina relief effort, longtime North Davis members such as Janelle Truitt believe they discovered their true calling.
"We realized then what we were supposed to be doing," Truitt said. "Katrina put us on such a high. We did everything, and we did it from the ground up with no training.
"Then when it was done, everybody was like, 'Well, what are we doing now? We can't stop this.'"
Brenda Patterson and Jody Thornton greet Sunday morning guests at the North Davis Church of Christ's "Welcome Center." (PHOTO BY BOBBY ROSS JR.)

'JOINING GOD AND OTHERS'
In recent years, the church has emphasized this motto: "Joining God and Others on a Kingdom Journey for the Sake of the World!"
"Whether you call it a mission statement or not, it does describe God's call on us as we live out the Great Commission," said Peters, who
soon will leave
North 
Davis to train and mentor future preachers at Oklahoma Christian University.
Doug Peters
Just a few of the ways the church lives out that motto:
The nonprofit organization's warehouse is on the North Davis property. Other Churches of Christ in Arlington help, too.
One Wednesday night a month, the North Davis church's "ND Diner" invites Hearts and Hands clients — and anyone else — to a free, home-cooked meal.
"We're kind of a more Anglo church, and everybody around us has a more Hispanic or African-American background to them," church elder Gil Vollmering Jr. said. "So how do we break those stereotypes?"
One way, Vollmering said, is to sit down together — with no regard for race or ethnicity — and enjoy a no-strings-attached meal.
• Members volunteer
at the
Arlington Life Shelter,
a nonprofit that provides short-term shelter and employment training for homeless people.
Members teach classes weekly, deliver meals monthly and organize an annual fundraiser for the shelter's children's program.
"It's a very good model for a homeless shelter that actually gets people off the streets, off addictions and into jobs and housing," Peters said.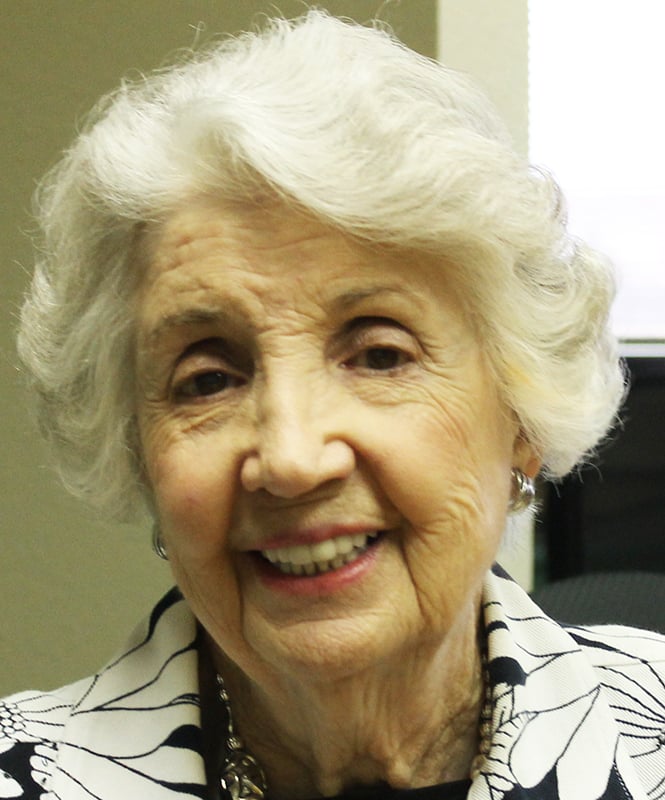 Ladelle Young
• The church supports
the Arlington school district's
pregnancy education program.
Members host an annual Christmas banquet for all pregnant or teen mothers and fathers in the school district and buy gifts for the parents and babies.
"We have such a passion for those girls," church volunteer Ladelle Young, 83, said of the teen moms. "Some of the members here have had that happen to their girl."
• Members welcome
immigrants to the building each week for
FriendSpeak,
a national ministry that helps internationally born neighbors improve their English skills by reading the Bible.
North Davis volunteers have worked with immigrants from China, Colombia, Cuba, Ecuador, El Salvador, Mexico and Vietnam.
Jesus and Carmen Rodriguez
"Our favorite thing all our life was to go on a mission trip, but now we have a mission trip every Wednesday," said Landis Hogue, who with her husband, Carl, helps organize FriendSpeak. "We just love it."
• Hoping to reach more Spanish speakers with the Gospel, the church supports Jesus and Carmen Rodriguez, part of a Hispanic church-planting team.
Arlington's Hispanic population has grown to more than 100,000 — over a quarter of the city's total population of 380,000, according to the U.S. Census Bureau.
"The North Davis church has been wonderful, supportive in every activity, everything we do," said Carmen Rodriquez, a native of Puerto Rico.
Church member Janelle Truitt shows off the clothing room at Hearts and Hands, a nonprofit organization that serves the needy in Arlington, Texas. (PHOTO BY BOBBY ROSS JR.)
'THEY'LL GIVE YOU A LITTLE HUG'
Back at "The Rec," between 90 and 120 students show up each Tuesday and Thursday to play basketball.
The Arlington Police Department honored the North Davis church with its 2013 community partner award. The department's official Twitter account touted the church's after-school undertaking as "an amazing program."
Thank you to the North Davis Church of Christ for your support and dedication to 'The Rec!' What an amazing program! pic.twitter.com/zvcJNy2HHp

— Arlington Police, TX (@ArlingtonPD) May 15, 2014
The program has no overt focus on leading teens to Christ, Lanford said. But winning souls has been a natural progression of the outreach effort, the youth family minister said.
"We just try to meet them where they are," Lanford said of the teens.
About 12 to 15 North Davis church volunteers, mostly retirees, greet the students, serve snacks and offer tutoring.
"We just love being with the kids," said Jim Truitt, Janelle's husband and a North Davis member since 1967. "It's something that, when you see how much they enjoy it and what their special needs are, it just pulls you back like a magnet."
Larry Minor, a North Davis member since 1961, said he and his wife, Peggy, just try to be friendly.
The teens respond in kind.
"Occasionally, they'll give you a little hug when they leave," Minor said. "How do you measure that?"
Students sign in before playing basketball and enjoying snacks. Youth family minister Darrell Lanford and volunteer Larry Minor man the registration table. (PHOTO BY BOBBY ROSS JR.)

NORTH DAVIS CHURCH OF CHRIST
LOCATION: Arlington, Texas, between Dallas and Fort Worth.
MEMBERSHIP: About 600.


SERVICES: Bible classes at 9 a.m. Sunday. Worship at 10:15 a.m. Small groups meet Sunday night. Wednesday night features programs designed to equip ministries and mission efforts.
INTERNATIONAL: Besides its community-focused ministries, the church sends dozens of members overseas on Let's Start Talking mission trips. North Davis also partners with organizations such as Healing Hands International and World Bible School.
MINISTERS: Senior minister Doug Peters, youth family minister Darrell Lanford, worship and connections minister Bret Morris and children's family minister Summer Morris.
ELDERS: Jamie Bain, Bob Carter, Bill Dismuke, Allen Griffith, Nolan Kennedy, John David Patterson, Scott Souder, Gary Staley, Gil Vollmering Jr., Gil Vollmering Sr., Rodney Waller and Jim Wren.