Doing LIFE: Inmates find love, appreciation
LIPSCOMB UNIVERSITY'S Initiative for Education offers associate degrees to women in a Tennessee prison.
---
NASHVILLE, Tenn. — 
The gym was full of "freeworlders" — the nickname for those who live outside prison walls — and inmates.
Together they clapped and cheered as eight "inside students" climbed to the stage, shook the president's hand, grasped their diplomas and became recipients of the first-ever associate of arts degree granted by Lipscomb University.

Erika East receives her diploma and congratulatory handshake from Lipscomb University president L. Randolph Lowry during a graduation ceremony at the Tennessee Prison for Women in Nashville. PHOTO BY TED PARKS
Held on the eve of the traditional December graduation on campus, the ceremony capped seven years of study for the
graduates in the LIFE program — Lipscomb Initiative for Education -— offered behind the locked steel doors and razor-wire perimeter of Nashville's Tennessee Prison for Women. Lipscomb University is associated with Churches of Christ.

Razor wire lines the prison, which houses women from pre-release to death penalty, according to corrections officials.
Comprising 63 hours of coursework, the LIFE program is taught by Lipscomb faculty and puts up to 30 traditional, freeworld undergrads side-by-side with a similar number of inside students. Classes meet in the prison on Wednesday nights during the semester.
"I felt loved, I felt appreciated, I felt successful and that the sky's the limit," said graduate Markeisha Seagraves during the reception following the graduation ceremony.
Before shedding the top half of their prison blues to don black caps and gowns, the graduates were guests at a catered Provost's Brunch, where the menu included egg casserole, biscuits and bacon. Faculty members served the meal to the students, mirroring the traditional Provost's Breakfast on campus.
After graduation, guests and inmates enjoyed a sheet cake baked in the prison's kitchen, complemented by fruit and other dessert treats.
Eight students received their diplomas before an audience of about 150 people. A ninth student — who was transferred to another state correctional facility — will officially graduate in May.
Barbi Brown and Tabitha Slack put on their graduation gowns. Brown delivered the
student response during the graduation. PHOTO BY TED PARKS"Coming into prison, I didn't even have a high-school diploma," said graduate Tabitha Slack, who finished her high school work behind bars in 2005. "Now my associate degree … is a chance for me to actually be able to survive when I am released."
Seagraves listed two reasons she wanted to study in the LIFE program.
"One was to know that I could do it, because I hadn't always believed in myself," Seagraves said.
The other "was to let my daughter know that educational opportunities exist any and everywhere, regardless of what your address is, and, though we fall, we can always get up."
Now an eighth-grader, Seagraves' daughter was 14 months old when her mom went to jail.
"She thinks it's awesome that I'm still trying to succeed, even though I've been locked up almost 13 years," Seagraves said.
With program courses ranging from foreign languages to physics — easily transferred to other universities — LIFE coordinator and Lipscomb history professor Richard Goode believes the classes Lipscomb offers behind prison walls breathe freedom and opportunity into students' lives.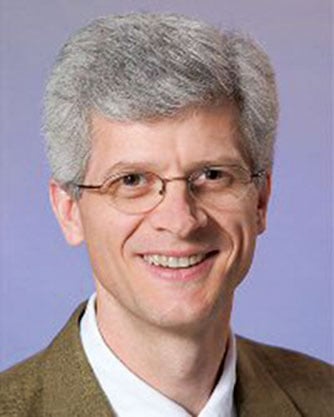 Richard Goode"On one level, it's not about being in prison at all," Goode said. "It's about the power of the liberal arts and … the liberating capacity of education to help us re-envision, and reconceptualize, re-imagine our lives. … If we're going to take the story of the Gospel seriously, grace means second chances."
In his address during the ceremony, Lipscomb President L. Randolph Lowry echoed the connection between learning and liberation.
Anticipating the culmination of long years of study, graduate Antoinette "Toné" Kidder-Hill queues up with fellow students and Lipscomb faculty in preparation for the graduation procession. PHOTO BY TED PARKS"As you complete this program, my hope is that you, in fact, do find a sense of freedom you didn't have, in … literature that takes you other places, and ideas that stretch who you are, and relationships that are formed," Lowry said.
Among the guests was Lipscomb psychology major Zach Hackett, a freeworlder who had just completed a LIFE course called "Influencing Change through Civic Engagement" and decided to attend the prison graduation to see his friends.
While the course was an offering from the university's law, justice and society curriculum, Hackett drew spiritual lessons from his experience.
"What I learned after being here, is that the real application from Scripture is the equality of every human," he said. "We're all the same; none of us are greater or better, and no sin is greater or worse than anyone else's."
"It was the most enjoyable graduation I've ever been to," Hackett said. "It was all the cliched things you hear in graduation speeches, … but it wasn't cliched. It was real."