'Dios nos ha traído un campo misionero.'
El iniciador de iglesias Hispano, Héctor Hinojosa, insta a los cristianos para servir a los latinos de los Estados Unidos a través de múltiples generaciones.
---
(Read this Dialogue in English)
Héctor Hinojosa y su familia utilizan un programa de computación, Rosetta Stone, para ayudarles a repasar un idioma extranjero — Español. 
Puede parecer extraño para una familia con raíces en México, pero al igual que muchos latinos de segunda y tercera generación en los EE.UU., los Hinojosa hablan — y adoran — principalmente en Inglés.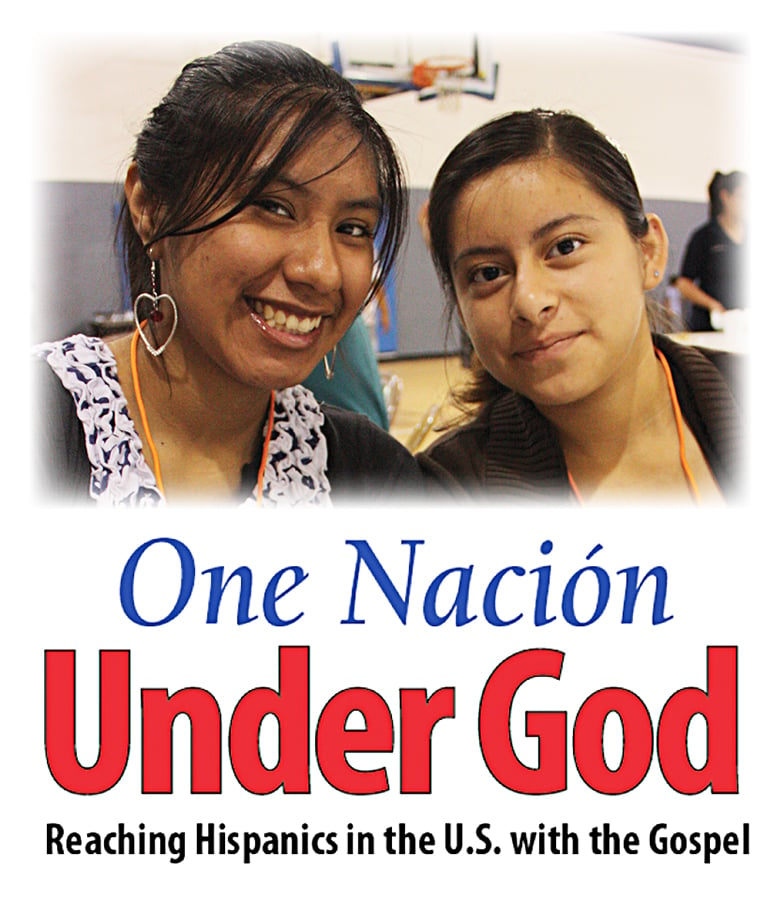 Nacido en Brownsville, en el extremo sur de Texas, Hinojosa se crió en un barrio predominantemente anglo. Criado católico, fue bautizado a los 33 años después de participar en un estudio de la Bíblico con los miembros de la Iglesia de Cristo en Brownsville. 
Ahora, un planificador financiero certificado, él y su familia adoran con La Iglesia de Cristo The Hills en North Richland Hills, Texas. 
Trabajó junto a sus compañeros cristianos hispanos a través de Alianza Génesis — un ministerio diseñado para alcanzar a los inmigrantes de primera generación procedentes de América Latina.
Recientemente, él y otros cristianos latinos nacidos en Estados Unidos iniciaron un ministerio llamado Hyphen diseñado para alcanzar a un grupo demográfico que creen que ha sido desatendido por las iglesias — Los hispanos que crecieron hablando Inglés y se encuentran perdidos entre dos culturas.
Existen diferencias entre los inmigrantes y sus descendientes, nos dice. (Lanza una pelota a la primera generación de hispanos, y va la van a jugar con los pies. Lanza una pelota la tercera generación de latinos, y probablemente la van a atrapar con las manos.)
Sin embargo, "la única cosa que es lo mismo es la familia. No es raro para nosotros hacer enormes sacrificios para nuestras familias."
¿Cuáles son algunas ideas erróneas sobre el ministerio hispano?
La más grande es que todos los hispanos hablan español. Si hay una cosa que quiero que los lectores entiendan, es que estamos hablando de hispanos de habla Español- Inglés, no se trata del idioma. Es acerca de la cultura.
Otra idea falsa es que todos los hispanos piensan lo mismo y les gusta las mismas cosas. "No todos los hispanos comen tacos" es un dicho que nos gusta utilizar.
Otra idea errónea es que si una congregación tradicional canta uno o dos himnos en español de vez en cuando, los hispanos correrán a su iglesia. Si bien esto no es una mala idea, hay mucho más que se tiene que hacer.
Lo que hay que hacer – y cómo hacerlo – es de lo que Alianza Génesis y Hyphen se trata. Trabajamos con las iglesias para ayudar a formular un plan para alcanzar a esta comunidad. Alianza Génesis se centra en los hispanos de primera generación, mientras Hyphen centra en los hispanos dominantes del idioma inglés de segunda y tercera generación.
Cada iglesia y comunidad es diferente, por lo que cada plan será diferente. Podemos trabajar con líderes de la iglesias para que su congregaciones sean mas conscientes de las necesidades hispanas.
Puede que no tengamos todas las respuestas, pero sabemos que preguntas hacer.
¿Cuántas iglesias de Cristo de habla hispana hay en el área de Dallas-Fort Worth?
En el Metroplex, unas 20 iglesias de primera generación. La mayoría de ellos son iglesias dentro de una iglesia. Una congregación Anglo vio la necesidad de llegar a la gente de habla hispana y comenzó un trabajo. Alianza Génesis ha ayudado a muchas establecer tales iglesias. Esta es la razón por la cual Sixto Rivera, director ejecutivo de la Alianza Génesis, fundó el ministerio.
¿Qué tipo de ministerio se necesita para servir a la comunidad hispana?
En una palabra, intencional.
Los hispanos no van accidentalmente asistir a nuestras iglesias.
Las iglesias de habla hispana han sido — y seguirán siendo — un área vital de nuestro ministerio. Siempre vamos a estar con este asunto ya que los nuevos inmigrantes son cada vez más todos los días. Ellos no vienen en los números que solían, pero todavía están llegando, y que necesitan escuchar acerca de Jesús en el único idioma que saben — español.
Pero el verdadero potencial está en la segunda y tercera generación de hispanos. Vivimos en el "hyphen" de la demografía hispano americana — no ser lo suficientemente hispano para sentirse cómodo en un servicio de habla hispana, pero no sentir que pertenecemos a una congregación predominantemente caucásica. Necesitamos ministerios que introduzcan este grupo demográfico a la Palabra de Dios de una manera no amenazante, sin prejuicios. Vamos a ser más eficaces si los invitamos a tener una relación con Cristo y no que sean vistos como un intento de "convertirlos" del catolicismo.
La Biblia estudio Discovery, utilizada por nuestro ministerio, es una gran herramienta. Es una manera de adentrarse en la Palabra. Necesitamos hacer discípulos que hagan discípulos, porque cuando haces discípulos, se obtiene una iglesia. 
No necesariamente se consiguen discípulos, cuando se inicia una iglesia. 
¿Qué desafíos enfrenta las iglesias que desean alcanzar a la comunidad hispana en su patio trasero?
El primer reto es ver que Dios ha puesto en nuestro patio trasero. Muchas de nuestras iglesias han tenido las comunidades latinas crecen alrededor de sus edificios. Muchas ya sirven a la comunidad. El siguiente paso lógico es que los invite a tener una relación con Jesús.

The Christian Chronicle anteriormente ha informado que existe una disminución del número de Iglesias de Cristo en los EE.UU. – y que hay menos gente en las iglesias. Esta es una tendencia preocupante. 
Pero Dios ha traído un campo misionero para nosotros. Y muchos en este campo misionero tienen una comprensión de Dios a causa de sus antecedentes católico (o de otra religión). Pero la mayoría nunca ha estudiado la Biblia.
Una pregunta que esperaba que hicieras es, "¿Cómo yo, un ex católico, me convertí en un miembro de la iglesia?" 
Es muy simple. No fue debido a nuestra doctrina o tradiciones, fue porque alguien en la iglesia demostró la asombrosa gracia de Jesús cuando no la merecíamos, pero la necesitábamos. 
Creo que, en última instancia, eso es lo que estamos llamados a hacer, con los hispanos o cualquier otra persona. El amor a la gente para traerlos el Reino de Dios.