Cristo can move mountains
In a Chicago suburb, a Spanish-speaking church experiences growth and contemplates a multicultural future.
---
Cristo puede mover montes

Sólo Dios puede salvar

Mi Dios puede salvar
— Spanish version of "Mighty to Save"
ELGIN, Ill.
— Tears of joy flowed as the
Elgin Church of Christ,
a Spanish-speaking congregation northwest of Chicago, stood and sang the invitation song.
For the 305 men, women and children who filled the Iglesia de Cristo's auditorium on this recent Sunday, the hymn's words — translated into English below — held special meaning: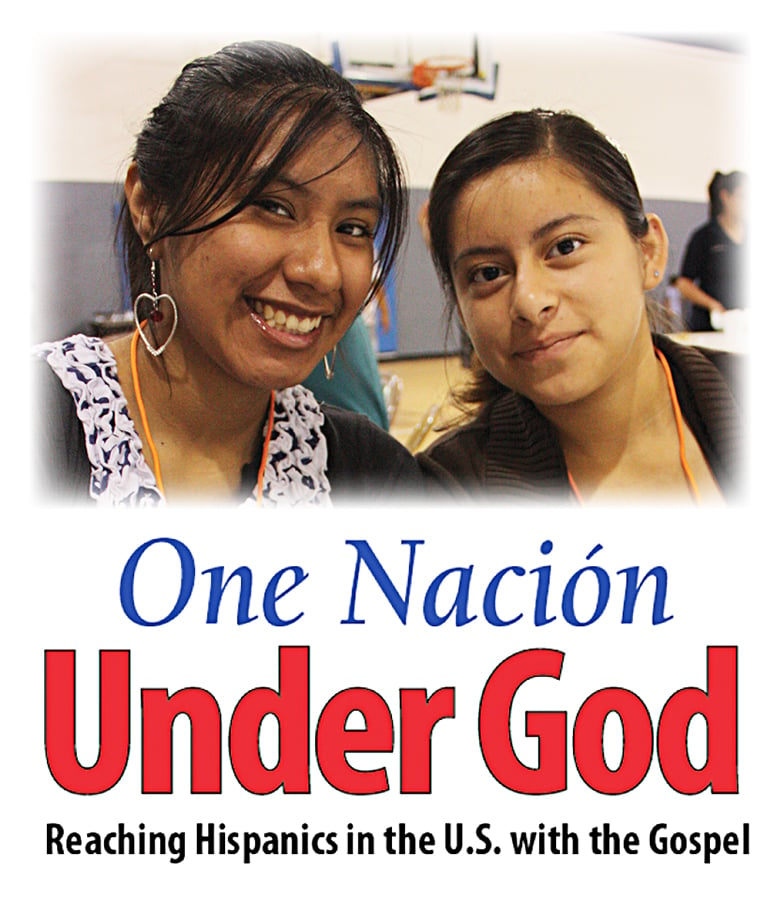 • Soccer, tortillas and unity: National Hispanic meeting builds up preachers
Savior, he can move the mountains




My God is mighty to save





He is mighty to save
The voices that rang out testified to this fast-growing congregation's emotional, 25-year journey — from an Anglo church's basement to a cramped rented facility to this first assembly in an 11,000-square-foot building all its own.
"I can't believe it," said Hector Gonzalez, 71, one of the handful of original members. "We work for a long time and try and try and try. Finally, God hear you."
Gonzalez touched his hands to his heart as he tried — in broken English — to put his glee into words.
"We made it," he said. "I feel very happy with God because God give us this building."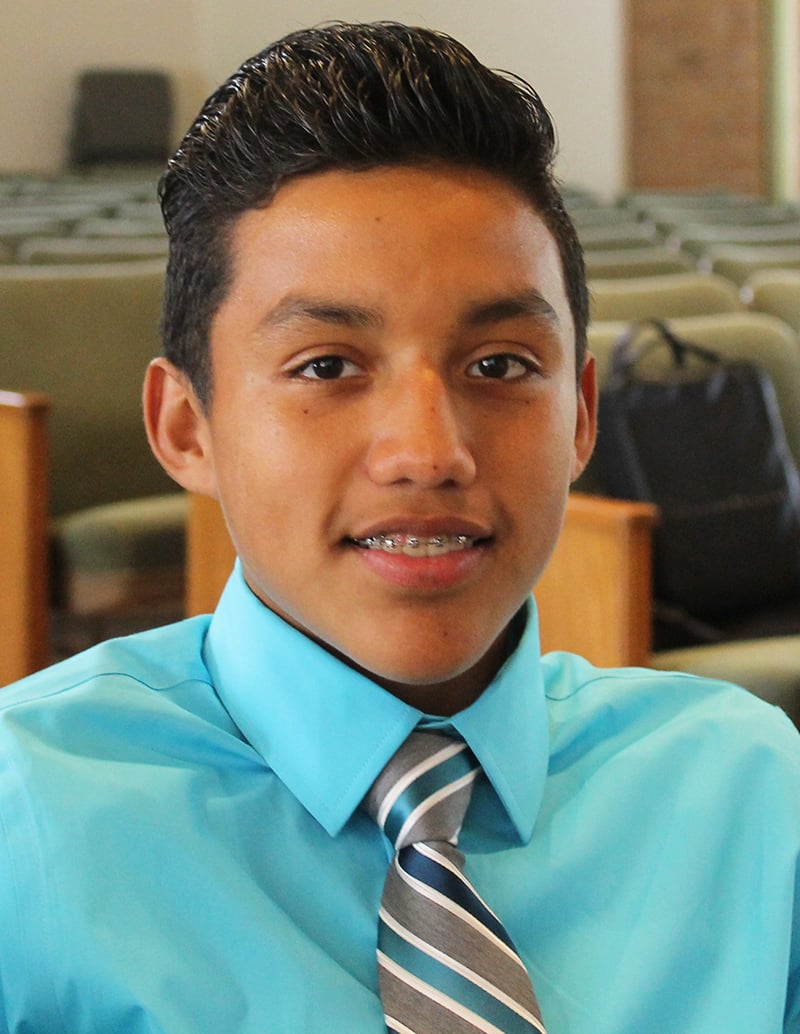 Omar Gonzalez
The Elgin church is a mix of older Christians who speak mainly Spanish and younger members fluent in Spanish and English. At the same time, some of the congregation's teens struggle with their parents' native language, communicating better in English than Spanish.
"With a lot of my Hispanic friends, the parents don't teach them Spanish … so the little bit of Spanish that they know is very minimal and not very grammatically correct," said Omar Gonzalez, 15, who has attended the Elgin church all his life but is not related to Hector Gonzalez.
Even with Omar, his mother, Miriam Gonzalez, said he seems to grasp English better, though his family speaks Spanish and watches Spanish television at home.
"There have been times that we have gone to services with the Anglo brothers when we have been out and about, and I could see how he reacts to the knowledge," she said of her son. "His comprehension is better."
Minister Ricardo Barrera greets Esperanza Martinez at the Elgin Church of Christ. The sign above the entryway references "Shema." "It is a Hebrew word that means not only to hear but to obey," Barrera said. The Scripture cited is James 1:22. (PHOTO BY BOBBY ROSS JR.)
The language differences point to the challenges — and opportunities — faced by church leaders in this Chicago suburb, where the Hispanic population has more than doubled in the last 20 years. According to the
2010 U.S. census,
Latinos comprise 44 percent of Elgin's 110,000 residents.
Speaking to the crowd gathered for the inaugural assembly, minister Ricardo Barrera interspersed occasional English with the Spanish lesson.
"If my accent is a bother to you, I'm sorry," Barrera joked to the crowd, 75 percent of whom he estimates understand English as well as Spanish. "I'm Mexican."
When the preacher asked how many worshipers were born in the United States, roughly one-third raised their hands.
But when he asked how many were born in Latin America, the remainder of arms shot up.
"There's more of us," he said with a smile, winking at fellow immigrants from countries such as Colombia, El Salvador, Guatemala, Honduras and Peru.
Most of the immigrant members are legal U.S. residents. Some are not. It's not a question Barrera feels compelled to ask.
"I just baptized somebody … and I don't know his status," the minister said. "That's not my concern. … We just welcome them to church."
Those present for the first assembly of the Elgin Church of Christ at its new building pose for a photo. A dwindling Christian Science church sold the building for $475,000. (PHOTO BY BOBBY ROSS JR.)
PRAYERS ANSWERED, FINALLY
The Elgin Iglesia de Cristo began with a few families meeting in the basement of the English-speaking
Westside Church of Christ
in Elgin in the late 1980s.
Barrera, who immigrated legally to the U.S. when he was 16, came to the Lord after his future wife, Taly, introduced him to the congregation in the early 1990s.
Antonio Barrera, brother of minister Ricardo Barrera, helps distribute the Lord's Supper and collect the offering. (PHOTO BY BOBBY ROSS JR.)
After outgrowing the basement, the church rented an old, two-story school starting in 1998. But before long, the 35 members swelled to more than 150.
"We maxed out the building," said Barrera, who trained at the now-defunct Alpha and Omega Bible Institute in Hope, Ark.
To deal with the crowding, the church bought a video camera and broadcast the service downstairs. Members were assigned on a rotating basis to worship via the video feed.
By the mid-2000s, the church purchased two acres to construct a new building.
However, finalizing construction drawings and gaining city approval for the plans took time.
Then the recession hit.
"A lot of our members are construction people," Barrera said. "I saw that they were struggling."
Eventually, the idea of buying an existing building — a cheaper option — took hold.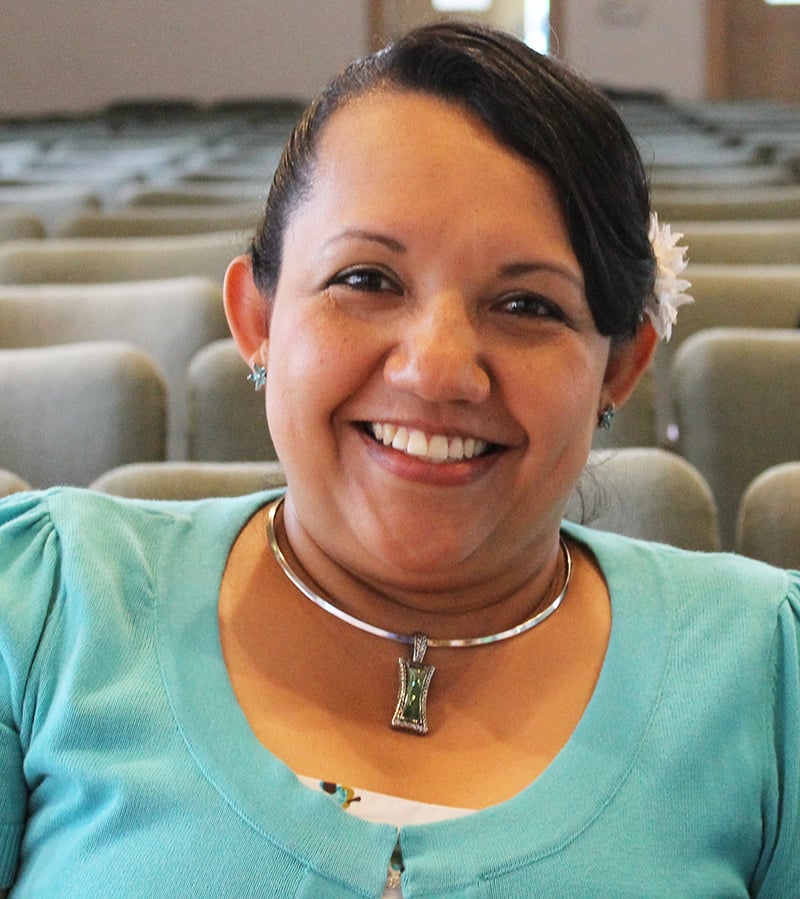 Miriam Gonzalez
In many cases, Hispanic churches can't afford a building unless Anglo brothers and sisters foot the bill, said Elgin member Rigo Corral, who grew up Catholic in Los Angeles.
"But we prayed a lot, and everybody would say, 'one day, one day, one day, one day,'" Corral said. "The day comes, and you don't even believe it."
Years of prayer were answered when a dwindling Christian Scientist church agreed to sell its brick, tree-shaded building for $475,000.
"There are no words to describe it because we have been waiting for this for so long," Miriam Gonzalez said. "When I look at what God has done for us, it's just amazing."

A FUTURE IN SPANISH AND ENGLISH
With room to grow, the Elgin church envisions becoming a model of Latino ministry — including possibly starting an English-speaking assembly in its spacious fellowship hall.
In the main assembly, Barrera expects to initiate a "dual-language program" that will infuse more English but remain primarily Spanish.
"Many of our kids speak English and deal with only English-speaking friends," he said. "So to bring them to church when it is an all-Spanish church, it's kind of hard. They're like, 'I go, but I don't get edified.'"
Barrera has a gift for relating to people in Spanish and English, said Bobby Lawson, minister for the
Park Forest Church of Christ
in Matteson, Ill., south of Chicago.
Weeks before the first assembly, members young and old walk more than four miles from their old, rented facility to their new building. "People were crying," minister Ricardo Barrera said. "They just couldn't believe we finally got something for the church." (PHOTO PROVIDED BY RICARDO BARRERA)
Lawson cites Barrera's "passionate love for God."
"He has made many sacrifices to serve the Lord and to serve people, from giving up a lucrative opportunity to run a McDonald's franchise to making himself available whenever he is needed in ministry," said Lawson, who
frequently accompanies
Barrera on visits to minister to jailed aliens facing deportation.
In contemplating how to reach Hispanics with the Gospel, one must recognize cultural differences in the U.S. and elsewhere, Barrera said.
In recent weeks, Barrera addressed 600 Latino teens at the
National Hispanic Youth Conference
in Rogers, Ark. Then he spoke to a crowd of 1,300 at a national youth rally in Monclova, Mexico.
"It's two completely different cultures even though they are both Hispanic," he said.
Minister Ricardo Barrera baptizes a new convert at the Elgin Church of Christ. (PHOTO PROVIDED BY RICARDO BARRERA)
In Barrera's view, a Hispanic minister who does not speak English or understand American culture will be at a disadvantage.
He attributes the Elgin church's growth and vitality to a number of factors, including its independence (the church is fully self-supported) and stability (Barrera has served the congregation full time since 2005). The church does not have elders but is working in that direction, Barrera said.
Even in the new location, church members expect to face obstacles.
But that's OK, they said, because the congregation serves an almighty Savior.
"There is no way we could have this place," Barrera said in his sermon, "unless Jesus moved the mountain."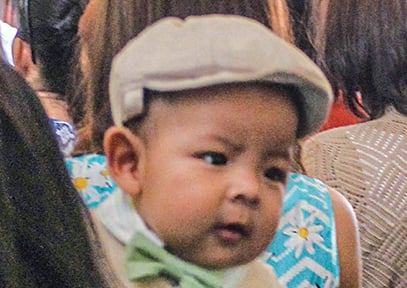 A little one joins the inaugural assembly of the Elgin Church of Christ at its new building. (PHOTO BY BOBBY ROSS JR.)
ELGIN CHURCH OF CHRIST
LOCATION: Elgin, Ill., 35 miles northwest of Chicago.
PROGRAMS: Pan Alegre ("cheerful bread") involves members inviting people into their homes for dinner, followed by a devotional. Other efforts include the church's children feeding hungry counterparts and serving in nursing homes. The church's women help with a crisis center, and members regularly visit jails where undocumented aliens facing deportation are held.
INTERNATIONAL: The church  supports orphanages in Mexico, including the City of Children in Ensenada and the Ciudad de Angeles ("City of Angels") in Cozumel. The congregation also helps and visits ministers and churches in Cuba, Mexico City and Nazareth, Israel.