Churches of Christ caught in the middle of 'Ukraine's Religious War'
'We're not afraid,' church elder says, 'because the first Christians were also persecuted.'
---
In the eastern Ukrainian city of Donetsk, under the control of pro-Russian separatists, an elder of a Church of Christ is praying for peace as the congregation he serves meets in homes.
In a special report, "Secret Protestant Churches in Donetsk: Ukraine's Religious War," VICE News interviews Leonid Krezhanovsky, an elder of the Petrovsky Church of Christ in Donetsk — once the largest Church of Christ in the country. A separatist militia has seized the church's building, and about 100 church members meet in locations scattered across the city.
Krezhanovsky speaks at the beginning of the video and again at the 4:10 mark. The report refers to the congregation as the "Church of Jesus Christ."
"It's hard to argue with armed men, and we didn't plan on arguing," he told VICE News. "The Bible says don't answer evil with evil. We vacated the building and left."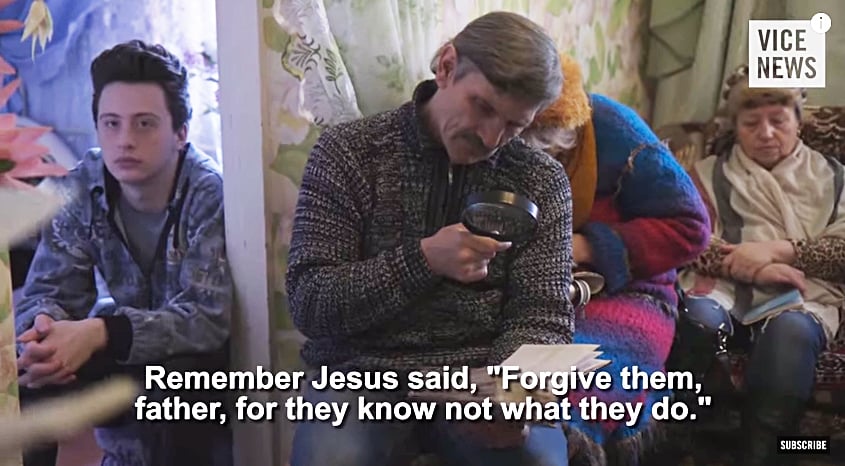 In this video still from VICE News, scattered members of Churches of Christ in Donetsk, Ukraine, meet for Sunday worship in a Christian's home. (VIDEO STILL VIA YOUTUBE/VICE NEWS)
Militias have seized other church buildings in Donetsk — including those belonging to Baptists and Jehovah's Witnesses — and recognize the Russian Orthodox church as the region's only legitimate Christian faith.
Related: "Sunday is Coming!" Church members ask believers to pray for the persecuted on Easter 
When asked if he's afraid that the militias will stop the church from worshiping in homes, Krezhanovsky replied, "We're not afraid because the first Christians were also persecuted. And they weren't afraid to preach Jesus Christ."
VICE News also interviewed one of the separatists outside a former Baptist church in Donetsk.
"There is only one faith, Orthodoxy," the unnamed man told the reporter. "I am Orthodox. It was left to us by our ancestors and the Baptists are schismatics. It's American propaganda, which fills the heads of our people, the Russians, the Slavs, which results in what you see now, the war."
Members of the scattered Petrovsky Church of Christ meet in homes. (VIDEO STILL VIA YOUTUBE/VICE NEWS)
Speaking to his fellow Christians during the home church service, Krezhanovsky reminds them that "Jesus said, 'Forgive them, Father, for they know not what they do.' And so now, in this time of war, when people are being killed, we must not take up arms. We must call for peace. Right now Satan is trying to put hate and anger into our hearts. We have to keep the peace."
Journalist Sabra Ayres was allowed to enter the building of the Petrovsky Church of Christ and spoke with some of the separatists — and Krezhanovsky — in a report for Al Jazeera America. Photographer Francesca Volpi captured some stunning — and disturbing — images, including one of a separatist carrying a live round of ammunition through the church building.
More Ukraine coverage
•   Explosion kills church member in eastern Ukraine
•   Militants seize church building during Sunday worship
•  Another church building seized in eastern Ukraine
•  Help needed for church-supported ministry housing 50-plus refugees of conflict in Ukraine 
•  'The ministry of Jesus is the most stable thing in our country,' says minister in Donetsk, Ukraine 
•  In Moscow, Christian unity trumps politics
•  'United in God" — Church members from Ukraine, Russia, worship side-by-side in eastern Ukraine

•  Editorial: No turning back for followers of Christ in eastern Ukraine
•  In troubled Ukraine, 'Christianity is the greatest treasure we have'