Church 'Trunk or Treat' becoming the norm for Halloween
---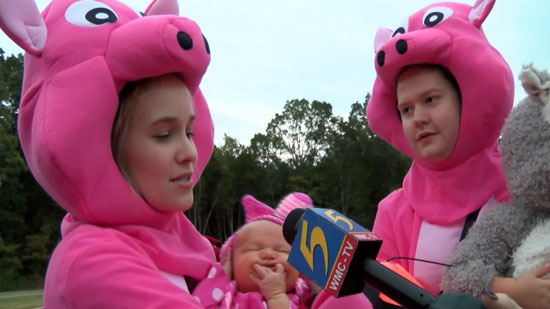 Anna Fagala and her family, dressed as the Three Little Pigs and the Big Bad Wolf, talk about their congregation's annual "Trunk or Treat." (PHOTO VIA WWW.WMCTV.COM)
WMCTV in Memphis, Tenn., interviews members of the Highland Church of Christ in nearby Cordova during the congregation's annual "Trunk or Treat."
Such church-sponsored events are becoming the norm, the TV station reports, as increasing numbers of parents opt out of traditional trick-or-treating for fear of sex offenders and other dangers.
"This is so much easier and more fun. We're members here at Highland Church of Christ and we love coming to trunk or treat," stated mother Anna Fagala.

Fagala and her family, dressed as three little pigs and the big bad wolf, are making events like the one at Highland Church of Christ the new norm.

"I think that, over the years, trick or treating in neighborhoods has kind of gone by the wayside because of safety issues," explained Fagala.
Read the full story.
Does your congregation sponsor a trick-or-treat alternative? What was the turnout? Are these events useful for introducing people to your church?