Help needed for church-supported ministry in Ukraine housing 50-plus refugees
---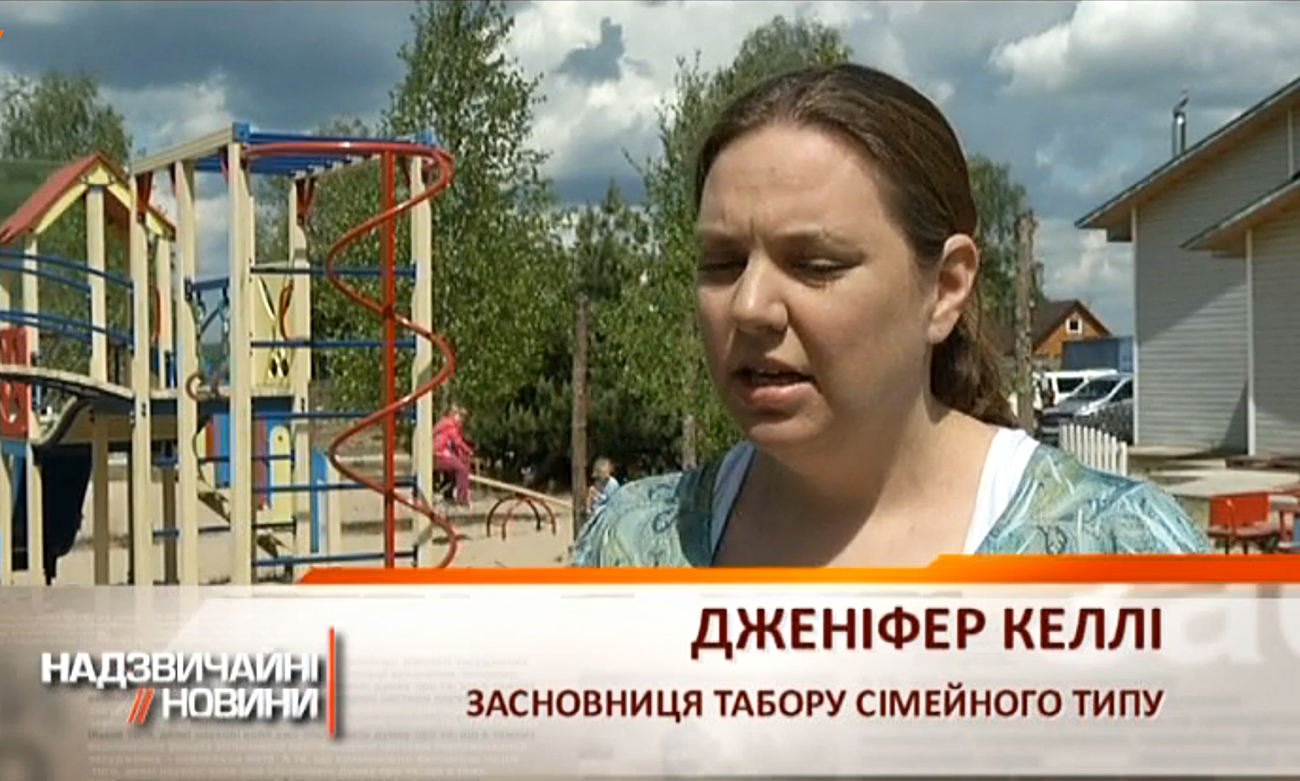 A Ukrainian TV station interviews Jenny Kelly about the situation at Jeremiah's Hope, currently serving more than 50 refugees from eastern Ukraine. (VIDEO STILL VIA KRIMINAL.ICTV.UA) 
A ministry associated with Churches of Christ is hosting more than 50 refugees — most of them women and children — from the turmoil in eastern Ukraine at its facility near the country's capital, Kiev.
The Christians who work with Jeremiah's Hope, a ministry for Ukraine's orphans and at-risk youth, are doing their best to accommodate the unexpected guests, said Andrew Kelly, who co-directs the nonprofit with his wife, Jenny.
However, "if we get more refugees, we cannot handle sorting through aid, cooking, cleaning and watching the dozens of kids without parents who came with just a couple of caregivers," Kelly told The Christian Chronicle.
"We need manpower, help and finances, ASAP," he added.
Andrew Kelly
Jeremiah's Hope owns a Christian camp in the community of Kolentsi, about an hour north of Kiev. The campsite has room for 100 people. On an adjacent property, the ministry operates a rescue shelter for children in crisis — a partnership between the nonprofit and the local department of social services.
Less than a week ago, Kelly and his wife were drinking coffee and discussing their plans for the summer. The ministry usually hosts seven to eight weeks of summer camps for children — many of whom come from lives of "abject poverty and abuse," Andrew Kelly said. Teams of Christians from the U.S. travel to the camps to help, (This year, only three teams were scheduled to come. Five other groups canceled due to concern for the country's instability.)
"Then our phones rang," Andrew Kelly said.
A friend in Slavyansk — a city in eastern Ukraine that has experienced violence in recent weeks — who works with a children's home there needed a place to house children and caretakers. A Baptist church across the street, which works with the home, had been invaded that morning by pro-Russian separatists.
After hours of phone calls, the Kellys agreed to take in eight people immediately and about 30 children in a few days.
"Instead, over the weekend, a steady stream of refugees arrived on our property," Andrew Kelly said. Jeremiah's Hope, with a staff of five, currently is hosting 57 refugees from the east.
They will stay "until it is safe for them to return home," he said. "That could be tomorrow or next week, but, honestly, it will be months."
The ministry has canceled its summer camps.
The political and military crisis in eastern Ukraine is creating a flood of refugees.
As militias who seek to unite the region with neighboring Russia seize government buildings and exchange gunfire with Ukrainian troops, people fleeing the violence are making their way westward, toward Kiev.
The conflict in Ukraine has caused food prices to rise, say workers with Jeremiah's Hope. Feeding the refugees costs from $8-$10 per person per day. (VIDEO STILL VIA KRIMINAL.ICTV.UA)
Some refugees are living in an estate built for advisors of President Viktor Yanukovych, whose recent ouster sparked the secession movements taking place in eastern Ukraine and the country's Crimean Peninsula. That's according to an article produced by a Ukrainian-language news service,  translated to English by Euromaidan PR .
The article also mentions the situation at Jeremiah's Hope. A Ukrainian TV station interviewed the ministry's staffers, including Jenny Kelly, about the refugees' needs.
"We are praying, first, for peace for Ukraine," Andrew Kelly told the Chronicle. "We are praying for the families of these children who remain in Slavyansk.
"We are praying for the nightmares to pass because, right now, those nightmares come every night for these children who have seen what no human should have to see — war."
Find more information and links to assist in refugee relief on the  Jeremiah's Hope website .
More Ukraine coverage
•  'The ministry of Jesus is the most stable thing in our country,' says minister in Donetsk, Ukraine 
• 'United in God" — Church members from Ukraine, Russia, worship side-by-side in eastern Ukraine
• Editorial: No turning back for followers of Christ in eastern Ukraine
• In troubled Ukraine, 'Christianity is the greatest treasure we have'