Church of Christ makes 'Headlines' for Jay Leno
---
An advertisement for the Westside Church of Christ in Owensboro, Ky., got a laugh from Jay Leno on the Sept. 30 episode of "The Tonight Show."
The church was hosting a visit by Roger Hillis, an evangelist and author from the Expressway Church of Christ in Louisville, Ky. 
There's nothing inherently funny about his two sermon titles — "Preparing for Marriage" at 10:30 a.m. and "A Look at Hell" at 6 p.m.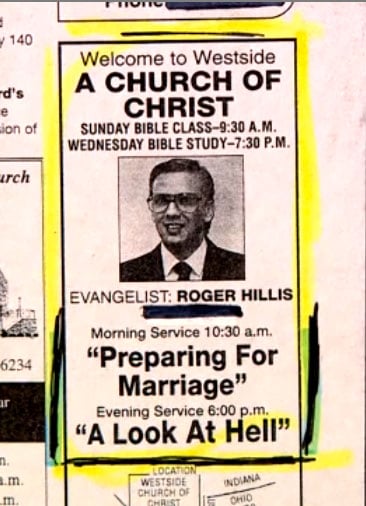 The advertisement for the Westside Church of Christ. (Photo via NBC.com)
But, when you put them together … (Perhaps a note that said "on an unrelated topic" before that second title would have helped.)
"I love sermons," Leno said as he brandished the advertisement, clipped and placed on his signature black cardstock. Then he merely read the two sermon titles and chuckled. (Look for it at the 3:30 mark in the video.)
Hillis is the author of "One Another Christianity: Restoring Life-Changing Relationships in the Church." See a mention of the book in our New and Noteworthy section.
This isn't the first time a Church of Christ has appeared in Leno's "Headlines" segment. In 2010, an advertisement for the Poncha Springs Church of Christ in Colorado got a playful ribbing for its "Heroes of the Bible" Vacation Bible School advertisement, which included a drawing of a caped superhero.
"I know there are many heroes of the Bible," Leno said. "I don't remember Superman being one of them."