Hurricane Katrina survivors featured in Morgan Freeman's 'Story of God'
During the 2005 storm, Charles and Angela Marsalis escaped to the balcony of the Carrollton Avenue Church of Christ in New Orleans.
---
Update: Read an interview with the Marsalises about their experience with Morgan Freeman.

• • •
What brought Morgan Freeman to a Church of Christ?
The incredible faith journey of Charles and Angela Marsalis, that's what.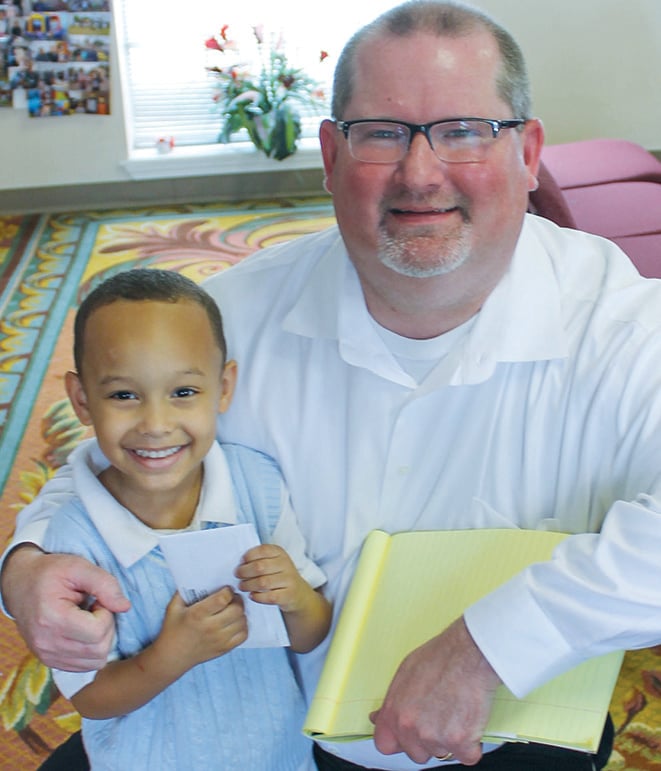 INSIDE STORY | Bobby Ross Jr.

• • •

Jaden, grandson of Charles and Angela Marsalis, is pictured with Ross at the 10th anniversary of Hurricane Katrina last year.
As Christian Chronicle readers no doubt recall, the Marsalises survived Hurricane Katrina in 2005 by escaping to the balcony of their home congregation, the Carrollton Avenue Avenue Church of Christ in New Orleans.
Now, they're about to be featured on Freeman's "The Story of God," a six-episode series that premieres Sunday night (April 3) on the National Geographic Channel.
Last summer, a representative of Morgan's production company, Revelations Entertainment, contacted the Chronicle to see if the couple might share their story. We passed along that request, and Freeman interviewed Charles and Angela this past October at the Hollygrove Church of Christ, the Big Easy congregation they planted after Katrina.
"I have always been fascinated by God," Freeman says in the trailer below.
• • •
Freeman "examines life's big questions" in the series, notes a TV review by The Hollywood Reporter.
In 2006, Charles and Angela Marsalis pose in the balcony of the Carrollton Avenue Church of Christ, where they fled as floodwaters rose after Hurricane Katrina. (PHOTO BY BOBBY ROSS JR.)

Morgan Freeman isn't God but he plays one in the movies.

So the Academy Award-winning actor is a natural choice to delve deep into our belief systems and some of life's biggest questions in The Story of God With Morgan Freeman, premiering Sunday night on the National Geographic Channel. Freeman's affable and inquisitive nature makes him an easy stand-in for the audience as he grapples with heavy topics concerning what happens after we die, why evil exists, where we come from and whether or not miracles really occur.

It's hard not to hear Red from The Shawshank Redemption in Freeman's gentle narration when he says things like, "It's a story we think we know, but I want to examine this promise of an afterlife more deeply." The series literally spans the globe, jumping from India to Jerusalem to New Orleans all in one episode. In total, Freeman visits seven countries and 20 cities.
Critic Amy Amatangelo references the Marsalises in her description of the series:
Gregory Hawkins, with the microphone, sings during a 2014 Sunday morning assembly of the Hollygrove Church of Christ. Charles Marsalis, with the tie, can be seen on the front row. (PHOTO BY BOBBY ROSS JR.)
The first episode, entitled "Beyond Death," focuses on the afterlife. The host meets with David Bennett, a former naval officer who had a near-death experience in 1983. After falling off his ship and being thrashed in the water, Bennett felt himself being pulled toward a great light before a voice, he says, commanded him: "This is not your time. You must return." "That light. That was God to me," Bennett tells Freeman. Other stories are equally striking. A married couple who survived Hurricane Katrina tell Freeman how, in the face of unspeakable horror, they sang religious songs all night long in the dark. "I felt the devil was at work," Charles Marsalis says. He and his wife say they were compelled to counteract the evil that was surrounding them.
Morgan Freeman interviews Charles and Angela Marsalis at the Hollygrove Church of Christ in New Orleans. (INSTAGRAM PHOTO BY DEWAYNE MARSALIS)

• • •
If you somehow missed our past stories on the Marsalises (smile), check 'em out.
Here are the links:
• 2006: Surviving the storm: Charles and Angela Marsalis' test of faith 
• 2008: They survived storm, and now they know why
• 2014: In the Big Easy, despair meets hope
• 2015: Ten years later: The vivid faces of Hurricane Katrina
And, if you happen to watch "The Story of God," we'd love to know what you think about it.
Bobby Ross Jr. is Chief Correspondent for The Christian Chronicle. Reach him at  [email protected]
At the Hollygrove church in 2014, John Ellis prays as Angela Marsalis, Shekeira Honor (hidden behind Angela), Kevinisha Honor and Charles Marsalis bow their heads. (PHOTO BY BOBBY ROSS JR.)