Church members killed, worship halls burned in Nigeria
Despite brutal attacks in the north by terrorist group Boko Haram, Christians are committed to spreading the Gospel among the ruins, missionary says.
---
The Christians of northern Nigeria worship in a war zone. 
Boko Haram, a militant Islamist group, has killed thousands of Nigerians and kidnapped hundreds more. Last year the terrorist group abducted nearly 300 girls from a boarding school in the town of Chibok.
Sixteen Churches of Christ, with a combined membership of more than 1,200 souls, met in the Chibok area in the years before Boko Haram's insurgence, according to a report prepared by three Nigerian ministers. Now only five congregations continue to meet. At least one minister has died, and many Christians have taken refuge in other Nigerian states or the neighboring nation of Cameroon.
"Most of our houses were burnt down," wrote the ministers, Joshua Yaga, Amos Kari and Luka Kyari. "Our farm products, including our animals, were burnt or carried away. Most of our worship halls were burnt down and some of our brethren were killed."
The increasingly savage attacks contributed to a spike in the number of deaths from terrorist attacks worldwide, according to a recently released report from the U.S. State Department. In the past year, 13,463 attacks claimed 32,700 lives — jumps of 35 and 81 percent from the previous year, according to the National Consortium for the Study of Terrorism and Responses to Terrorism.
Six Christians killed in attack
For the Christians in northern Nigeria, the deaths are more than numbers. They're names — including Bitrus Pembi Kwada.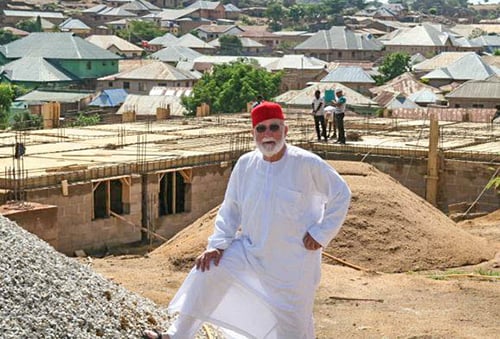 Steve Worley, longtime worker for the School of Biblical Studies in Jos, Nigeria, stands near the foundation of the school's new male dormitory. Despite the threats of violence, Christians in northern Nigeria aren't "hiding in a hole," Worley says. (PHOTO PROVIDED BY STEVE WORLEY)
Kwada, minister for a Church of Christ in the town of Mubi, and five fellow church members died when Boko Haram attacked recently. The minister's wife, their six children and eight other church members escaped on foot to Numan — about 150 miles southwest — and took refuge with a Church of Christ there.
Kwada was a graduate of the School of Biblical Studies, a 25-year-old ministry training school in Jos, a city in central Nigeria. 
A handful of church members from the Chibok region, including Joshua Yaga, visited the school's campus during a recent lectureship and updated their fellow believers on the hardships they face, said Steve Worley, the school's development director, who has served in Nigeria for 30 years.
Children in the Chibok region cannot attend school, Yaga and his fellow ministers wrote in their report. Medical clinics are inoperative.
"Nothing good remains in Chibok," they wrote. Food and drinkable water are scarce, partly because Boko Haram "kills animals like dogs, swine, and dumps them in the wells so that people cannot get access to water."
Danjuma Sati, minister for the Numan church, is looking after the family of Kwada, the slain minister, and other refugees. 
He has also visited refugee camps among the hills of Yola, Nigeria, where thousands of refugees must cope with inadequate medical facilities and food shortages, Worley said.
"Brother Sati said he made only one visit to some of the refugee camps, and he cannot go back," Worley said. "When I heard him describe what he saw, I could understand why. When the terrorists raid a village, they use their machetes and hatchets on the people in order to save their bullets."
Despite the horrors they face, Nigerian Christians refuse to "hide in a hole," Worley said. 
The School of Biblical Studies is teaching 105 Bible students — 24 of them women — to spread the Gospel in their communities.
"The Lord's church is on the move in northern Nigeria," Worley said.
The Savannah Church of Christ in Tennessee is collecting relief funds for Nigerian refugees.