Ninjas for Jesus
(UPDATED) Church members fall short on American Ninja Warrior.
---
The Wingnuts got 'em both.
Two members of Churches of Christ — one from Tennessee, the other from Kentucky — competed on the same episode of "American Ninja Warrior." The popular NBC show puts contestants up against challenging obstacle courses, testing their strength, grip and overall stamina, to see who can make it through to the end.
Dr. Brooks Tiller swings on the Wingnuts during his run on the "American Ninja Warrior" course. (VIDEO STILL VIA NBC)The church members, Dr. Brooks Tiller and Andy Harrington, made it through the first two obstacles easily before they were eliminated on the Wingnuts, a series of three moving bars that require athletes to swing and jump sideways from one to the next — avoiding falling into the water below.
Tiller, a 37-year-old physical therapist, made it to the third Wingnut before he lost his grip.
"I knew I was physically and mentally capable of making it through the course," said Tiller, a member of the Brentwood Hills Church of Christ in Nashville, Tenn. "It was frustrating, but as soon as I got out of the water it was like, 'Hey, I did my best and tomorrow's a new day. It's OK.'"
Andy Harrington on the set of "American Ninja Warrior" in Florida.Harrington, 27, didn't lose his grip, but did dislocate his shoulder. He thought about trying to finish the course, but feared he might severely injure himself. So he fell into the water below.
"At the time, I was really upset with myself, but there was nothing I could do," said Harrington, who worships with the Central Church of Christ in Benton, Ky. "I performed my best. God just had other plans for me."
Though a clip of Harrington appeared in a training montage for the episode, producers didn't air his run at the course. A brief version of Tiller's run appears on the episode. • TILLER AND HARRINGTON WERE PART OF THE JUNE 26TH EPISODE 
'IT'S A BIG RUSH'

Although many competitors make multiple appearances on "American Ninja Warrior," Tiller and Harrington were newcomers to the show.
Harrington, who always has been physically fit and athletic, said a couple of his friends who are big fans of the show encouraged him to give it a try. He trained relentlessly for two years and submitted a video and written application to the show. He learned in early March that he would get the chance to compete.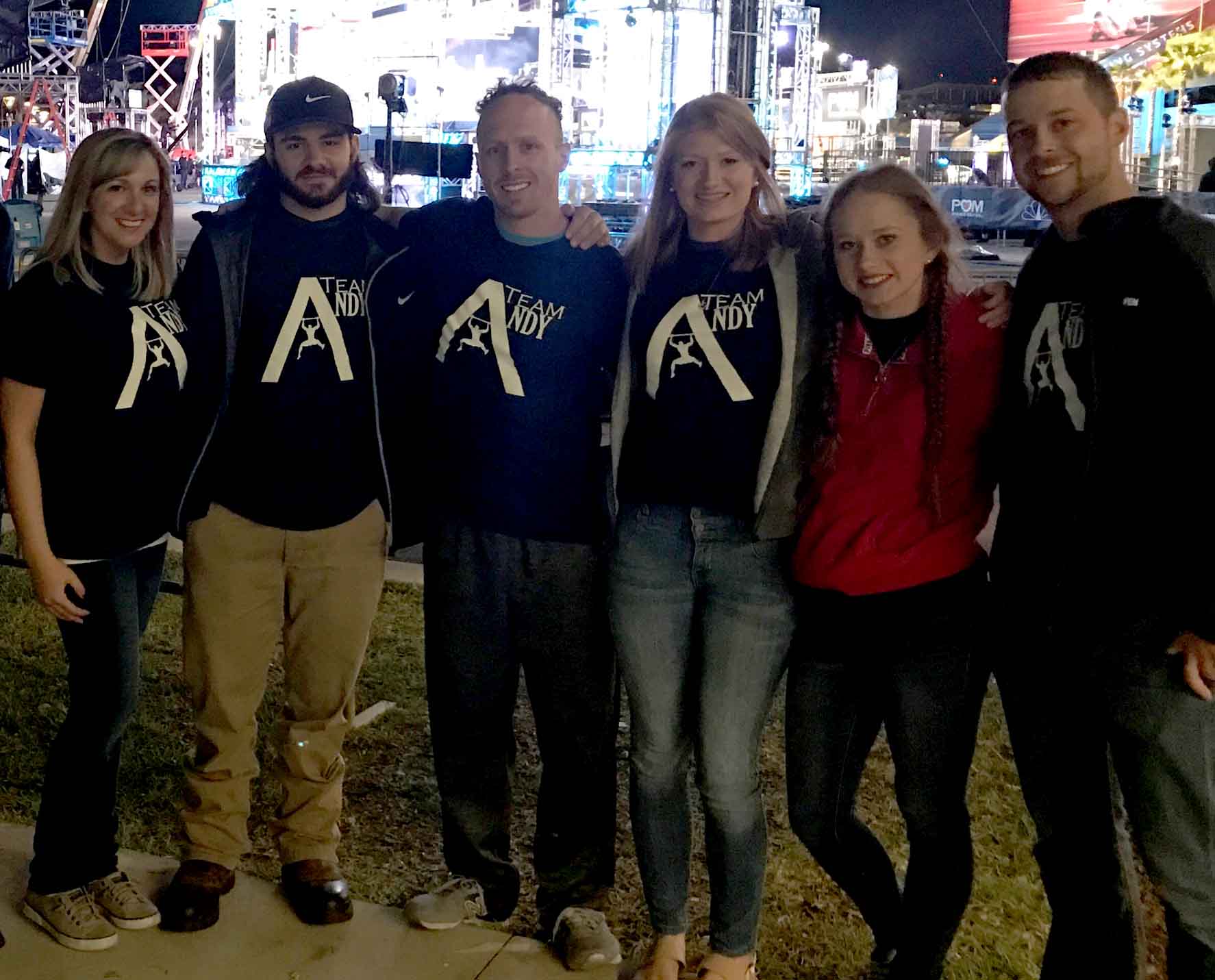 Andy Harrington stands with friends near the set of "American Ninja Warrior." (PHOTO PROVIDED)
"It's a big rush when you find out you made it," Harrington said.
He trained about three hours per day leading up to the competition, concentrating on sprints, pull-ups and other upper-body exercises that would increase his strength and stamina. Then, in early April, he traveled to Daytona Beach, Fla., for the late-night taping.
"It's very high energy," Harrington said. "The crowd's really into it."
Brooks Tiller stands with his family near the set of "American Ninja Warrior." (PHOTO PROVIDED)Tiller, meanwhile, said that the opportunity to compete in Daytona Beach fell into his lap.
In addition to his work as a physical therapist, Tiller is the host of "Healthy Hunter TV," a series of YouTube videos in which he gives advice on workouts, hunting and cooking. His wife, Emily, operates Beyond Wings, a circus company that includes acrobatic acts by aerialist flyers.
Producers of "American Ninja Warrior" found an online video of the Tillers performing with Beyond Wings and asked both of them to consider appearing on the show. Emily Tiller was pregnant during filming and unable to compete.
'YOU SEE A LOT OF PEOPLE PRAYING'
During his visit to Daytona Beach, Brooks Tiller said he was impressed by his fellow athletes' expressions of faith.
"You see a lot of people praying," he said. "You talk to a lot of guys and find there's a faith with them. They're there, and they're acknowledging that it's not all about them, but about what God's helping them to do."
Harrington added that he enjoyed watching the competitors who were making repeat visits to the show.
"It was neat watching them compete, knowing I wasn't any less physically capable than they were," Harrington said.
He only remembers "bits and pieces" of the obstacle course.
"As soon as I stepped on stage I just became hyper-focused and things just seemed to slow down."
His run on the show resulted in shoulder surgery. Doctors told him he had broken bone fragments off of his ball joint.
Nonetheless, he hopes to return to training after he heals — and perhaps try out again someday.
Brooks Tiller gets psyched for his run on "American Ninja Warrior." (VIDEO STILL VIA NBC)
Brooks Tiller might, too.
Being on the course gave him a better idea of what he needs to do to prepare, he said.
"I'm actually building some obstacles in my backyard," he said, "to train more specifically for it."
You may also enjoy
•  Milwaukee Bucks choose Christian college grad as new GM

• Church of Christ member Norris Cole signs with Oklahoma City Thunder