Church member falls short on American Ninja Warrior
Andy Harrington made it about half-way through the course before dislocating his shoulder.
---
After two years of relentless training and anticipation, a dislocated shoulder kept Andy Harrington from advancing on "American Ninja Warrior."
Andy HarringtonThe 26-year-old member of the Central Church of Christ in Benton, Ky., made it past the first obstacle, the Floating Steps, with no problem. Then he conquered the second.
He was going strong as he went to into the third — which he calls the wing nut obstacle. He jumped up to grab the first wing nut and managed to swing to the second one and then on to the landing pad. But somewhere in his release he "blew out" his left shoulder, he told The Christian Chronicle.
He's dislocated his shoulder several times and knows how to fix it, he said, but this time he couldn't.
"I was contemplating what to do next," Harrington said.
He considered trying to finish, but knew pushing too far could cause permanent damage. So he fell into the pool below, ending his chance to become this year's American Ninja Warrior.
"At the time, I was really upset with myself, but there was nothing I could do," Harrington said. "I performed my best, God just had other plans for me."
Harrington, who always has been physically fit and athletic, said that a couple of his friends who are big fans of the hit show encouraged him to give it a try.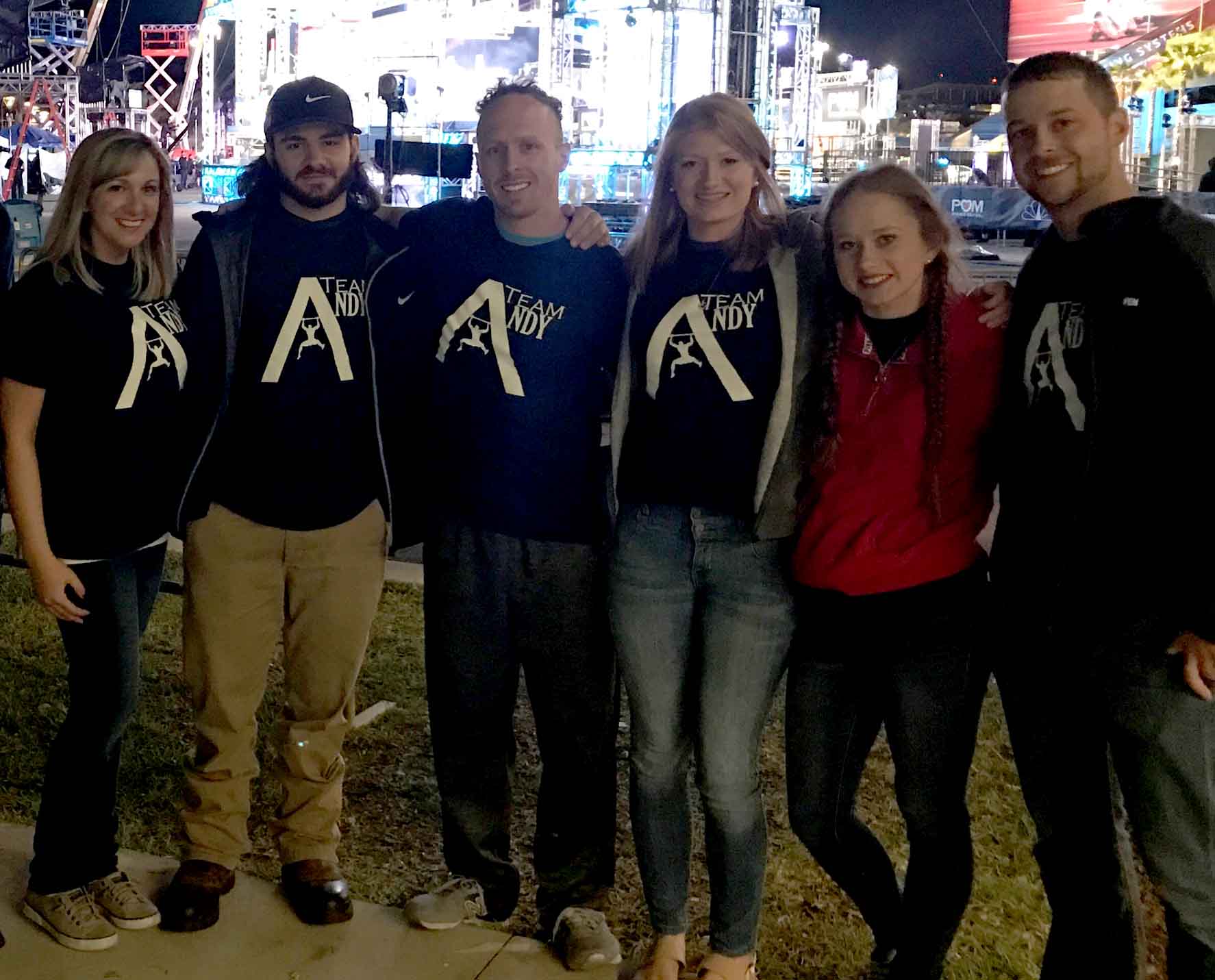 Andy Harrington with several friends outside of the American Ninja Warrior set. (PHOTOS PROVIDED)
He submitted a video and written application — and found out in early March that he would get the chance to compete.
"It's a big rush when you find out you made it," Harrington said.
He trained about three hours per day leading up to the competition, concentrating on sprints, pull-ups and other upper-body exercises that would increase his strength and stamina. Then, in early April, he traveled to Daytona Beach, Fla., for the late-night taping of the episode that aired June 26.
"It's very high energy," Harrington said. "The crowd's really into it."
Harrington was a newcomer, competing against athletes who appeared on the show in previous seasons.
"It was neat watching them compete, knowing I wasn't any less physically capable than they were," Harrington said.
He only remembers "bits and pieces" of the obstacle course, he said. "As soon as I stepped on stage I just because hyper-focused and things just seemed to slow down."
Since the taping, Harrington has undergone surgery to repair his shoulder. Doctors told him he had broken fragments of his ball joint.
Nonetheless, he hopes to return to training after he heals — and perhaps try out again someday.
You may also enjoy:
• Milwaukee Bucks choose Christian college grad as new GM
• Church of Christ member Norris Cole signs with Oklahoma City Thunder