Christians honor slain missionary
As they mourn Roberta Edwards, church members continue her work
---
PORT-AU-PRINCE, Haiti —
I wanna see, I wanna see, momma up there …
It's a tune sung countless times at SonLight Children's Home, where Roberta Edwards served as mother — or second mother — to dozens of impoverished children for two decades. 
• Seeing Roberta's legacy, in person: In Port-au-Prince, Erik Tryggestad encounters transformed lives
• Haiti's hidden hope: In a land beset by earthquakes and crime, ministry seeks to transform one child at a time

During evening devotionals, after Scripture readings and prayer requests, the children sang their favorite hymns. 
Four-year-old Jonathan "JoJo" Paul loved launching into the song, in which the children insert each other's names into the lyrics, proclaiming how much they want to be together in heaven. 
When those gates are open wide, I wanna sit at Jesus' side … 
"It's a very simple song that has a lot of meaning to it right now," said John Marble, a temporary caretaker for the home, as he sat on the covered porch where Edwards lifted her voice to the Lord alongside her kids.
Less than a mile away, in an alley layered in broken white rocks, Edwards, 55, was shot to death by gunmen who then seized JoJo. 
She was almost home after a quick trip with three of the children to get gas for a generator when it happened on Saturday night, Oct. 10. 
A vehicle pulled in front of her and forced her to stop. Edwards was shot multiple times at the wheel.
About a month later, her sponsoring congregation, the Estes Church of Christ in Henderson, Tenn., received word that Haitian authorities had two suspects in custody — and that the abducted 4-year-old was alive and safe, minister Jesse Robertson said. 
At press time, JoJo had not yet been returned to the children's home. 
The investigation is ongoing, and Robertson said he couldn't comment on possible motives or other details.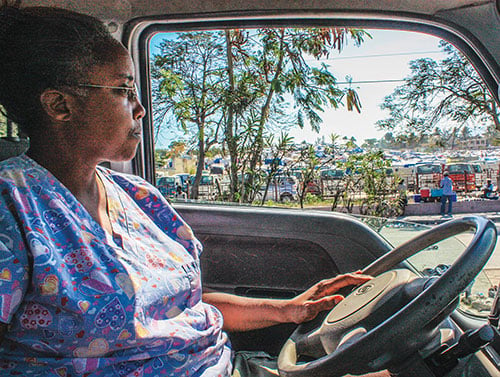 A few weeks after the 2010 earthquake, Roberta Edwards drives past displaced Haitians in Port-au-Prince. The 7.0-magnitude quake destroyed much of the city. (PHOTO BY ERIK TRYGGESTAD) DESPITE HARDSHIP AND PAIN, SHE STAYED
Robertson, who preaches for the Estes church in West Tennessee and serves as dean of graduate studies and outreach at nearby Freed-Hardeman University, met Edwards in the mid-1990s, as she and her husband moved to Port-au-Prince to plant a congregation, with support from Estes.
In Haiti, Edwards, a native of North Carolina, was immersed in a sea of need. She started taking in children, mentoring and feeding them.
Thomas
Widlord Thomas was one of the first. 
He was 11 when he came to live with Edwards, after his father lost his job. 
Soon after, Edwards' husband left, and they divorced. 
"She didn't have anyone but us kids," Thomas said. "We expected her to move back to the U.S."
Instead, "she did exactly what Christ would do: think of others."
Edwards stayed and continued the work, taking in more kids who needed help. Now SonLight gives full-time care to 20 children and serves another 160 two meals per day through its nutrition center. 
After the 2010 earthquake, Edwards' work expanded to include development projects, education for Haitian teachers and skills training.
Members of the Estes church and other U.S. congregations make regular mission trips to assist. 
At the time of Edwards' death, 29 Americans, including 18 from Estes, had just arrived for a weeklong medical mission. About a dozen Christian educators also were in town hosting a seminar for Haitian teachers. Healing Hands International, a nonprofit supported by Churches of Christ, sponsored the seminar.
Solley
Bobbie Solley was in Haiti coordinating the Healing Hands team. The retired professor, now Healing Hands' director of international education development, began working with Edwards in 2012.
"She had the most faith and trust of any human being I've ever known," Solley said of Edwards. "Whenever she needed something, she would wait on the Lord. She didn't make phone calls."
Edwards translated Solley's seminars into the Creole language as they helped teachers improve their skills. During the trips "we shared what the Lord had done in each of our lives," Solley said, adding that Edwards "allowed me to be who I was and loved me anyway."
Thomas, now 29, studied at Freed-Hardeman and just married a Christian woman in Texas. 
He plans to return to Haiti in January with his bride.
Edwards "loved and showed love to all the people who she came in contact with," he said. "She did everything she did to raise us the right way." 
He prays that her work will continue, that more of his brothers and sisters will be blessed to attend universities and that they will give back to transform their community, physically and spiritually. 
BROKEN, FLUID HEARTS
"Why do we even go to Haiti?" is a question Robertson heard a few times immediately after Edwards' death. 
He responded with the same challenge he issues to church members considering missions in Haiti. 
"If you work in Haiti for very long, you will probably get your heart broken," he says, "so decide now that you are prepared to keep working — even after that happens."
The church has a motto: "In Haiti you have to be fluid, because flexible is just too rigid." 
"Even saying that, it still taxes us to live up to it," he added.
The Estes church is committed to continuing the work, Robertson said. The congregation has sent elders and counselors to SonLight to be there for the children as they mourn. 
John Marble and his wife, Jessica, traveled from Cap Haitien, on Haiti's northern coast, to assist. The couple directs the Cap Haitien Children's Home, another ministry supported by Churches of Christ.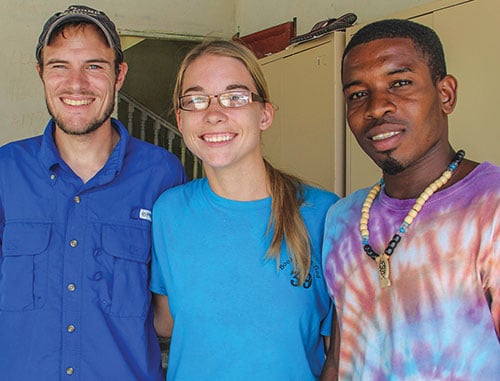 A few days after Roberta Edwards' death, John and Jessica Marble from Cap Haitien, Haiti, and Marcos Similien, who grew up at SonLight, look after Edwards' children. (PHOTO BY ERIK TRYGGESTAD)
"Roberta would have been there, knocking on our door," had a similar tragedy unfolded in Cap Haitien, John Marble said. "Our main goal here is just to be an American presence."
Edwards trained the children to take care of each other. Haitian Christians — some raised at SonLight — also are assisting. 
Marcos Similien lived at the home before attending medical school in nearby St. Kitts and Nevis. He returned to Haiti recently to begin a medical career and is helping to oversee SonLight until permanent house parents are in place.
The children continue to meet for devotionals, Similien said, adding that he takes comfort in Bible stories such as the parable of the rich man and Lazarus from Luke 16. 
Even though Lazarus, a poor man, was treated badly in life, he was "carried to Abraham's side" in the hereafter.
Though their mother is no longer on earth, Similien said, the children know they'll be together again someday, when those gates are open wide.