Christian Chronicle wins eight national awards
---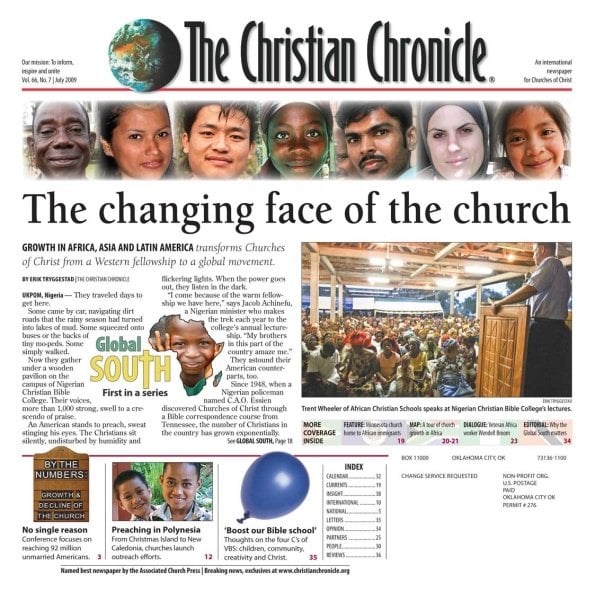 Blogging live from Arlington, Va.
Before I take the Metro train to worship with the 13th Street Church of Christ in Washington, D.C., this morning, I wanted to brag a bit on The Christian Chronicle and my incredible colleagues.
The Chronicle won eight "Best of the Christian Press" national awards — five related to the "Global South" series — in an annual contest sponsored by the Associated Church Press. Winners were announced at an awards banquet at the Hyatt Regency Crystal City last night, and Erik Tryggestad and I were privileged to attend.
We don't do what we do to win awards (our mission is to "inform, inspire and unite Churches of Christ"), but it's always nice to be recognized by professional peers.
The winning entries:
First Place, Theme Issue, Section, or Series: Newspaper/News Service/Newsletter/Website: "Global South: The changing face of the church." July-December 2009. Judge John Wylie: "A truly awesome effort. This took a great deal of planning and commitment."
First Place, Newspaper/Newsletter Design, Spread or Story: "Africa: After a century of growth, church membership tops 1 million." July 2009. Judge Kent Travis: "This page speaks with authority. It starts with solid content. I learned something by reading this page.
Second Place, In-Depth Coverage: Newspaper/News Service/Newsletter/Website: "Global South: The changing face of the church." July-December 2009. Judge Jeff Kunerth: "The stories were well-written and compelling. The reporting was thorough and deep, providing both intimacy of detail and the context of historical perspective."
Second Place, Newspaper Front Page: July 2009. Judge Robert Wyatt: "Great face shots. Good balance and use of spot and full color and teasers." (This was Part 1 of "Global South.")
Third Place, Best in Class: National/International Newspaper. Judge Leon Alligood: "A well-rounded publication; lots of articles for all kinds of readers. Good use of photos. Layout of covers was very nice." (We won first place in this category last year, but top honors this time went to the United Methodist Reporter, with the Mennonite Weekly Review earning second place. Congratulations to both publications!)
Third Place, Department: "Around the World section."
Third Place, News Story: Newspaper: "In Ghana, dream for Christian college materializes." August 2009.
Third Place, Feature Article: Newspaper: "Special needs, special children." December 2009.
Feedback

Congratulations to the whole Chronicle staff. You are doing great and important work well.

Cheryl Bacon

May, 9 2010

Congratulations to one and all!

Dwane Casteel

May, 9 2010