Camp of ages: Churches see a big God on Short Mountain
---
WOODBURY, Tenn. — 
At an elevation of 2,074 feet, Short Mountain proves nearer to heaven than any place in Middle Tennessee.
On a clear day, a visitor with acute vision can spy the peaks of Nashville skyscrapers some 55 miles to the northwest.
Every summer for the past 61 years, here in a clearing near the mountaintop, hundreds of youngsters have found themselves growing closer to their Maker.
In the 1950s, boys participate in a devotional at Short Mountain Bible Camp. (PHOTO PROVIDED)
Cell phones, TVs, radios and DVD players are taboo at Short Mountain Bible Camp, but visitors will observe every child carrying a Bible several times throughout the day. 
"The mountain is just a special place," said Darla Cunningham, a member of the Woodbury Church of Christ in Tennessee, who has returned for her fifth summer as a counselor. "I feel like you can get closer to God here because you get away from all the hustle and bustle of everyday life and focus on what you need to focus on."
During the week children play volleyball, ultimate Frisbee and basketball, hike trails, swim, ride horseback, canoe and create crafts, but the focus is on Bible study twice a day. 
"We're very blessed … to have all these ministers, eight of them, all teaching and counseling in the cabins," said Darrell Duncan, minister for the Center Chapel Church of Christ in Mt. Juliet, Tenn. He and Tim Knox have directed Cannon County Week at the camp since the 1990s. 
Darrell Duncan"Some of the campers get to know the ministers," Duncan said. "It's their first time to see their minister in jeans."
Twenty-two campers were baptized during the week, which included participants from the Woodbury, New Hope, Wood, Curlee Smith Grove and Leoni Churches of Christ in Cannon County. 
Evan Alley, 14, from Mt. Juliet was one of those baptized.
"I had been thinking about it for a while," Alley said, "and last night a bunch of my friends were sitting in the back part of my cabin talking to our counselor, Justin Reed. 
"One of my friends talked to me about being baptized, and said, 'I love you so much. I'd hate for you to go away and not be saved tonight.'" 
So Duncan got a knock on his cabin door at 30 minutes past midnight, and about 40 campers witnessed Alley's baptism.
"It was very cold. It felt great," said Alley of his plunge into the 3-foot-deep baptistery, a circular tank made from native stone, filled with cold spring water. "I know it's going to be the best decision I ever made."
BUILT WITH A PURPOSE
The camp's roots go back to 1952, when Dr. J.F. Adams, a physician and member of the Woodbury Church of Christ, bought the land and told his congregation, "This mountain is something special! God has given it to me for some purpose. In searching out that purpose, I can think of no better use to which it could be put than in some use for young people, such as a Christian camp." The camp began operating in 1954.
Tracy Duncan
Jerry and Penny Nash reside atop Short Mountain and have served as caretakers of the camp property for the past 10 years. 
"I didn't even know the camp was here until 2000," Jerry Nash said. "But the word is getting out there with social media. People read about the baptisms and are inspired."
The camp averages 35 to 40 baptisms per year, said Jerry Nash, and about 1,200 people have been baptized here since the camp began. 
About 1,500 people participated in camp sessions last year, and another 1,500 — mostly church groups and families — use the camp facilities for retreats when camp is not in session. 
About 30 churches donate yearly to the camp, and at least 100 congregations sponsor a child to attend. 
For Darrell Duncan, one of the directors of Cannon County Week, the camp has special significance. His wife, Tracy, started coming to camp as a counselor through the encouragement of preacher Herb Alsup. 
"This is where Darrell and I met," Tracy Duncan said, "and the first time he ever kissed me was at the Short Mountain fire tower — and that was where we got engaged."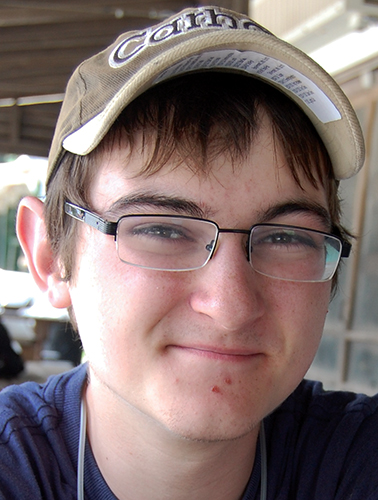 Blanton
Luke Blanton, 19, also a member of the Woodbury church, started camping here at age 8. 
Earlier this year, his family planned a vacation to Hilton Head, S.C. Then he talked to co-director Tim Knox and learned that the trip conflicted with camp. 
Nonetheless, he asked Knox if it was too late to sign up as a camp counselor. Knox's response: "Not if you don't mind washing dishes."
"So I told my family. 'Hey, I'm gonna go to Bible camp rather than Hilton,'" Blanton said. "I've only missed one year, and I wouldn't miss it for the world." 
WEBSITE: www.shortmountaincamp.org