Building Africa's future
A Christian university in Uganda seeks to meet the continent's demand for higher learning with faith-based education.
---
MBALE, Uganda — Jenga!
The tower of wood blocks collapses on the white plastic table as Anita Ngadie screams with delight.
It's lunchtime at
LivingStone International University
, a new, faith-based school in this East African town. And Ngadie, a 22-year-old Christian ministry major, is the self-appointed ambassador of goodwill.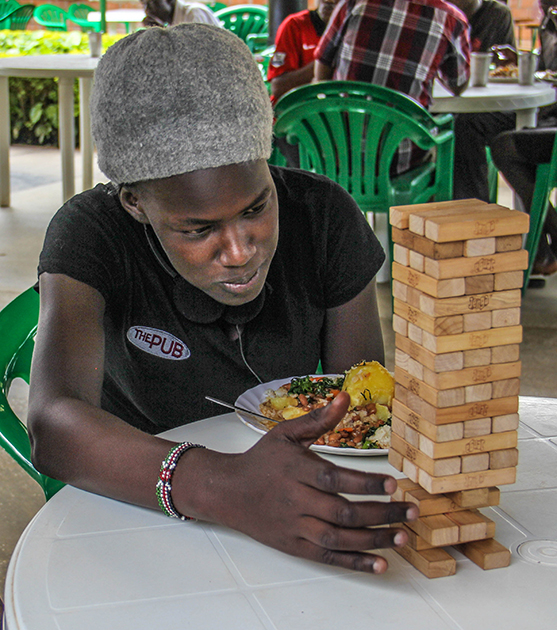 During her lunch break, LivingStone student Evelyne Majer plays Jenga. (PHOTO BY ERIK TRYGGESTAD)

Related story: So you want to attend Christian college in Africa …

With an ever-present smile, she flits from table to table in an outdoor courtyard as her classmates tuck into steaming plates of beans, mashed root and chapati (flatbread). She sells them bowls of fruit salad and bottles of ginger beer she made herself. (Don't refuse. You're having some.)
And, on occasion, she offers free advice on which block to nudge on the precarious tower.
Jenga — like Ngadie — has roots in West Africa, where inventor Leslie Scott named it after a Swahili word that means "to build." Ngadie brought it here from her native Sierra Leone, where she grew up in a Christian orphanage run by Americans. There she prayed, studied her Bible and developed an abiding love for Christ — and a fondness for Parker Brothers.
Now her home is 3,200 miles away and impossible to visit, due to the deadly Ebola outbreak.
But LivingStone "is just like family," she says. "They teach us Jesus in our lectures, in our leisure time.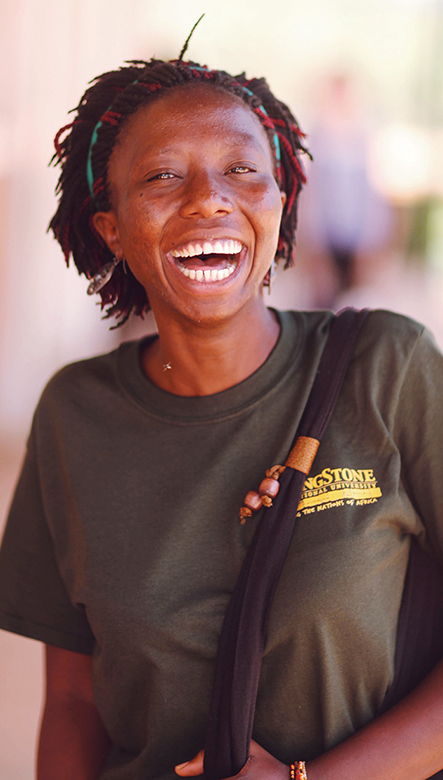 Anita Ngadie (PHOTO BY EMILY RENKEN)
"I so love this school."
It's one of a handful of higher education campuses in Africa associated with Churches of Christ and the congregations of the Restoration Movement.
Christianity has flourished on the continent in the past century, and ministry training programs here struggle to keep up with demand for preachers. Even greater is the struggle to produce self-sustaining churches and ministries, free from dependency on foreign finances.
For more than two decades, the Mbale Mission Team has worked among the people of eastern Uganda, helping establish a network of some 500 churches.
The team "recognized the need of lifting up Christ in places of higher education in Africa," says Daryl Bates, a former missionary in Kenya who teaches Bible and Greek part time at LivingStone.
The average age of Uganda's 37.5 million souls is less than 16, according to population estimates. Many can't afford the fees for secondary school — much less university. Options are limited for those who achieve the "O" and "A" levels required for higher learning. In eastern Uganda, one of the largest is an Islamic university system with 6,000 students.
Dennis Okoth speaks to the incoming class at LivingStone International University. The longtime preacher and church planter was poisoned by his own father after he professed faith in Christ. Read his story. (PHOTO BY ERIK TRYGGESTAD)
LivingStone seems tiny by comparison, with a student body of 115, served by 13 faculty and 36 staff. Most are African. Some are missionaries from the U.S., supported by Churches of Christ and Christian Churches. Congregations including
The Hills Church of Christ
in North Richland Hills, Texas, and the
Quaker Avenue Church of Christ
in Lubbock, Texas, help support the work.
Despite its humble size, "we believe that God has a great vision," Bates says, "for transforming the world through this place."
The Mbale team took the school's name from
1 Peter 2:4-5
, in which the apostle tells Christ followers that "you also, like living stones, are being built into a spiritual house, to be a holy priesthood."
It's an identity
Dennis Okoth
, a longtime minister in East Africa and a member of LivingStone's university council, reminded the students of as he spoke at the school year's opening convocation.
"Walk with dignity," Okoth said. "You are the King's child, and we want to see the best of you."
Members of the chorus at LivingStone International University sing during an opening convocation for the 2014-15 school year. The Christian university opened in 2012. (PHOTO BY ERIK TRYGGESTAD)
AFTER LUNCH, PRIMORDIAL SOUP
As lunch ends, the students clear away their dishes and file into the classrooms around the courtyard.


Zechariah Manyok Biar teaches "Life of Christ" at LivingStone International University. (PHOTO BY ERIK TRYGGESTAD)

Instructors at LivingStone bring real-world experience to their jobs — including battlefield experience.

Biar served as a chaplain in the Sudan People's Liberation Army during the decades-long conflict with his country's predominantly Muslim north. Educated at Abilene Christian University, he worked as a government official for the new nation of South Sudan before moving to Uganda.

"He's a professional," says one of his students, Musa Wanyoni. "I have really been inspired by his testimony — the hardship he has gone through in South Sudan and his heart for Christ." 
In one of them, professor Zechariah Manyok Biar fiddles with the damaged power cord of an overhead projector as he begins his "Life of Christ" class.
One of the students engineers a solution, and Biar salutes his ingenuity, turning the glitch into an object lesson about God being the one true source of "real power."
It's not a typical teaching style at African universities, says Patrick Chebet, the university's dean of students. Most focus on lecture and memorization.
Chebet also studied in Texas, at
Lubbock Christian University
. The campus culture in the U.S. is very different from Africa, he says, remembering the shock of seeing "young ladies wearing pajamas to class. "Here, that is abominable," he jokes.
But the teaching style in the U.S., which encourages discussion and problem solving, is something faculty at LivingStone strive to adopt, he adds. The small class size gives instructors the chance to know their students. Many are from children's homes. Some have lived through wars. Counseling and spiritual encouragement are part of every staffer's job.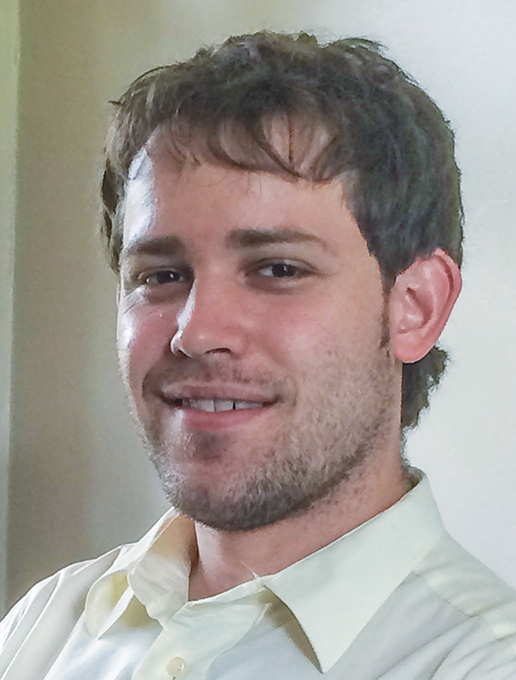 Dan Grenier (PHOTO BY ERIK TRYGGESTAD)
Chebet shares his office with Dan Grenier, a youth and family ministry student at Abilene Christian interning at LivingStone. He hopes to help the students launch a campus ministry.
"Students here really have a passion for leadership," Grenier says. "There's never a lack of preachers for devotionals."
He sees many similarities — and a few stark differences — as he experiences Christian education on a new continent.
Back at ACU, one of the biggest complaints he heard on weekends was the lack of available washers and dryers for laundry. "Here, they wash their clothes by hand," he says. "That's humbling."
A UNIVERSITY 'BORN OUT OF PRAYER'
As classes end and the students return to their dormitories, security guard Joseph Mulako walks the campus, securing the computer labs.
He doesn't own a computer or know the first thing about them, he says, but his daughter does.
He beams as he talks about Juliet, a third-year information technology major at LivingStone. He never dreamed he could afford a college education for her — much less one in a Christ-centered environment.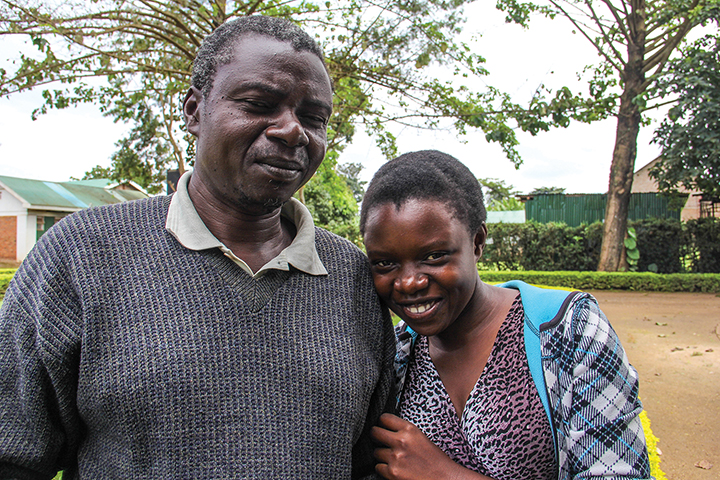 Campus guard Joseph Mulako and his daughter, Juliet. (PHOTO BY ERIK TRYGGESTAD)
"This school is shepherding our children," says Mulako, who attends the Mbale Church of Christ on campus. He prays for the day when his daughter will be an alumna — able and willing to use the money she earns to support the university and the church.
As they become wage earners, Rosemary Matovu prays that the students will fight against the corruption and lust for money she sees too often in her homeland.
Matovu, 66, is a caretaker for the female students and works in the school's business office.
"Mama" Rosemary Matovu (PHOTO BY EMILY RENKEN)
"The students who live here, they will not be like other students," she says, "because God will have worked on their personal lives.
"When I asked God, 'Why did you bring me here?' God showed me a baby in nappies," she says, using the British term for diapers.
The Lord wants her "to raise them from nowhere," mentoring them in the faith, she says. "Whatever I share with the girls is from the Bible."
LivingStone "was born out of prayer," she adds, "and the glory of God will be seen in this university."
For more information, and to learn how to partner with the university, see www.livingstoneuniversity.org. 
Christian education in Africa

• Christian higher education coming of age in Africa

• So you want to attend Christian college in Africa …

• Pondering development and dependency at African Christian College in Swaziland