'I am growing stronger every day' — updates on Christian physician battling Ebola
Before leaving for Liberia, Dr. Kent Brantly told members of the church where he was baptized about answering God's call. Now Christians around the world pray as he recovers from Ebola.
---
(Update: Dr. Kent Brantly sends words of encouragement from the hospital in Atlanta as he receives treatment. See a transcript of his sermon from 2013.)
Churches of Christ in the U.S. and West Africa are hosting prayer vigils for the thousands of souls exposed to the deadly Ebola virus. 
Meanwhile, Dr. Kent Brantly, a Texas church member and physician battling the virus, and fellow U.S. healthcare worker Nancy Writebol receive treatment for the virus in an Atlanta hospital. 
"I am growing stronger every day, and I thank God for his mercy as I have wrestled with this terrible disease," Brantly said in a statement released by
Samaritan's Purse
, the Christian humanitarian organization supervising his post-residency medical mission program. "I also want to extend my deep and sincere thanks to all of you who have been praying for my recovery as well as for Nancy and for the people of Liberia and West Africa."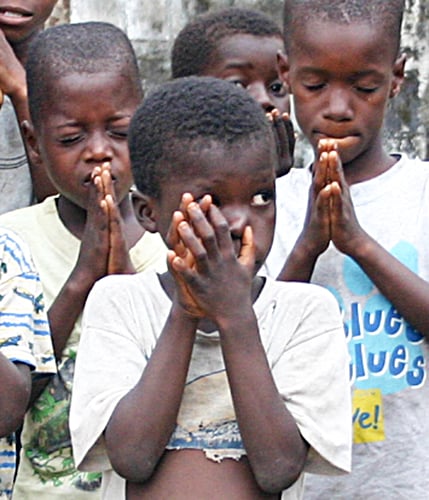 Prayers for West Africa: 
The church and Ebola
• 'God has placed a call on all of us' — see a transcript of Dr. Kent Brantly's sermon
Brantly, a graduate of
Abilene Christian University
in Texas, and his family were members of the 
Southside Church of Christ
 in Fort Worth, Texas, before moving to the West African nation of Liberia, where Kent Brantly served as medical director for the Ebola Care Center. 
His uncles and aunts served as missionaries in Africa. During his years at ACU, he participated in medical missions to Tanzania and Central America. 
He met his wife, Amber, during a mission trip to Honduras.
"After I decided to pursue a medical education, God took the reins and nothing since then has gone how I expected," he told the congregation. "On difficult days, when I want to give up or when I wonder if I've made the right decision, retelling my story reminds me of how God has brought me to where I am.
"As I dream about what that will look like in the years to come, my heart leaps with joy knowing that he has called me."
For two years, "will live and work and serve among the people who, until the last 10 years of peace, had known nothing but the violence and devastation of war for the previous 20 years," he said.
Though he never had visited Liberia, he felt that God was calling him to the war-torn nation, he said, noting the apostle Paul's words from
1 Timothy 1:7
:
"For the Spirit God gave us does not make us timid, but gives us power, love and self-discipline."
Not long after arriving in Liberia, Brantly helped treat Ron Pottberg, a church member who works for the
World Bible School
 correspondence ministry. Pottberg and Liberian minister Isaac Daye were promoting the ministry's work and encouraging churches across the region. En route to Sierra Leone, Pottberg contracted a parasite and became seriously ill. 
"I was so weak I could not stand," Pottberg told The Christian Chronicle. Another physician at the hospital "said I would have probably died if I had gone to Sierra Leone that day without medical attention. (It was a) close call, but that is what we do for the Gospel." 
After contracting Ebola, Brantly himself became a patient. Before he was transported to Atlanta, the physician received a unit of blood from a 14-year-old boy who survived Ebola because of Brantly's care, Samaritan's Purse reported.
Dr. Kent Brantly cares for an Ebola patient in the isolation ward before he tested positive for the virus. (PHOTO VIA WWW.SAMARITANSPURSE.ORG)
While an undergraduate at Abilene Christian, Brantly served an internship overseas through the university's WorldWide Witness program, which gives students a short-term, focused vocational missions experience "that shows them how to effectively serve God and others wherever their career takes them," said Grant Rampy, the university's director of public relations.
"Everyone here who has been connected with Kent knows him to be someone who is very compassionate, considerate and always upbeat in all he does — the kind of guy who always has a smile on his face," said Gary Green, director of WorldWide Witness. "Kent and his wife, Amber, are both very capable, intelligent people who are able to handle cross-cultural stresses in amazing ways.
"Kent's the kind of guy who would weigh benefits versus risk, then try to take himself out of the equation so that he would be thinking, 'What do I bring to the table? Is the risk worth taking because I can benefit so many people?' That's just the way he is and the kind of person he is in his heart."
A chart showing the growth of the Ebola outbreak in the West African nations of Guinea, Sierra Leone and Liberia. (GRAPHIC VIA WWW.SAMARITANSPURSE.ORG)
Chris Flanders, assistant professor of missions and director of the Halbert Institute for Missions at ACU, said that Brantly's work reflects the words of the apostle Paul in 2 Corinthians 5:14: For Christ's love compels us, because we are convinced that one died for all, and therefore all died.
"Sometimes when you follow God's lead you find yourself going into places that are not safe," Flanders said. "We never seek to put people in situations of danger, but sometimes the commitments people have lead them inevitably to a place that is potentially dangerous."
The path to Liberia "was the path that love compelled him to take," Flanders said. He asked Christians around the globe to pray for the physician's health and the wellbeing of his family in Texas.
"But also pray that this opportunity will result in people being alerted to the fact that there are those who put their lives on the line to help others," he added. "That's a noble calling and we need more people like that. 
"Maybe his situation can serve to illuminate opportunities that exist all around us — to step out of our comfort zones and into situations of great danger in order to bless others. That's what Kent's example seems to me to be teaching all of us."
Some additional details from The Fort Worth Star-Telegram's coverage of Wednesday night Bible study at the Brantlys' congregation:
The congregation at Southside Church of Christ left Wednesday night Bible study with yellow ribbons that were paper-clipped to cards bearing a photo of a smiling young physician who used to attend the church.  

They were encouraged to tie the ribbons to their vehicles or backpacks to show concern for Dr. Kent Brantly and to pray for his full recovery.

The card quotes

1 Thessalonians 5:16-18

: "Rejoice always. Pray without ceasing, give thanks in all circumstances; for this is the will of God in Christ Jesus for you."
Read the full story.