Boiling faith in lands down under
Churches are dying in Australia and New Zealand, but the Christians here see pockets of faith just below the surface of their lands, waiting for a nudge to burst with the Good News.
---
Stuart Penhall speaks at Men's Challenge

Stuart Penhall is in a rage. Hear the church elder from Australia talk about the slow decline among Churches of Christ down under. Then read our story to find out what else he said about Christians "raging against the dying of the light." https://christianchronicle.org/article/boiling-faith-in-lands-down-under

Posted by The Christian Chronicle on Monday, November 2, 2015
ROTORUA, New Zealand — Stuart Penhall prowled the conference hall floor in a rage. 
"We remember when others would refuse to debate us due to our knowledge and conviction," said the elder of the Gosford Church of Christ in Australia. "We remember when our buildings were full and almost every day brought news of more conversions.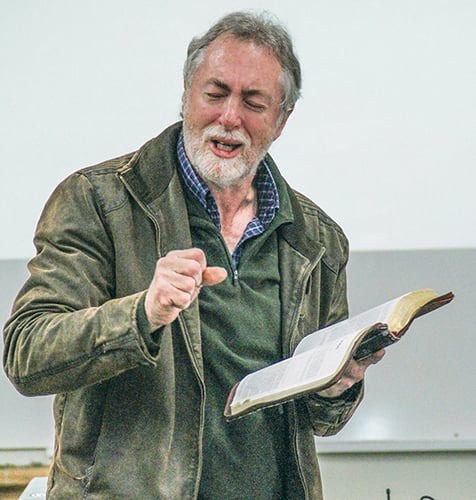 Stuart Penhall preaches at Men's Challenge. (PHOTO BY ERIK TRYGGESTAD)
"Now we see a church declining numerically, spiritually, even morally," he preached during a Sunday morning service at Men's Challenge, an annual gathering of church leaders from the lands "down under" — Australia and New Zealand — and the islands of the South Pacific. "Now we see doubt and uncertainty, loss of distinctiveness and even direction."
In 1975, Australia's young Churches of Christ were about 2,500 members strong and growing, Penhall said. Now the aging flock has closer to 2,350 souls. Converts and children of converts have fallen away. 
In New Zealand, where church members estimate their number between 700 and 1,000 souls, the situation seems equally dire. 
"We have effectively lost all the natural growth, which should have occurred as a result of births," he told The Christian Chronicle. "We have lost whole generations."

• Road Notes: In Hobbiton, learning to love an expected journey

• Indonesia's most-blessed man: A former prisoner trains new generations of preachers
• Thailand: Survivors of the Taliban find new life — and new fears — in Bangkok

• Jailed Pakistani family in Thailand shows true beauty

• Singapore: A 'pillar church' for Southeast Asia

• His face preaches: The faith of 'Tattoo Tan'

Rather than bemoan the statistics and wait for death, Penhall urged the men to "rage, rage against the dying of the light," quoting Dylan Thomas' "Do Not Go Gentle Into That Good Night." The poem is believed to be an ode Thomas wrote to his dying father.
The church near the end of the first century also mourned, Penhall said. Beset by persecution from without and "antichrists, dividers and the worship of idols" from within, Christians found comfort in the words of 3 John, a letter written to encourage a man of faith named Gaius. 
Despite the trials, Gaius walked in "faithfulness to the truth," the apostle wrote.
Though the early Christians likely feared their movement was dying, "we know that they were wrong," Penhall preached, "and that God had even greater things in store for his church in the centuries to come."
ADULT CHURCHES NEEDED
Boiling water on the streets of Rotorua, New Zealand and boiling mud at the Waiotapu Scenic Reserve. Learn more about "Boiling faith down under" — https://christianchronicle.org/article/boiling-faith-in-lands-down-under

Posted by The Christian Chronicle on Monday, November 2, 2015
Penhall's defiant stance seemed appropriate for a Christian conference held near Hell's Gate. 
That's the name of one of many hot springs in Rotorua, a small city on New Zealand's north island. 
The earth's crust is thin here compared to other above-ground lands. Super-heated water boils up from mud pits and pools across the city — even from cracks in the pavement. The scent of sulfur hangs in the air. 
The entrance to Hell's Gate geothermal park in Rotorua, New Zealand (PHOTO BY ERIK TRYGGESTAD)
Gathered at a hillside campsite, Christians sang "Soldiers of Christ, Arise" and "Be Strong and Courageous" during a leadership forum before the Men's Challenge. 
Andrew Gearhart, a minister for the Otumoetai Church of Christ in Tauranga, New Zealand, taught about Joshua, a man of vision who led the children of Israel into the Promised Land after the death of Moses.
"Vision is the process of seeing God, seeing ourselves, seeing the world and seeing our part," Gearhart said, quoting John Cameron, a popular evangelist in Wellington, New Zealand. "Vision must always begin with God, be given by God and fueled by God."
About 60 men participated in the challenge, which focused on "Stories of Covenant Keepers" from the Bible, including Mordecai, Naomi, Priscilla and Aquila.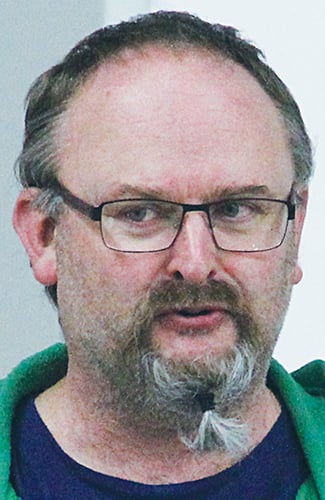 David Steel
Speakers came from Australia and New Zealand, including Penhall, Geoff Fairest of Rotorua and David Steel of Tauranga.
"The theme of looking at people who struggled to keep the covenant in their various ways is a reflection on us and who we are," said Steel, who co-organized the event with Fairest.
Decades after the missionaries who planted churches here returned home, many congregations struggle to survive.
"We are trying to discover what makes the adult New Zealand church no longer the offspring of the American church," Steel said. 
Several congregations have failed to make the transition, he added, and have ceased to exist.
Still, there are congregations here with multiple generations working together, Steel said. There are new congregations, including the Discover Church in Auckland, that bring in new believers and focus on disciple-making movements.
Steel teaches a class at South Pacific Bible College, a school in Tauranga associated with Churches of Christ, about the Gospel's history in the South Pacific. The students relate what they learn of their movement's past to today's challenges. 
In the classroom "I hear optimism," Steel said. In students' lives he sees the Gospel lived out. 
BUBBLING FAITH
Like the country's bubbling mud pits, there's fire and fervor just below the surface here, waiting to burst forth, said Chris Miller, an evangelist for the Otumoetai congregation who works with Churches of Christ throughout the region.
Such was the case with Miller, who sold a profitable food stand at age 21 and decided to travel the globe with his business partner, Andy Taylor. Neither grew up in the faith, but as they hitchhiked across Canada and the U.S., "I ran into people who started putting into our hearts spiritual seeds."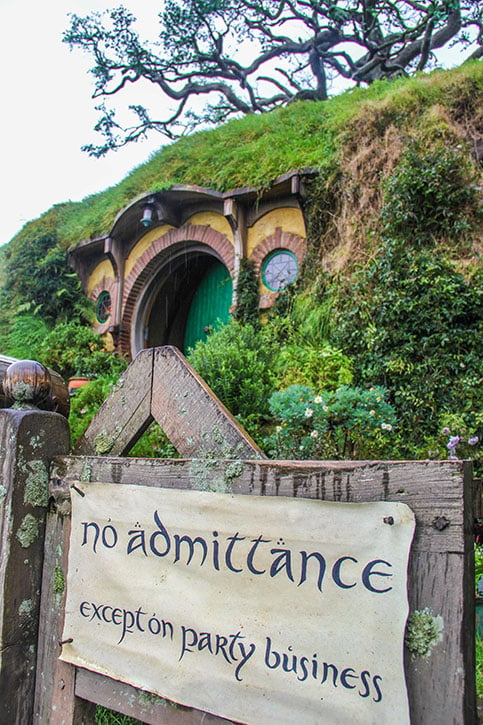 Hobbit holes and mud holes in New Zealand: See Erik Tryggestad's photo gallery from down under.
At first he fought them and even bought a Bible "to prove to these people that they were wrong," he said. Instead, he was convicted by what he read and became a "secret disciple." 
Finally, on a Sunday night in Ventura, Calif., he decided to go to church and found only one that was meeting — a Church of Christ.
"We never remembered the sermon," Miller said, "but one thing we did remember that night was the love in this congregation for us." The next night, after studying the Bible with church members until 11:15 p.m., Miller and Taylor were baptized.
"Yes, New Zealand is not an easy field," Miller acknowledged, but through prayer and patience, "like the mud pools, people come to the surface. We just have to keep our eyes open and challenge people — and it is amazing what happens."
A few days after the Men's Challenge, at a hot spring in Tauranga, New Zealand, Andrew Gearhart, left, leads a prayer after baptizing a young man named Jakob. (PHOTO BY ERIK TRYGGESTAD) 1,000 DISCIPLES IN 10 YEARS?
Decades after Miller's baptism, the Otumoetai congregation is raging against the dying of light. 
The church set a goal of making 1,000 disciples in the next 10 years in New Zealand, which would more than double the current size of the fellowship. 
"It's impossible for Otumoetai to do alone," said David Nelson, another of the church's ministers. He hopes the goal will serve as a clarion call for churches that are shrinking and increasingly isolated to unite in common cause.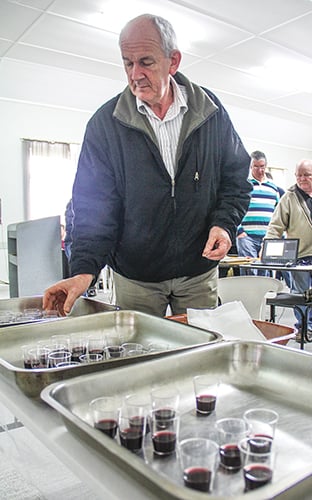 Grant Stanton, who ministers for a small congregation in Christchurch, New Zealand, takes the Lord's Supper during the Men's Challenge. (PHOTO BY ERIK TRYGGESTAD)
Such cooperation is vital for survival, said Penhall, who equated the region's Churches of Christ with "rowboats in a sea of sin."
"We've pulled some people into the boat with us," he said, "and we can see other boats, but we just watch them sink. 
"That is not godly."
To thrive, "we have got to move past this fierce cultural independence that both the New Zealanders and the Australians share" that a believer's relationship is with God alone, he said. "Your relationship with God is in the church."
Rather than slowly die out, Otumoetai "has set a goal that is, in all honesty, ridiculous," said Johnathon Atchley, a native of Perth, Australia, who teaches at South Pacific Bible College. 
It was equally ridiculous for Elijah to set fire to a sacrificial altar drenched in water, and for Gideon to vanquish an army 120,000 strong with 300 men, he said, citing the Old Testament stories.
"Even if we never achieve the goal, the fact that we tried is all that matters," Atchley said. "My prayer, therefore, would be that we keep trying even when it seems hopeless."
'we will not surrender'
In the end, Dylan Thomas "had an impotent rage," Penhall said as he concluded his sermon. 
The poet's father died a few years after the poem was published, and Thomas himself died a year later at age 39. 
They had no dominion over death, Penhall said. 
But God does.
"Will we rage, brethren?" he asked. "Will we go to our dying congregations and say to them, 'We will not give up?' 
"We will not surrender. We will not give in. We will not go gentle into that good night. 
"We will rage!"
Related Coverage: