Blue Ridge farewell
Since 1951, the Blue Ridge Family Encampment has provided a spiritual feast. But rising costs and time demands have brought the camp to an end.
---
For 64 summers, the Blue Ridge Mountains echoed with the sounds of children singing, families praying and gospel preaching. 

The annual Blue Ridge Family Encampment was born of twin desires to minister to families and strengthen Churches of Christ in North Carolina.
"It was all about saving the Christian family," said Mark Smith, one of three co-directors of this year's gathering, at the YMCA Blue Ridge Assembly.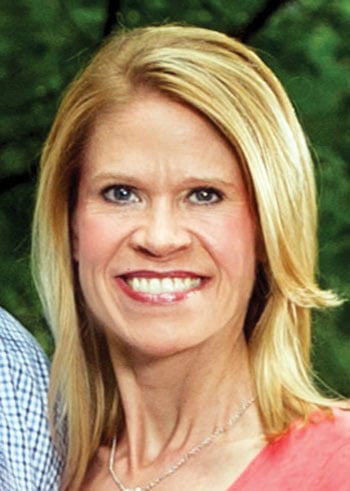 Shipman
Though thousands of Christians have taken part in the encampment, the event itself could not be saved from rising costs, disruptions in scheduling and increasing demands on families in church and society. 
Directors decided that this year's encampment would be the last.
Lotte Shipman of Dothan, Ala., first attended the encampment in 1983 as an 11-year-old. Her three girls — 11, 13 and 15 — have come to Blue Ridge since birth.
The final gathering was particularly emotional for Shipman. A cancer diagnosis shortly before the encampment jeopardized her participation. 
"We're going to have to hold off until after Blue Ridge," Shipman planned to tell her doctors if treatment interfered. "I would not have missed it. … The place, to me, is almost sacred."
TOOTH-PULLING PREACHING
A 1961 brochure credits ministers A.R. Holton and J.W. Brents with launching the encampment.
A hallmark has been its multi-generational focus, featuring separate, simultaneous programs for parents and children, minister Jimmy Mankin wrote in a 1970 Gospel Advocate report on the 20th anniversary. Mankin later directed Blue Ridge, from 1983 to 1998.
The program included activities to build relationships and simply to have fun. 
Participants in the youth program brave a ropes course among the Carolina treetops. (PHOTO BY TED PARKS)
Shipman remembered a boisterous hog-calling contest, and old brochures list a golf tournament, skits, a watermelon feast, horseback riding, swimming and sightseeing. Organizers scheduled worship, classes and workshops in the morning, then worship at night, leaving most afternoons for family time. 
Participants in the adult chorus practice in the YMCA Blue Ridge Assembly's Washburn Auditorium for their performance near the end of the encampment. (PHOTO BY TED PARKS)
Despite the fun, Blue Ridge took preaching and teaching seriously. 
Capping the evening sermon was a late-night "Fireside Chat" in the white-columned Robert E. Lee Hall. 
"Nearly all of the great preachers in the brotherhood, at one time or another, have been a guest at Blue Ridge," said former board member Jerry Hill. His list includes B.C. Goodpasture, Gus Nichols, Guy N. Woods, and Batsell Barrett Baxter. 
Beth Horn Waters, who began attending Blue Ridge in 1959 at age 7, remembered hearing well-known preacher Marshall Keeble at the encampment. 
"I think he preached — and no air-conditioning — for an hour," Waters said. "And everybody was just mesmerized." 
Attendees enjoy lunch in the dining room of the Blue Ridge Center. Over the years, meals afforded attendees the opportunity to interact personally with speakers. (PHOTO BY TED PARKS)
Waters remembers Ira North, longtime minister of the Madison Church of Christ in Tennessee and an early director of Blue Ridge. The charismatic North appears in encampment photos sporting a plaid short-sleeve shirt, collar open, even as other men around him had donned suits and ties.
"I thought he was a rock star — I thought he was a Paul McCartney or a Mick Jagger," Waters said. In a small square snapshot she kept from her first time at Blue Ridge, Waters stands by a towering North, who grasps her hand.
"Will you pull my tooth?" the starstruck 7-year-old asked the preacher just before the picture was snapped. 
North obliged.
How did he do it? 
"Gently," she said.
TOO 'MIDDLE-OF-THE-ROAD' TO SURVIVE? 
About 80 people — adults except for one girl — stand shoulder-to-shoulder in the encampment picture from 1953, the earliest among the group shots the final event's leaders collected over the years.
By the close of the following decade, numbers had grown. The Gospel Advocate of July 31, 1969, reported an attendance of 475 people. Blue Ridge treasurer Wallace Johnson said attendance peaked at slightly over 900 in the early 1990s.
In an early photo, attendees head downhill from Robert E. Lee Hall. Participants recalled the camp's wake-up music — "Nothing could be finer than to be in Carolina." (PHOTO PROVIDED)
Numbers then began to fall, Smith said. That meant shrinking revenue and cutbacks in the number of speakers. Roberts put the final year's attendance at 225. 
Smith attributed the decline to several factors, including YMCA price increases. In 1999, organizers were no longer able to book the camp during the third week of June. Moving the date interfered with school schedules and holiday activities. 
Leaders also pointed to what they see as church members' increasing tendency to attend events tied to a specific theological perspective — whether traditional or progressive.
"We're middle of the road. We're just who we are," said co-director Larry Cline. "I think for anything to really flourish right now, it has to have an identity … or it has to meet an incredible felt need."
Roberts expressed the contrasting emotions generated by the final gathering.
"I have really mixed feelings," he said. "I really do. I'm incredibly sad that the next generation won't have the same experiences that my family has had here, and the families before me.
"At the same time, I'm incredibly happy that our kids are doing more in the area of missions … and being engaged in other ministry areas.
"For such a time as this, we've had Blue Ridge. Praise God."

PHOTOS NEEDED: Directors of the Blue Ridge Encampment plan to archive historic photos and documents from the event. Please contact Joe Roberts at [email protected].