Christian Chronicle named top newspaper by Associated Church Press — again
In all, Chronicle wins eight national awards in 'Best of the Church Press' contest.
---
For the second year in a row, The Christian Chronicle earned top honors in the "Best of the Church Press" contest sponsored by the Associated Church Press.
The Chronicle captured the first-place Award of Excellence in the prestigious "Best in Class" category for national and international newspapers.
"I wouldn't change a thing," one judge commented. "Cover photos are thoughtful and exciting. Writing is vivid and descriptive yet provides clarity and excellent content. Overall, it's the perfect combination of great photography and engaging writing within a beautiful layout."
The Anglican Journal  received the second-place Award of Merit, and the Reporter, which covers the Lutheran Church-Missouri Synod, claimed honorable mention.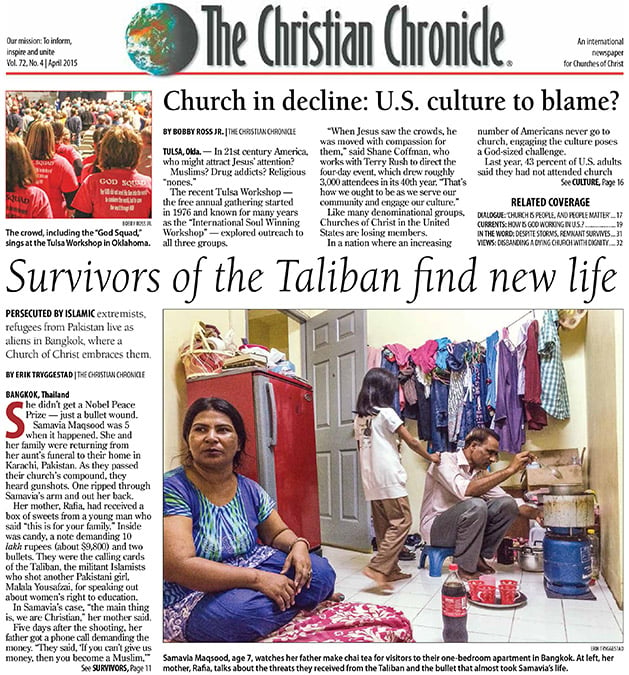 The front page of the April 2015 edition. (PAGE DESIGN BY ERIK TRYGGESTAD)

Winners were announced April 22 at the ACP's national convention in St. Louis. The meeting coincided with the 100th anniversary of the ACP, the oldest interdenominational religious press association in North America.
In all, the Chronicle — an Oklahoma City-based international newspaper for Churches of Christ with 260,000 monthly print readers — received eight awards for content published in 2015.
Since 2007, the newspaper has won 73 national ACP awards and been recognized in the Best in Class contest for 10 consecutive years. This is the fourth time the Chronicle received first-place honors in the category, winning previously in 2009, 2013 and 2015.
Award of Excellence (First Place)

BEST IN CLASS/PRINT: National/International Newspaper — The Christian Chronicle:  Lynn McMillon, president/CEO; Erik Tryggestad, editor; Bobby Ross Jr., chief correspondent; Tonya Patton, advertising manager; Kimberly Mauck, reviews editor; Lynda Sheehan, administrative assistant; Joy McMillon, administrative assistant; Laura Akins, editorial assistant; Matthew Ware, advertising assistant; Katie Jones, editorial intern.
• • •
Helen Mulaparthi, a member of the Broadway Church of Christ in Sylacauga, Ala., enjoys a laugh with Rhonda Fernandez, as Frances Zorn watches. (PHOTO BY BOBBY ROSS JR.)
FEATURE ARTICLE
:
"From daughter to caretaker"
 by Bobby Ross Jr. — the behind-the-scenes story of how caring for her aging parents drew one Christian woman closer to them and God.

Judges: "A lovely story of role reversal as the child becomes the parent … a clear winner."
• • •
Julie Strakova and fellow Christians — many of them refugees — participate in a singing camp in Irpin, Ukraine. (PHOTO BY ERIK TRYGGESTAD)
NEWS STORY: 
"Peace in the Valley"
 by Erik Tryggestad — a report from war-torn Ukraine about uprooted Churches of Christ and members' faith.

Judges: "Well-rounded description of a church group's responses both in the war zone in Eastern Ukraine and in refugee care further west. Interesting historical context and good pacing and use of quotes."
• • •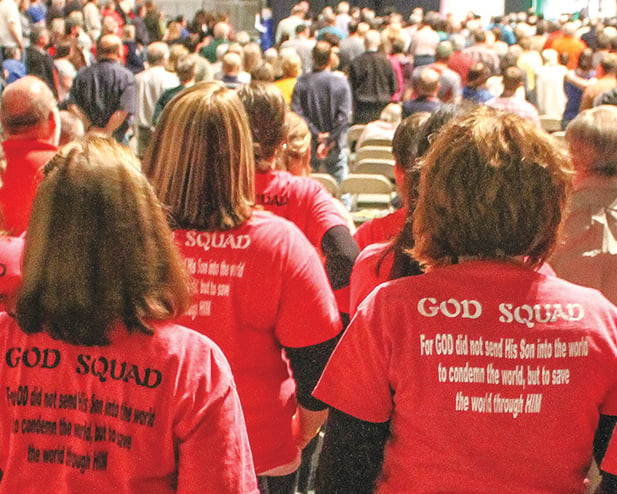 The crowd, including the "God Squad," sings at the Tulsa Workshop in Oklahoma. (PHOTO BY BOBBY ROSS JR.)
THEME ISSUE, SECTION, OR SERIES:
"God at work in U.S." by Bobby Ross Jr. — a package analyzing the latest numbers on Churches of Christ in the United States, including the story
"Churches of Christ in decline: U.S. culture to blame?"
 and
quotes from church members in all 50 states. 
The package also included a
Dialogue with 21st Century Christian's Carl Royster
by Lynn McMillon and Erik Tryggestad, an "In the Word" devotional,
"Despite storms, the remnant survives,"
 by Wyane Atkinson and a Views piece,
"Disband with dignity,"
 by K. Rex Butts.

Judges: "This ambitious project brings together content from across the country, guaranteeing that each member of the audience will read at least one section of this package."
• • •
Award of Merit (Second Place)
Minister Willie L. Rupert Jr. offers the invitation during a Sunday assembly of the Central Church of Christ, a predominantly black congregation in Baltimore. (PHOTO BY BOBBY ROSS JR.)
FEATURE ARTICLE: "The broken soul of Baltimore" by Bobby Ross Jr. — on church leaders working to bring spiritual and social renewal to a city where riots erupted after 25-year-old Freddie Gray's death in police custody.
Judges: "Good use of detail (the whiff of smoke from the CVS), impressive use of grassroots sources and introspective quotes from church leaders wondering if they've done enough to build credibility in the community."
• • •
At Cazeau Christian Elementary School, on a hilltop overlooking Port-au-Prince, Haitian children pledge allegiance during a Friday morning flag-raising ceremony. (PHOTO BY ERIK TRYGGESTAD)
• • •
A note on a glass door overlooking the Zorns' back deck reminds Frances that she can't go outside without a relative or caregiver accompanying her. (PHOTO BY BOBBY ROSS JR.)


PERSONALLY USEFUL ARTICLE: 
"From daughter to caretaker"
 by Bobby Ross Jr.

Judges: "Very well written article that draws the reader in through content and pictures. Descriptions of details are well carved out and presented; the agony and joys of life in this situation spring forth. Hope, inspiration, tears; it's all there."
Honorable Mention
Preschool children at the Christian Home and Bible School in Mount Dora, Fla., spend time each day praying and singing praises to God. Pictured, from left, are Taylor Adams, Christopher Ruggie, Chelsea Drake and Morgan Bradley. The central Florida school has an enrollment of about 800 students, while 41 children live on campus or in foster care directed by the home. (PHOTO BY MALCOLM YAWN)