Beside Stillwater: Campus ministry helps Oklahoma State heal
'We weren't really trying to give people answers. We were just trying to give them an avenue to share and pray and cry together.'
---
STILLWATER, Okla.
— Campus minister Matt Mills heard the sirens, but he had no idea of the extent of the tragedy.
On football Saturdays in this college town, the Church of Christ University Center at Oklahoma State University organizes a pregame tailgate party. Students involved with the "UC at OK State" enjoy burgers and soft drinks. Guys bring cookies. The girls? Chips.
As Mills prepared for the party after Oklahoma State's homecoming parade Oct. 24, friends and family began texting and calling.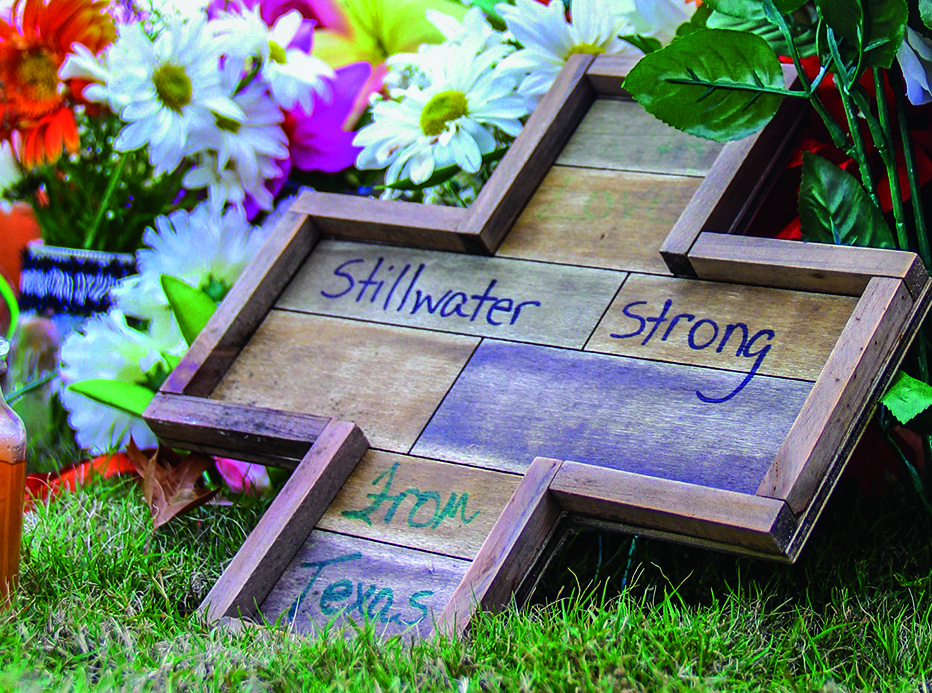 A cross at a memorial for the parade crash victims carries the message "Stillwater Strong." (PHOTO BY ERIK TRYGGESTAD)"Are you OK?" they wanted to know.
A woman had crashed her car into a crowd assembled to watch the parade, killing four people and injuring more than 45. The disaster occurred just four blocks from the UC at OK State, a ministry of the Stillwater Church of Christ.
As Mills grasped the news, four of his own students showed up. The two male and two female students had witnessed the crash up close. They were physically fine but emotionally shaken.
"The car went right in front of us probably about 5 feet or so," said senior Ryan Watson, who grew up in the Draketown Church of Christ in Huntsville, Ark. "We heard the impact … and screams."
Immediately, Mills and women's minister Elyse Tharp formed a prayer circle with Watson, his three friends and a few other students.
"We talked and prayed for an hour," said Mills, whose contribution to helping the campus of 26,000 students heal was just beginning.
Mourners visit a makeshift memorial at the site of a crash that killed four people and injured dozens during Oklahoma State University's homecoming parade. (PHOTO BY BOBBY ROSS JR.)

LIFTING UP HEARTS TO GOD
The Sunday after the crash happened to be Mills' turn to preach at the 600-member Stillwater church.
"God, show me what to do," he asked as he tweaked his lesson that Saturday night and found concentrating difficult.
That Sunday, church elder Kent Sampson — who also serves as the university's director of student life — led a special prayer for the victims, the community and the jailed suspect.
On the Sunday after the crash, elder Kent Sampson prays at the Stillwater Church of Christ. (PHOTO BY BOBBY ROSS JR.) Killed were 2-year-old Nash Lucas, longtime Oklahoma State employees Marvin and Bonnie Stone and University of Central Oklahoma student Nikita Nakal.
Adacia Avery Chambers, 25, faces four counts of second-degree murder. A judge ordered her committed to a state mental facility for psychiatric evaluation.
"Father, we just ask that you wrap your arms around these families," Sampson prayed, his voice cracking.
Nearby, people brought flowers to a makeshift memorial erected at the crash site about 65 miles northeast of Oklahoma City. They counted on their faith and their neighbors in this city of 47,000 to help them heal. Again.
The parade deaths came four years after a plane crash killed two Oklahoma State women's basketball coaches and almost 15 years after 10 people died when a plane carrying members and coaches of the men's basketball team went down.
"It's too fresh to have any kind of answers or apt words," Mills said in his sermon. "Today is about being with those you love. Today is about lifting up our hearts to God."


A CANDLELIGHT VIGIL
Each Sunday night, the UC at OK State gathers for "Praise on the Plaza."
Typically, about 60 to 70 students get together to sing and pray.
But this time, Mills — who also serves as president of Oklahoma State's Interfaith Council — invited all the faith-based groups on campus.
Campus minister Matt Mills reflects on favorite Scriptures that students have written on a wall in his office. (PHOTO BY ERIK TRYGGESTAD)An estimated 1,500 to 2,000 students and others joined the vigil on the student union plaza. Sampson supplied about 500 candles from the student life office. Other mourners flashed lights from their smartphones.
Mills' ministry partner Monty Daffern, who has directed the UC at OK State for 21 years, led the singing of "Amazing Grace."
"We weren't really trying to give people answers," Mills said. "We were just trying to give them an avenue to share and pray and cry together.
"I felt like God took it and made it bigger than anybody thought it would be," he added.
Campus ministry intern Catherine Horsley helped distribute candles.
"Friends who are not a part of a church body … told me, 'You don't know how much that helped me cry out and heal,'" said Horsley, a junior from Chicago, where her family attends the Naperville Church of Christ. "They said, 'I was hurting so badly, and to be able to go and be surrounded by students that felt the same way really helped.'"
Campus minister Matt Mills, second from left, joins dignitaries on stage at a community-wide memorial. To Mills' right is Oklahoma State President Burns Hargis. (PHOTO BY JORDAN RICHARDS)

HEALING AND HOPE
Nine days after the prayer vigil, Mills found himself on stage at a community-wide memorial in Gallagher-Iba Arena.
He joined university President Burns Hargis, Oklahoma Lt. Gov. Todd Lamb and Stillwater Mayor Gina Noble in honoring the lives lost and saved and thanking those who aided the injured.
"I am honored to represent the various faith communities of Stillwater as we hold up those impacted by the tragedy and take another step forward toward healing and hope," said Mills, who wore a black suit and an orange tie — the colors of the Oklahoma State Cowboys.
He led the crowd in a moment of silence before reciting the Lord's Prayer from Matthew 6.
Asked if he was surprised to see Mills step up in such a way, Daffern shook his head.
"I see that every day," said Daffern, who has known and mentored Mills since he showed up on campus as a freshman in 1999.
Monty Daffern prays during a Wednesday night praise service at the Church of Christ University Center. (PHOTO BY ERIK TRYGGESTAD)

'HE HAS BEEN THERE FOR ME'
The next night, Mills tossed a salad as students baked pans of lasagna to serve the Stillwater church before midweek Bible study.
It won't make the 10 o'clock news, but this is where he thrives: leading small-group fellowships in the dorms, playing intramural sports to develop relationships and praying one on one with students away from home for the first time.
The UC at OK State has about 300 students on its roll — roughly 75 percent from Church of Christ backgrounds. Many come from rural congregations smaller than the campus ministry they find in Stillwater.
About 100 to 150 students normally show up for the Wednesday night praise service.
Stillwater Church of Christ members line up for a Wednesday night meal prepared by students in the Church of Christ University Center at Oklahoma State University. (PHOTO BY ERIK TRYGGESTAD)
"I have definitely felt God take over in students' lives and situations and give me words to say and put me in the right place that he wants me to be," said Mills, a 34-year-old father of two whose wife, Melissa, teaches math at Oklahoma State. "But this (the parade crash aftermath) was a bigger public role than I have experienced. … I felt very humbled and honored."
Nonetheless, Mills — who grew up on a southwestern Oklahoma wheat farm — joked, "I am not going to run for mayor or anything."
Instead, he'll stay focused on leading students closer to Christ.
Ryan WatsonWatson, one of the students who witnessed the crash, praised Mills' high-profile role in helping Stillwater and Oklahoma State heal. But the aerospace engineering major stressed that Mills didn't neglect those who counted on him all along.
"He has been there for me, too," said Watson, who couldn't get the gruesome images out of his mind and felt comfortable opening up to Mills.
At the campus minister's urging, Watson took advantage of free counseling offered by Oklahoma State.
"So many different emotions run through my head," Watson said. "It's been a lot better than it was, and I know it will continue to get better as I go."
At the praise service, Mills noted that this time of year can be stressful for many students — with the holidays and semester exams approaching.
The parade tragedy could intensify that normal anxiety, he warned.
"I don't have any answers to that," Mills said. "Except God."
Then he opened his Bible to teach.
Oklahoma State students sing during a Wednesday praise service. (PHOTO BY ERIK TRYGGESTAD)