Baseball fan's orange T-shirt is for the Birds
---
BALTIMORE — Steve Mahoney, who preaches for the Newark Church of Christ in Delaware, loves baseball.
More specifically, he loves the Baltimore Orioles.
Ask him about the Orioles' World Series championship teams of 1966, 1970 and 1983, and Steve can tell you all you want to know.
Through many losing seasons of recent decades, he's stuck with his team — loyalty and perseverance that I can appreciate as a long-suffering fan of a different team.
As I've mentioned in this space a time or two — or 20 — I love God, I love my family, and I love the Texas Rangers, mostly in that order.
Steve Mahoney and his daughter, Julia, visit the Baltimore Inner Harbor. (PHOTO BY BOBBY ROSS JR.)
In the 2012 season, a minor sports miracle occurred: Steve's Orioles and my Rangers both made it to the postseason.
And they faced each other  in the American League wildcard game — a sudden-death matchup to see which club would advance to the league's division series.
Steve decided that if the Rangers won, I should send him a Texas jersey, and he'd post a picture of himself wearing it. That sounded terrific to me, since I just knew my team would win.
But Steve also suggested that if the Orioles won, he should send me a Baltimore jersey, and I could post a picture of myself wearing it. That, too, sounded terrific to me, since I just knew my team would win.

Suffice it to say that I ended up with a red face and an orange T-shirt.
But I overcame the embarrassment, and Steve and I remained friends.
When I traveled to Delaware to cover the Campus for Christ national conference ( see related story), Steve offered to help me check one more major-league stadium off my bucket list.
You probably can guess which one.
Before the recent trip, I had visited 13 ballparks, most recently Dodger Stadium in Los Angeles, where I interviewed Colorado Rockies closer Rex Brothers earlier this season.
I did that interview during a break from the Pepperdine Bible Lectures in nearby Malibu, Calif.
David Duncan, who preaches for the Memorial Church of Christ in Houston, joined me on that assignment and ended up in the Dodgers dugout for a news conference with manager Don Mattingly.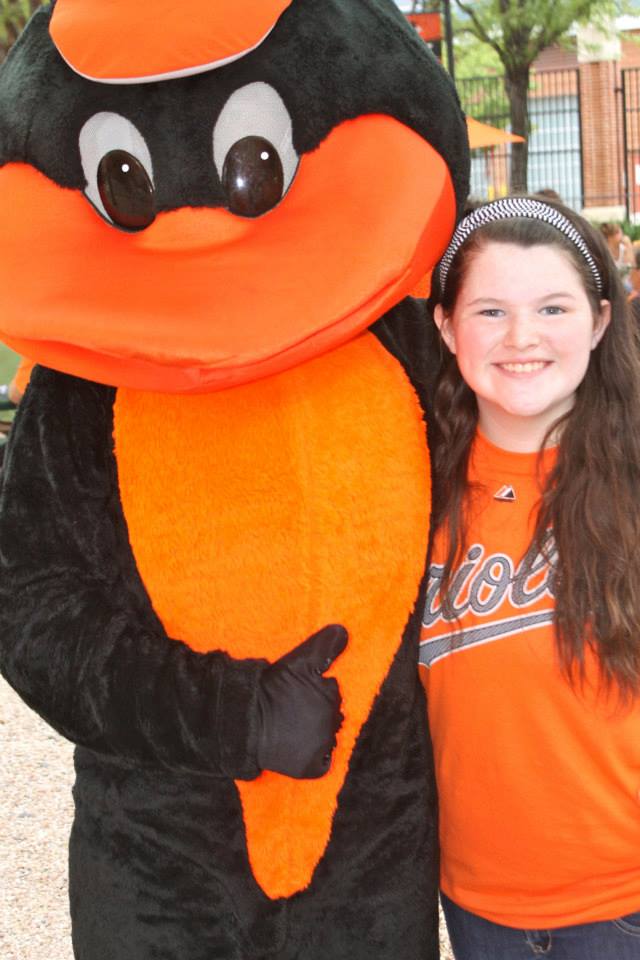 Kendall Ross poses with the Orioles' mascot. (PHOTO BY BOBBY ROSS JR.)
Baltimore is about a 90-minute drive from Newark, Del., and Steve bought us tickets for a Thursday night game at Oriole Park at Camden Yards. 
The Orioles' ballpark, which opened in 1992, was the first of the "retro" major-league stadiums constructed in the 1990s and early 2000s. It's an absolutely beautiful place to enjoy a game, and I had a wonderful time watching Steve's Orioles beat the Houston Astros.
I planned to interview Astros manager Bo Porter before the game. Bo, a member of the Westbury Church of Christ in Houston, is described as a person of strong faith by Greg Glenn, head of Westbury Christian School. However, a conflict came up on Bo's schedule. I'll catch him another time.
Steve's 15-year-old daughter, Julia, and my 14-year-old daughter, Kendall, had fun at the game, too.
Julia is a remarkable young woman who skipped a grade and just returned from a mission trip to Burundi with her mother, Gretchen. Julia dreams of attending Lipscomb University in Nashville, Tenn., but she doesn't know if her family will be able to afford it. If anybody from Lipscomb is reading this, you couldn't go wrong by figuring out a way to enroll Julia!
While in the Northeast, I also spent time with two of my favorite people: Dan and Katherine Cooper, who opened their New Jersey home to Kendall and me.
Dan and Katherine Cooper (PHOTO PROVIDED)
For nearly 30 years, Dan Cooper has preached for the Pitman Church of Christ in Sewell, N.J., a Philadelphia suburb. 
The Christian Chronicle featured the Coopers and the Pitman church in a 2009 Churches That Work feature. 
Dan and Katherine are an incredible, loving couple with an exceptional ministry. Since my last visit, the Pitman church has built a new, larger facility, and I got to see it for the first time.
The Phillies were in town, but I didn't make it to a game.
Instead, the Coopers introduced my daughter and me to authentic Philly cheesesteak — a definite home run.
Bobby Ross Jr. is Managing Editor of The Christian Chronicle. Reach him at [email protected].