At Challenge Youth Conference, light shines after fires
---
PIGEON FORGE, Tenn. —
"All around Pigeon Forge, I'm gonna let it shine."
It was a poignant moment in an otherwise lighthearted performance by Ben Hayes and Travis Creasy at this year's Challenge Youth Conference.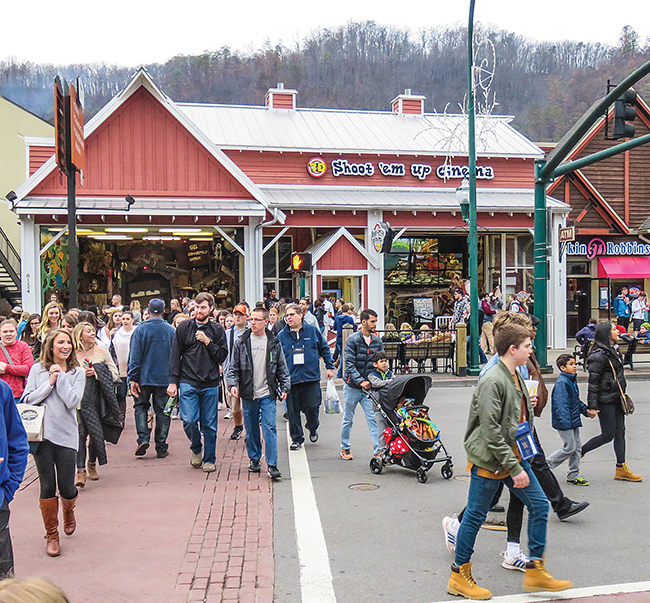 After the fires
More coverage:
• For Churches of Christ, the shows — and the ministries — go on

• Gatlinburg's Winterfest gets royal treatment
As the Christian comedy duo, known as Ben and Travis, entertained thousands of teens with goofy, Bible-themed tunes, they paused to lead the audience in a heartfelt rendition of the children's song "This Little Light of Mine."
In the past three months, this East Tennessee community at the foothills of the Smoky Mountains has experienced the terrible glow of wildfires in nearby Gatlinburg and the remarkable warmth of generosity from relief groups, nonprofits and ministries from faith groups including Churches of Christ. Together, they've helped the hundreds displaced by the fires recover and begin the process of rebuilding.
"There was a lot of devastation, but it wasn't as much as the news portrayed it to be," said Logan Wallace, a member of the Tuscumbia Church of Christ in Alabama. While attending this year's conference, he and many other Christian youths made the eight-mile drive to Gatlinburg to enjoy snow tubing or visit the attractions.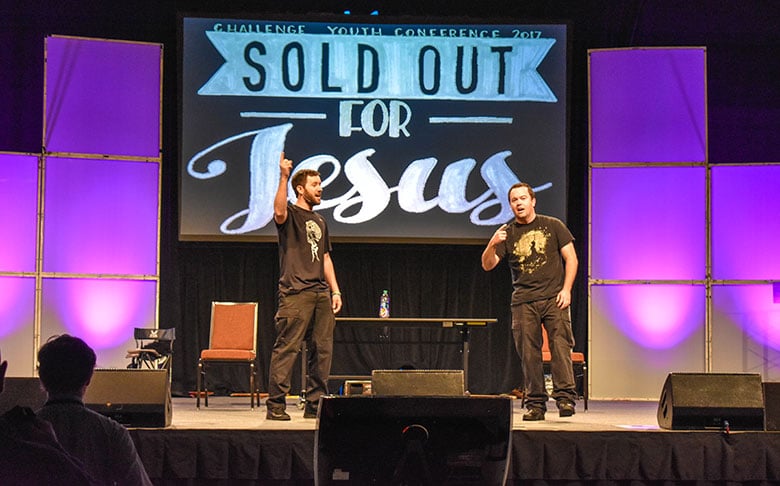 Ben and Travis lead "This Little Light of Mine" during the Challenge Youth Conference. (PHOTO BY NATHANIEL HOWARD)
"I was just figuring all of downtown would be gone," said Wallace, adding that he was surprised to find much of the tourist destination intact.
Away from the center of downtown Gatlinburg, however, a historic hotel is reduced to an ashen shell. In the mountains, only bare foundations remain where cabins once stood.
Wallace, whose family once experienced a house fire, said he empathized with those who lost property in the late-November blazes.
In the minds of many youths, the tragedy that claimed 14 lives and damaged 2,500 buildings happened long ago, said Larry Davenport, director of the conference, known as CYC. Davenport and other organizers wanted this year's participants "to be aware that … people are still healing from it."
The remains of The Highlands, a hotel outside Gatlinburg, Tenn. (PHOTO BY NATHANIEL HOWARD)
When Davenport and fellow organizers launched CYC in 2000, "our goal was just to have a solid, scriptural, Bible-based conference, one where the young people would … be challenged to live their lives for Christ in a world that's often indifferent to living that kind of life," said Davenport, a development official at Mars Hill Bible School in Florence, Ala., in 2013.
The conference has roots in youth events among Churches of Christ in the Florence area. Noticing the potential of these get-togethers, organizers planned a larger activity in Pigeon Forge. The initial event drew 325 people and grew to 800 the next year. Organizers then moved it to Gatlinburg until 2015, when they returned the event to Pigeon Forge.
After the fires, some wondered if this year's CYC would happen.
It did, and nearly 13,000 youths, parents and ministers attended.
Logan Wallace, center, of the Tuscumbia Church of Christ in Alabama, sits with friends from his youth group. (PHOTO BY NATHANIEL HOWARD)

Allen Wilson, a third-year attendee from the North Jackson Church of Christ in Tennessee, said members of his congregation came to Gatlinburg after the fires to help in relief efforts.
He enjoys the congregational singing at the conference — something "that a lot of people don't get to experience," he said, "and I'm glad we do it because it touches you."
In addition to bolstering the region's economy, Wilson said he hoped the young Christians' presence also would touch the community, bringing a shining light of encouragement.
"I think the best way is just to tell them that we're thinking about them, we're praying about them," Wilson said.
The conference is "a good thing to boost the positivity," he added, "just to have all these Christians in one place after all this."
ADDITIONAL REPORTING: Ted Parks