Around the World: Simple Sunday, European retreat,
---
FEATURED PHOTO (above) — Hawatthia Jones, a missionary in Guatemala, speaks to a youth class during the annual Euro American Retreat in Rothenburg ob der Tauber, Germany. The retreat brought together European Christians and missionaries from Churches of Christ in Europe and around the globe. For missionaries, including Brandon Price, the retreat provides a place "where we feel completely surrounded by people who fully understand us," said the church member who works in Kharkov, Ukraine, "people who share the same bizarre love and heartache for a life overseas, people who know what it is to struggle with time zones and languages and support and ministry in Europe. It's a place where we get to listen to and share with other missionaries about what God's doing in our lives, to be comforted by shared frustrations, to be encouraged by shared victories, to be mentored by those who have gone before us, to laugh, to cry, to worship together with one voice."
---
SPOTLIGHT
Christians gather around a small meeting place on the island of Uneapa, also called Bali, part of the province of West New Britain in the Pacific nation of Papua New Guinea. Jab Mesa, a Papuan minister and former director of the Melanesian Bible College, visited the island recently with his family.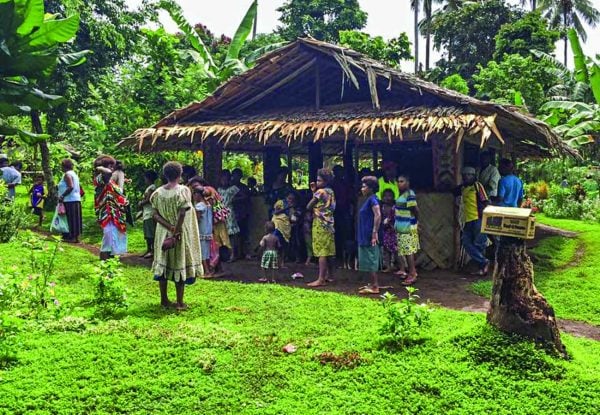 "Blessed Sunday morning from Bali Island," Mesa wrote in a social media post. "Worship service was wonderful. God is good always."
Mesa, who lives in the city of Lae, Papua New Guinea, studied ministry at South Pacific Bible College in Tauranga, New Zealand. Through the Melanesian Bible College, he has helped train preachers to serve the nation of 8 million souls.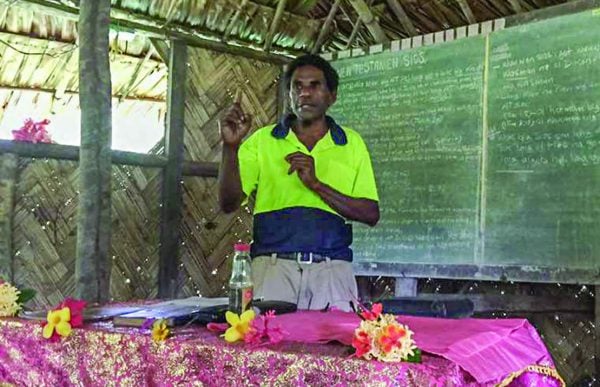 ---
CROATIA
ZAGREB — Churches of Christ played a role in this Central European nation's celebration of the 500th anniversary of the Protestant Reformation, said minister Mladen Dominic.
"The central celebration was in National Theatre in Zagreb, and Churches of Christ were one of the organizers," Dominic said. Among the attendees were representatives of Catholic and Orthodox churches plus leaders from the Jewish and Muslim faiths and political officials.
Participants received copies of the New Testament and the book "Unfinished Restoration." Eastern European Mission, a church-supported nonprofit, provided the books, and members of Churches of Christ distributed them, Dominic said.
---
INDIA
Mumbai — For Churches of Christ in this densely packed city of 20 million souls, there's no place to go but up.
So that's exactly what members of the Chember Church of Christ did when their growing congregation needed to expand its small building. The church added a balcony to its auditorium, thanks in part to funds provided by Christians in Spearsville, La.
The church meets on land that formerly was a refugee camp after the post-colonial division of India and Pakistan in 1947, said Bill Adcox of India Mission Fund, a ministry of Churches of Christ.
Seventy years later, the Chember church's elders work diligently to share Christ with the city once known as Bombay, Adcox said.
"Their autonomous spirit," he added, "has boded well for this group to blossom and bloom spiritually in this tough, Bombay environment."
---
PAKISTAN
Toba Tek Singh — An evangelist named Shahid asked for prayers after violence claimed the life of a teenager in the Punjab province of this predominantly Muslim nation.
In the city of Toba Tek Singh, where Shahid helped launch a small Church of Christ, a teenage boy was beaten to death by his Muslim classmates, who claimed he had contaminated their water supply by drinking from it. Shahid planned to meet with the boy's family and the church.
"This activity will help us to share the Gospel with those who are in need of it and (those who) take interest in knowing the truth," Shahid said.
---
TANZANIA
VWAWA — Members of nine Churches of Christ lined the walls and sat on the floors of a church building to take part in a recent weekend seminar, said missionaries Richard and Carol Rogers.
The preacher for the Swahili-speaking congregation in the village, Vwawa, is a first-year student at the Chimala Bible Institute.
The Rogers, who have served with Chimala Mission for a year, added that one of the biggest needs they hear of from Tanzanian Christians is training for women who want to teach children's Bible classes. Carol Rogers is developing lessons to help the aspiring teachers, her husband wrote in The Challenge of Africa newsletter.
---
TOGO
LOME — Preachers in this West African nation are fishers of men and farmers of pigs, thanks in part to a recent worshop hosted by Healing Hands International.
Ebenezer Udofia, a Nigerian-born worker for the church-supported ministry, taught a pig-breeding workshop for the community. Ministers including Komi Ekpe Attah attended. Attah also reported the recent baptism of a young man reached through his congregation's radio ministry.